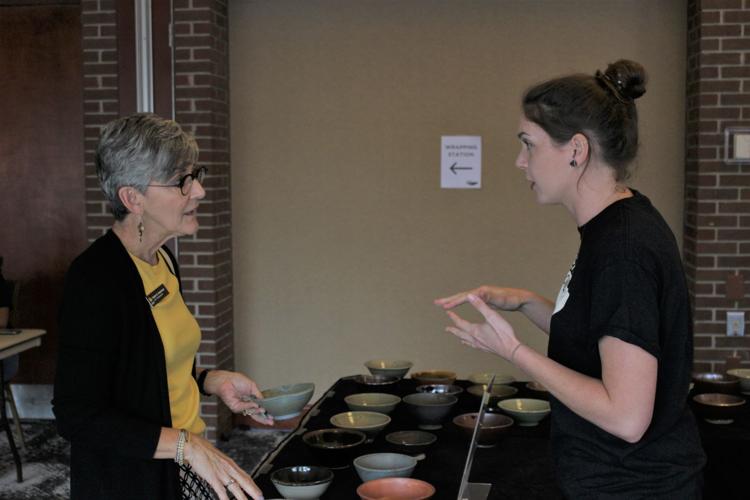 UCF students and alumni from the School of Visual Arts and Design volunteered their time to serve lunch in ceramic bowls they created Wednesday at the Empty Bowls event. 
This event was the first one for the Central Florida area and was hosted at UCF's Live Oak Ballroom. Empty Bowls was created to have charitable events in which artists and art students could make a personal different in the community, according to SVAD. The organization helps support food-related charitable organizations around the world and has raised millions of dollars to end hunger. 
"To realize there are hungry and homeless UCF students is heart breaking but having it be heart breaking and saying something about it is not enough, we needed to do something to change that," said Byron Clercx, professor of art at UCF.
Fifty percent of the profits raised at the event will be donated to Knights Pantry and the rest will go to the local United Global Outreach. Both organizations support UCF students and those in the community that are in need.
Those who attended the event and donated $20 were able to pick out a handmade bowl to take home with them and were served soup, oysters crackers and a beverage.
Attendees were also able to watch SVAD students create bowls out of clay right in front of them, while they explained the process of what it took to create over 600 bowls for the event.
Jenna Chastain, a UCF 2019 alumna, said she was still a student at the university when the idea about hosting an Empty Bowls event was first mentioned. She said it took her the whole summer to make some of the bowls that were donated for the event.
"I made 200 bowls last summer," Chastain said. "It was a great way not only to give back here but to practice my throwing skills. Double whammy benefit."
Hannah Estes, marketing coordinator for the School of Visual Arts and Design, said the event is a great way to show what programs UCF has to offer, while making a difference. She said the event advocates programs at UCF such as the School of Visual Arts and Design, The Potter's Guild and Knights Pantry that help a lot of students in need.
"It's important for students to know they can make a difference with their art, making and creating these bowls and having them go toward this event," Estes said. 
Clercx, who has hosted Empty Bowls events in other cities, said seeing students and their community come together shows how powerful community engagement can be. 
"All of my partners, the community people and everyone who came together, it was humbling," Clercx said. "To see how many good, caring people are on this campus I am just lucky to be at UCF."
Clercx said he hopes Empty Bowls will become an annual event at UCF. 
"It means a lot that my community can make money to support charities and for people to appreciate art, who don't have the access," Chastain said. "It can be a reminder every day and it can have that ripple effect for years to come. When someone uses that bowl two years from now to remember this event and the impact that it had."