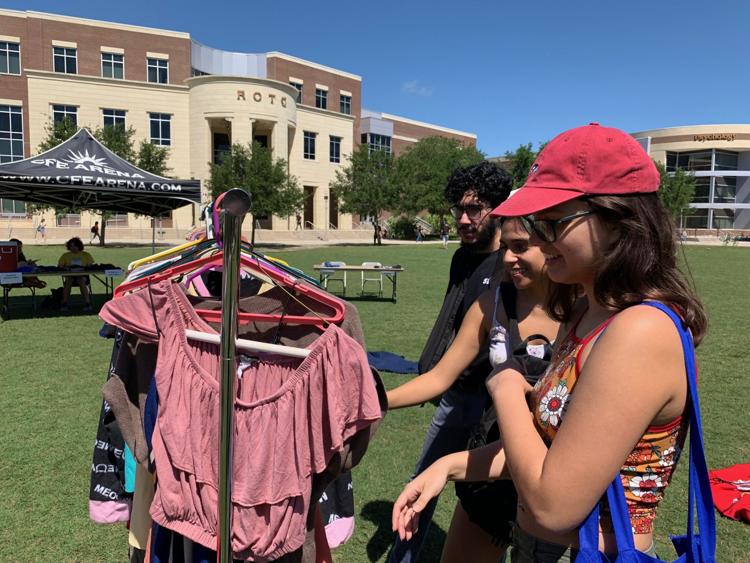 UCF Sustainability Initiatives' biannual end-of-semester Swap Shop at Memory Mall on April 15 helped students stay environmentally friendly while easing their stress with the upcoming move-out season and finals week.
The Swap Shop is an event where students who are getting ready to move out, graduate or who are just looking to declutter can turn in items they no longer use in exchange for items that are new to them. Items that can be swapped and shopped range from clothes to books to household appliances, and almost everything in between.
Helping students eliminate clutter and clear their minds were not the only goals for Sustainability Initiatives.
Outreach Coordinator Rachel Gutner said while Sustainability Initiatives planned the Swap Shop to help students become more aware of how to move out in a cleaner manner, the organization also hopes to bring about a greater sense of urgency within students when it comes down to how each person affects the world they live in.
"We tend to throw away our clothes or throw away things we don't want any more, but there is no real 'away,'" Gutner said. "It's better to be able to have students come to a place on campus where they can recycle their clothes and the things they don't need anymore."
Gutner said while events like Swap Shop and nationally recognized holidays like Earth Day and Arbor Day bring about greater awareness to the masses, the sense of urgency regarding the stress people put on the planet is lacking.
Angela Ayoub, junior psychology major, said she appreciated the concept of Swap Shop.
"It's so much better than the money-changing system," Ayoub said. "You're actually bartering goods, so people are getting goods in return ... It's just a nice way to freshen up your life and your closet, especially with finals coming up."
By the money-changing system, Ayoub said she is referring to the trade of currency for goods that are wanted or needed. She also said the Swap Shop's bartering dynamic helps relieve stress as students can focus more on their tests and not so much on going out and spending more money on commonly-used goods.
Gutner said people need to acknowledge that changes are happening regarding the climate now more than ever. She mentioned the issues of rising sea levels and increasingly erratic weather patterns.
While she said these growing issues do hit hard, Gutner said she also recognizes that the process of clearing out a closet and home can be detoxifying and help eliminate a lot of the personal stress individuals may face.
"It feels like you are putting away one chapter of your life, and you are ready to start a new one," Gutner said. "It's important for students to kind of clean out their closet and just feel good."
Gutner also said events like the Swap Shop are all the more important to have at a university like UCF that has one of the largest student populations in the country. Beyond size, Gutner also said the university has an ambitious climate action plan to be "zero waste" by 2050.
Going zero waste essentially means sending nothing to a landfill. This is done by reducing what we use, reusing and recycling what we can and composting everything else, according to the website Going Zero Waste.
Going Zero Waste was founded by author Kathryn Kellogg and features blog posts meant not only to promote sustainable living, but also to show easy ways that beginners can get started on their journey to living more sustainably.
"[The Swap Shop] is part of that zero-waste goal," Gutner said. "Basically, we want to show students that zero waste is not just not using plastic or just throwing away less things. It is all these things, but people forget that it is intertwined into your daily life as well."
Having the Swap Shop in the middle of Memory Mall, or the "hub" of campus, makes the concept of "there is no away" all the more accessible to students, Gutner said. She said the location of the event shows students they do have an impact when they chose to donate their items instead of throwing them away — especially when leftover items from the Swap Shop are donated to the Knights Helping Knights Pantry.
"I think that by coming to campus and participating in Swap Shop and donating donations, it creates a greater sense of good within yourself," Knights Pantry Assistant Manager Elias Valentin said. "You could easily take your donations to a place like Goodwill, but you wouldn't really feel that sort of deeper good within you and sense of community versus if you were to come to campus and donate here."
At the end of the day, Valentin said, students have more of a connection with donating items when they are giving back to the campus where they spend their "blood, sweat, tears and hard work."
After all was said and done, Valentin said that about 147 pounds of leftover clothing and goods from the Swap Shop were given to Knights Pantry.