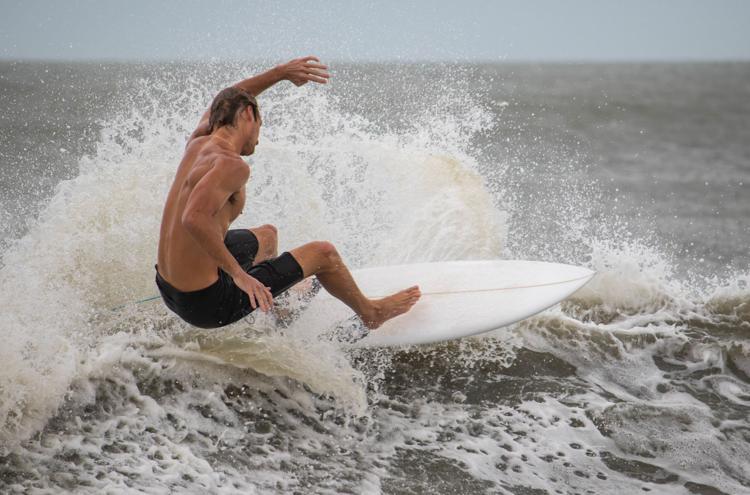 A storm brews waves over the Atlantic Ocean ruining a family's perfect beach day, but for three UCF students that perfect beach day may require chasing storms.
Austin Rich, a senior health science major; Derek Nelson, a junior integrated business major; and Jason Paruta, a senior mechanical engineering major, are part of the 100 member strong Surf Club at UCF.
Finding that perfect day to surf can become a struggle for them, because they said surfing on Florida coasts over summer can be very flat and inconsistent. It's known that surfers often rely on storms during hurricane season in hopes of no damage and good waves.
"We get up at about 4:30 a.m., if that doesn't say it. That's like the dedication factor of it, you're that excited. It's like waking up on Christmas. Got good waves?" said Rich, president of the Surf Club.
The space coast becomes like a scavenger hunt and these surfers paid close attention to the wind and swells that were left behind by Hurricane Dorian. According to the National Oceanic and Atmospheric Administration (NOAA), swells are groups of waves created by storm winds. In addition, these waves can travel thousands of miles unchanged.
Landon Wilson, a 21-year-old Volusia County lifeguard and surfer, put into perspective why hurricanes are part of Florida surfing.
"There's always a lot of hype about hurricanes and hurricane swells, as soon as the storm goes north of you, that wind is going to go west," Wilson said. "You really want to make sure you're at the right spot at the right time and the waves are there."
Rich, who has been an avid surfer for about five years, was happy driving all the way out to 2nd Light Beach by the Patrick Air Force Base in Cocoa Beach. 
"I think we came out at the right time, it was a lot of fun. We picked the right spot to surf, good swell, not too much wind — lot of people on it though," Rich said.
But this search isn't always the easiest said Paruta, an officer of the Surf Club who has surfed since he was 12-years-old. He said that in Florida you often have to take what you get.
"Lots of lefts and rights, ups and downs to get here, but we finally found the waves, and it's on," Paruta said.
PHOTOS: UCF Surf Club barrel to the beach after Hurricane Dorian
UCF surf club members found waves caused by hurricane Dorian ideal on Sept. 4 at 2nd Light Beach, located in Patrick Air Force Base, Fla. Surfers caught waves up to 15 feet waves caused by Dorian. 
To make it the search easier, Florida surfers like Paruta rely on forecasting apps, social media accounts, raw data from buoys that record information and word of mouth to find the right spot.
Cole Kolasa, a junior biology major, recounts what the process of finding waves is. Kolasa said you have to drive a lot.
"All last week everyone is on the phone with their buddies in different parts of the state [asking them], 'What's it like up there? Go check it for me, send me pictures, send me videos. Oh yeah, I'll send you videos down here,' and then eventually you just pick a spot. You just end up somewhere and you surf it," Kolasa said.
Nelson, who has surfed for three years, said he describes the waves after a hurricane as novelty waves.
On a flat day, buoy data shows waves around 2 feet tall but the days during and after Dorian rolled through, the buoy data showed waves up to 15 feet tall. Although surfers like Nelson get excited about waves like these in Florida, he recommended people to be vigilant out in the water.
"You have to be looking where you're going out there because sometimes it feels like a traffic jam, and boards are dangerous and sharp," Nelson said.
Safety during these times is an issue and Wilson recommended that when the waves are big, only experienced surfers should be out there.
"The day after the storm passed, with Dorian it got a little bit gnarly out there," Wilson said."There's definitely some waves that you could get hurt on, but if you know what you're doing you should be fine." 
With the second anniversary of Hurricane Irma, these surfers are not new to chasing storms for good waves. Paruta said the best waves comes from the storms you normally don't hear about.
"The storms that hang right way off the coast, like you don't really hear about them, but those are the ones that give the best waves," Paruta said.
As of the day of this publication, The National Hurricane Center (NHC) is showing a disturbance that, currently at a 50% chance of formation in 48 hours, could be passing close to south Florida, producing heavy rainfall and wind. The surfers are hoping to see more swells and systems, and believe it's just the beginning of a good surf season.
But it goes beyond riding the perfect wave for the trio. It's all about the whole experience that makes it fun for the three surfers. They all agreed that the car ride there and back, seeing everyone fired up and ready to go, is a journey. 
With the surf season about to the start, the club is expecting to meet a couple times a month, attend monthly competitions in New Smyrna Beach and even plan on going out to the wave pool at Disney's Typhoon Lagoon. 
But at the end of the day, when either Derek Nelson or Jason Paruta catch that perfect wave, they hope everyone is watching. But the first thing Austin Rich thinks to himself is "Don't blow it."