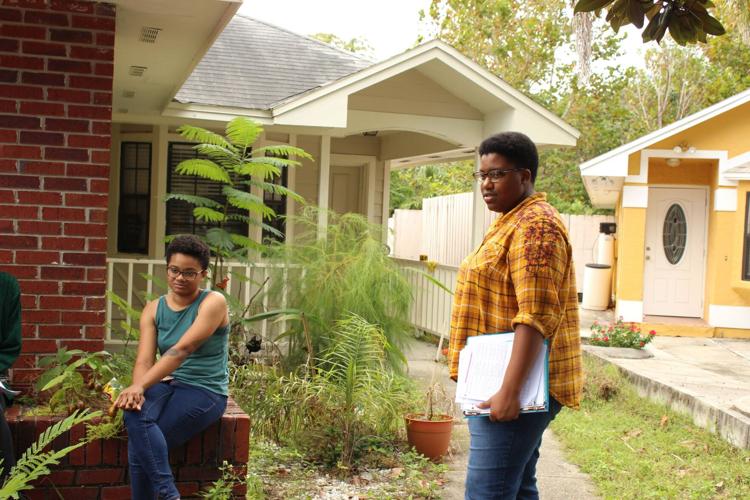 Junior film major Valeria Starks walked into the Nicholson School of Communication and Media building hoping to be chosen as a producer in 23-year-old UCF graduate Sarah Holland's feature film, "Egghead & Twinkie."
Soon after, Starks would be hired as an associate producer in November 2019. 
"I remember talking to my best friend and saying 'I'm so excited they reached out to me, but there's no way,'" said Starks, now a senior. "I didn't feel at the time I was in the place to sole produce. I saw I'm a college junior, I feel like there's a lot I need to learn."
Starks has worked on over 30 productions in addition to "Egghead & Twinkie." Although Starks was originally hired as an associate producer, due to her high level of involvement and leadership in the film, she was later promoted to producer.
"I became a filmmaker because I wanted to amplify the voices and vision of marginalized and underrepresented people, especially Black people, both in front of and behind the camera," Starks said.
For example, one of Starks' short films, "When Superwoman Can't Fly (No More)," features a young Black woman who was caring for her mother who has dementia and showed her navigation of grief after her mother died. In the film, Starks said she examines the strong Black woman stereotype, the stereotype that Black people, especially Black women, are stronger, and that they are able to tolerate higher degrees of pain.
"When Superwoman Can't Fly (No More)," and "Egghead & Twinkie" address heavy topics, but in a lighter manner. "Egghead & Twinkie" is a comedic coming of age film about an adopted Asian American teen who has just come out as gay to her parents. It's a film "created by and for Gen Z," Holland said in a crowdfunding TikTok.
"Seeing the video, seeing the concept, I was really excited," Starks said. "I myself am also queer, and it was exciting to see this representation where the queer character gets a happy ending. I was drawn to seeing representation, a queer woman of color, on screen."
"Egghead & Twinkie" is an award-winning short film by Holland. According to the "Egghead & Twinkie" pitch, Holland received funding from the Women Making a Scene International Film Project and other grants to begin to turn the short film into a full-length feature film. 
Starks came to work on "Egghead & Twinkie," with help from Lisa Peterson, one of UCF's associate instructors of film. Holland reached out to Peterson, who has 20 years of experience in Hollywood, for recommendations for a producer. Peterson said she recommended Starks because Starks was one of the few on her short list of "diamond in the rough" student producers.
Starks works on a three-person production team including Holland and Danielle Fountaine, 35, a Full Sail University program coordinator. As a producer, Starks' responsibilities vary from day to day.
"My personal responsibilities for 'Egghead & Twinkie' include, but are not limited to: managing the crowdfunding campaign, developing a COVID-19 set safety plan, interviewing and making hiring decisions, planning and hosting cast and crew meetings, writing many emails and creating many spreadsheets," Starks said.
After deciding to launch the film's crowdfunding campaign early due to a large amount of attention on TikTok, Starks helped create donation incentives and did a lot of research and emailing. Starks said the film ended its crowdfunding campaign in November, earning $22,646 and raising 102% of its original goal.
As the production team has worked, Fountaine noticed Starks' thoughtful and thorough approach. While creating the film's COVID-19 safety plan, Starks brought up things Fountaine hadn't thought of.
"She is very thoughtful in every action and she asks a lot of questions," Fountaine said. "Especially now when making plans to shoot when we need to consider safety regarding COVID, it is so helpful. She thinks of things that could go wrong and is prepared, usually, with an answer on how to fix it too." 
Starks said productions like "Egghead & Twinkie" are similar what she likes to create as "Egghead & Twinkie" focuses on queer people of color, and her work centers on the lives and experiences of Black women and queer people of color in general. As a Black, queer southern woman, Starks wants to push for more equality and inclusivity within the film industry.
Starks said, "It is the responsibility of a filmmaker to tell a story they think is worth telling and supporting stories that are exciting and different, that challenge the status quo."