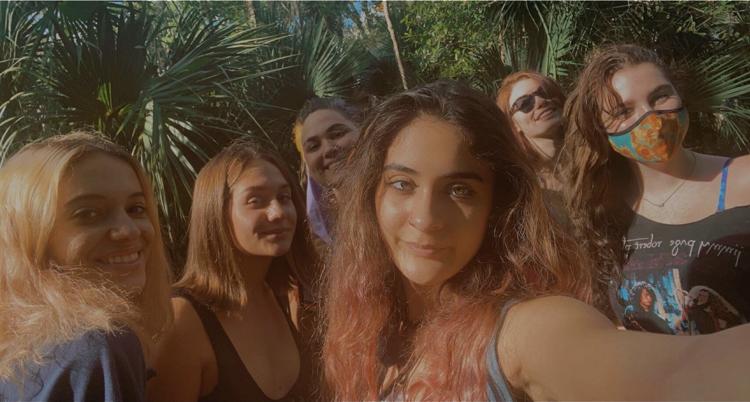 When Jude Wise arrived at UCF this fall, he knew making friends would be difficult. His concern about COVID-19 meant his first weeks at school were mostly spent alone, confined to his off-campus apartment.
"Those weeks were the most isolated for me," Wise said. 
Wise, a freshman, fell into a routine. Wake up, attend virtual classes, eat, sleep and start again the next day. The monotony was upsetting. Even more upsetting was when he stopped by campus and saw students out together despite social distancing guidelines.
"It definitely put an emphasis on the loneliness," Wise said.
He turned to the UCF Reddit page to express his concern and possibly connect with new people, one of his last options to meet other students with campus shut down.
Wise's decision to turn to social media to meet people was by no means an isolated occurrence. As students returned to a nearly empty campus this year, many began to seek less traditional methods for making friends. Some, like Wise, turned to the UCF Reddit page for help.
"How is everyone meeting people and is it too late for me to jump on board?" Wise said in his post.
Wise's post was met with students who offered advice, virtual clubs and invites to chat directly. Wise said he received offers to meet in-person and, though he declined, found them comforting. It was simply the sense that a world existed outside of his room which gave him hope.
"I've been making more effort to go on campus," Wise said. "And it's just little things like that where I'm not necessarily interacting but just being around people."
Wise said he knows that feelings of isolation like what he experienced are still prevalent among others, and having less face-to-face interactions may be impacting students' mental health.
"Everyone's being hit by the pandemic in different ways," Wise said.
Wise's concerns over mental health are not unfounded. A recent study published by the Healthy Minds Network surveyed more than 18,000 students and found the rate of depression among college students has increased since the start of the pandemic.
LeAnne Schumann, a licensed mental health counselor at UCF's Counseling and Psychological Services, said the negative impact on students is real. Thirteen of her own patients indicated they have been negatively affected by the pandemic in some way.
She said students using online methods to connect with others during a time of isolation is a way for them to still feel like a part of something.
"We're social creatures by nature," Schumann said. "Students are grasping onto these novel ways of reinventing connection by using every technology available to them."
Francesca Duarte, sophomore film major, is one of those students.
"Part of the college experience is meeting people and having fun," Duarte said. "But now it's not the same."
Duarte said she wishes she'd made more of an effort to make friends the previous year because of how difficult it is to do so now. Now, she's using online methods to facilitate connections with other students such as joining an all-girl UCF group chat.
"The way we used to meet people was by inviting them over and having a good time," Duarte said. "It's just different now."
Duarte was invited to the chat after matching with a girl on Bumble BFF, a dating app feature that matches users with friends instead of romantic partners, while others found the chat through the UCF Reddit.
The group meets occasionally in person to do activities like skateboarding and studying while adhering to COVID-19 safety guidelines. 
Beatriz Menezes, a freshman mechanical engineering major, is part of the group chat as well, and said she was apprehensive about coming to UCF without knowing anybody beforehand.
"I didn't have any friends here yet," Menezes said. "It was kind of stressful."
She found new ways to make them, such as messaging people from the UCF Class of 2024 Instagram, which is how she was invited to the same group chat as Duarte. Menezes feels her openness to talking to people this way comes from living in a new normal where social interaction is hard to come by.
"I think the pandemic really has made me more open to it," she said.
With plans to meet her new friends once she returns to campus, Menezes said knowing she has these connections is important not just for herself but for the well-being of students in general.
"I think it's been a lot harder for people mentally, especially since a lot of social interactions have been taken away from their lives," Menezes said. "People can feel more isolated."
Schumann said students should find a balance between their screen time and real life.
"While I think social media is phenomenal, I also think there's a little caution there." Schumann said. "While you're on screen, make sure to be focusing on other areas of self-care such as getting off social media, taking a walk, being engaged with nature."
As the pandemic stretches on, students continue to find alternative methods to making friends in a time where isolation is the new norm.
"As humans, we need that connection with other people," Duarte said. "Hopefully one day, it'll all start to feel normal again."