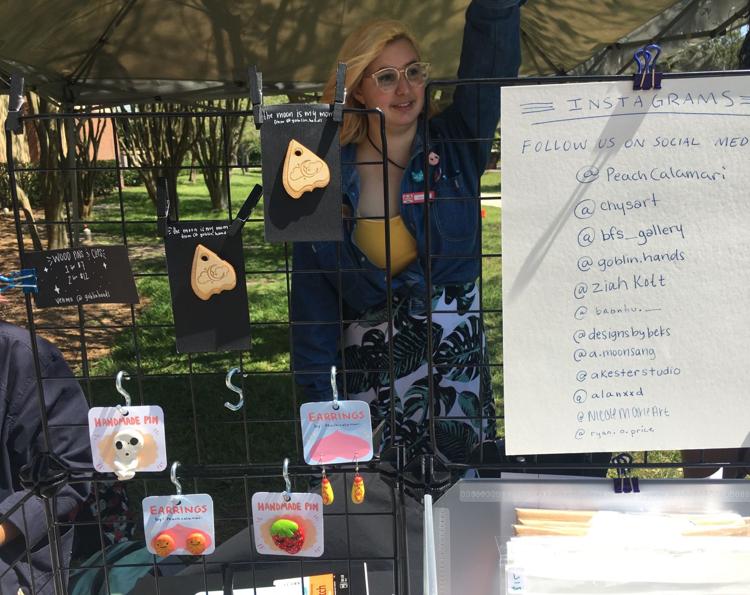 For UCF student Cheyenne Otocki, art is more than just an image — it's a feeling.
"I've always been attracted to movies, comic books, games and artwork that make me feel immersed or invokes emotion," said Otocki, junior studio art major on the illustration track.
Otocki said her high school, Alexander W. Dreyfoos School of the Arts, located in West Palm Beach, Florida, held art sales a few times a year. She was disappointed by not knowing if she'd find something similar at UCF.
When UCF's Print Collective — a group that creates and sells traditional non-digital prints on campus — was reinstated this spring after a brief hiatus, Otocki said she jumped at the opportunity to participate.
UCF's Print Collective is made up of about 15 students and hosts sales one to three times per semester, said Brittney Fucheck, senior member of the group. The most recent sale was held from March 18 to March 22 in the breezeway of the Visual Arts Building.
Fucheck said the team took a temporary hiatus last year due to no one stepping up after a prior senior member graduated.
"I was told personally by [associate professor] Larry Cooper that I was the one to get the group back on track," said Fucheck, senior studio art major on the illustration track. "He made a point to illustrate that he had confidence in me to get the work done, and I can honestly say I haven't regretted my decision for a single moment."
Cooper, associate lecturer in printmaking, said he was a part of his college's print collective at the University of Georgia, which used a percentage of its profits to buy materials and pay for trips to exhibitions and conventions.
At UCF, money made from individual art sales goes directly to the artist who created the work. In addition, the UCF Print Collective sells old art from graduates for money to fund the group. The overall profits are also used to buy supplies, such as print seals, to make the artwork look more professional.
"I feel the best part about the [UCF] Print Collective is the chance it gives students to show their work and take pride in what they do," Cooper said. "It is also a chance for people outside the visual arts to see what happens here in our classrooms."
This is the team's first semester officially doing the print collective altogether and attracting attention, Fucheck said. She said she hopes to turn the group into a registered student organization next semester.
This semester, the group has showcased a multitude of artwork, including canvases, T-shirts, earrings, stickers and more. However, Fucheck said when the group becomes an official club, she hopes the items will be narrowed down to only traditional art since that was the group's original purpose.
"Digital work has overtaken sales, and although I am glad we are monetizing off of it, the traditional prints like wood print, etching and screen printing illustrate the handmade artistic qualities," Fucheck said.
Alanood Alotaibi, freshman graphic design major, said she believes art students will be more interested in purchasing handmade products than digital ones because they understand the quality of the products, as well as the time that went into making them.
"We want to raise awareness about the arts, but also make our artwork accessible to students in terms of pricing," Alotaibi said.
Otocki said the UCF Print Collective is something she enjoys for both the experience and the atmosphere.
"It's not just about making some quick cash, but more about seeing and talking to new people who enjoy my work and my friends' work," she said. "It makes me feel more motivated and inspired not only as an artist, but as a person."