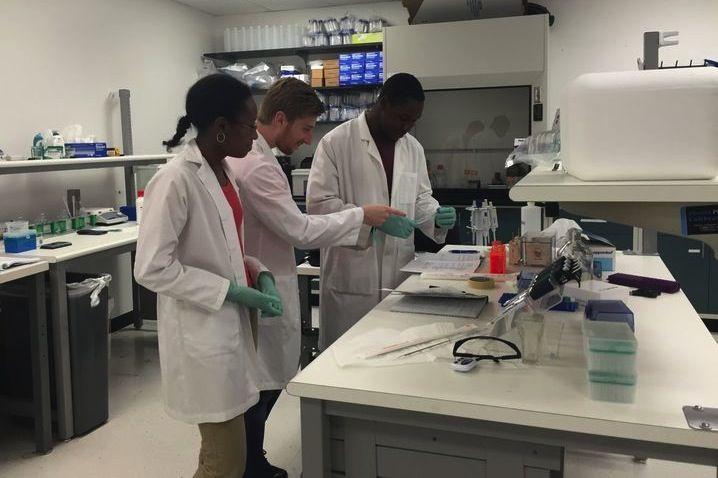 It's a quiet day on the fourth floor of the Research Pavilion building at the University of Central Florida's Research Park, or so it seems.
At second glance, the halls are buzzing with professors and students dressed in lab coats—all speaking the language of nanotechnology.
Nanotechnology involves the study of extremely small particles ranging in size from one to 100 nanometers that make up all matter.
A nanometer is one-billionth of a meter.
It studies things on a very small scale to understand how matter behaves on a large scale. Nanotechnology is interdisciplinary and also used in engineering, biology, chemistry and many other fields.
"All of my students who are in the nanotechnology program have their own independent research projects, which integrate highly interdisciplinary approaches, including biophysics, biochemistry and bioengineering techniques," said Dr. Hyeran Kang, assistant professor at UCF's Nanoscience Technology Center.
At UCF, there are two slightly different nanotechnology programs. One is the Professional Science Master's (PSM) in Nanotechnology and the other is the Master of Science in Nanotechnology program.
The PSM program integrates more business courses into the curriculum. Both programs began in 2014 and have 30 students collectively. UCF was the first college in Florida to offer a nanotechnology degree.
"I was intrigued by the name. I had no idea what nanotechnology was," said Jennifer Parra, PSM graduate student. "It encompasses everything, just on a smaller scale,"
Parra worked as a microbiologist for a local pharmaceutical company for over two years after graduating with a bachelor's degree in molecular and microbiology from UCF in 2011.
She was interested in going back to school when she received an email from nanotechnology program coordinator Dr. Qun Huo about the new program starting at UCF.
Parra added that the nanotechnology program gave her experience that prepared her for an internship and the workforce. The program helped give her an edge over other interns from elite schools.
"I can switch industries because nanotechnology is so broad," Parra said. "Nanotechnology is truly the next frontier of science. It's now and tomorrow."
Huo works tirelessly to review the program for improvements. She was trained as a chemist in China then received her doctorate from the University of Miami.
The professors in the program are trained in different subjects such as chemistry, biology and physics. The program was designed to give undergraduate students the chance to continue their education and gain valuable research experience.
Huo said that the purpose of the nanotechnology program is to teach students about cutting-edge science and to give students an opportunity to work in a lab setting.
"The bottom line is that we want our students to become competitive," Huo said.
Story originally published on April 17, 2016.