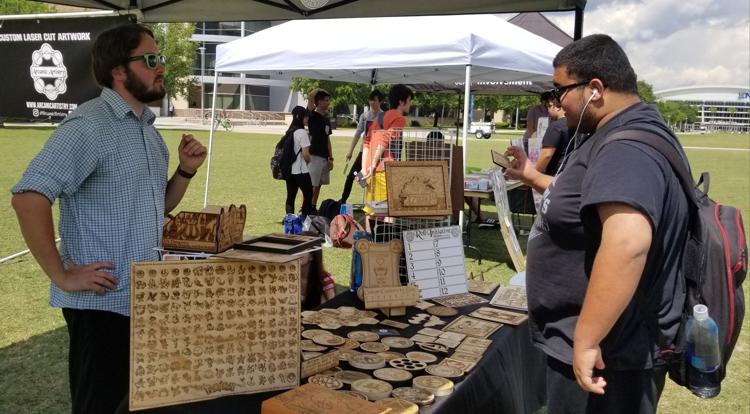 Tents housing UCF student businesses filled with a variety of products, such as candles and jewelry, lined Memory Mall on Tuesday.
Seventeen student-owned businesses registered for the first Market on the Mall event, which was set up to help showcase items students make and sell as part of their businesses.
Adysun Hawkins, junior digital media major, partnered with her best friend to create the business Lucid Sunday, which they have been running for about six months. Lucid Sunday has embroidered clothing, dream catchers and jewelry for sale.
Hawkins and her business partner also happen to be roommates. Hawkins said they were each working on their own projects before they decided to team up. With Hawkins having experience in embroidery and her partner having experience in jewelry, they came up with a business that incorporates both of those things.
Hawkins said markets like this one are a good way to exchange information with other student-business owners and promote business.
"Especially on UCF, [we were] excited about this one because we thought students would be the perfect target and stuff like that, because we usually do ones more in Winter Park," Hawkins said. "And those tend to be older people that like might not be interested in our weed art and our crazy, trippy collages."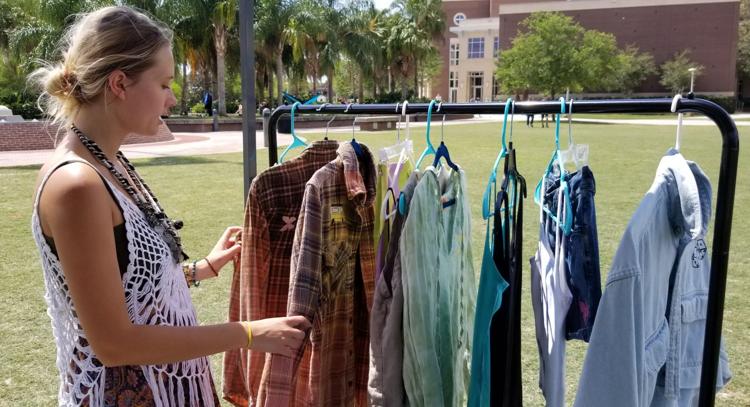 Market on the Mall became a reality after student vendors helped brainstorm a way to give students the opportunity to promote their businesses. This would allow a similar experience as the Wednesday Market Day events in front of the Student Union without competing with bigger companies for spots.
Gregory Ratz, junior mechanical engineering major, works on oil paintings in his free time and had his work for sale at the market with the Art and Drawing Club at UCF. He said he and another student vendor teamed up with Allie Krump, Market Day coordinator, to brainstorm an alternative to Market Day on Wednesdays.
"We realized that there weren't enough student businesses coming to Market Day," Ratz said. "And what we realized is [that] we were limited by price and we were limited by space, because big companies like Costco come out and buy Market Day spots."
He said because this event is specifically designed for student businesses, it has a different feel than Market Day outside of the Student Union.
"It definitely is a very different environment because the people who walk up and actually check it out are people [whose] attention is already on you, whereas in front of the Union you do get more people, but you get more people who are just trying to get from class to class," Ratz said.
Dakota Myers, junior game design major, began laser cut artwork at UCF over one year ago in the engineering lab when he wanted to create "a nice set of coasters." He said he had to own his own laser after his artwork started to sell, and he now runs his own business called Arcanic Artistry.
"I like to keep my prices low and affordable because I'm a college student and seeing [people] at the show, everybody else is," he said. "So I keep it nice for them."
Myers said he had opportunities to sell his laser cut artwork at a couple of conventions and trade shows, and will be at MegaCon Orlando this May. He also said he registered to be a part of Market on the Mall because of the access to students on campus.
"Specifically just for the chance to be on campus, rather than traveling an hour, two hours, three hours away," Myers said. "And just for the fun of anytime I get an opportunity to do something, I will do my best to take it."