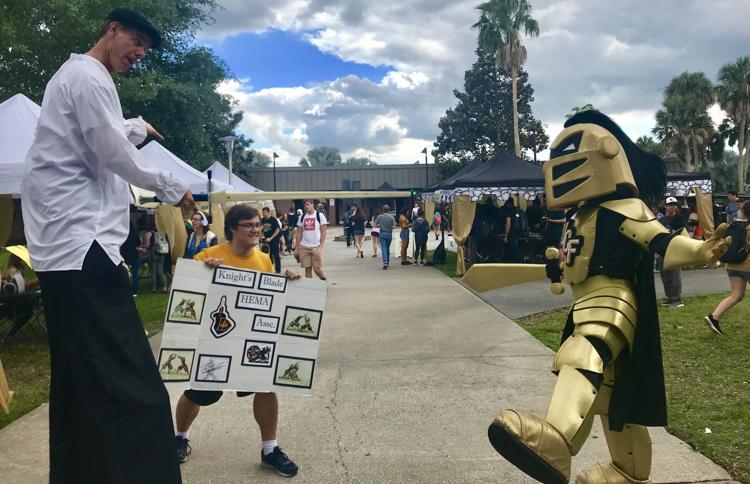 UCF students and local residents got the chance to become medieval knights during the Knights Final Faire event hosted April 10 on the lawn by Ferrell Commons. 
The event, hosted by UCF Housing, provided a plethora of freebies and medieval-themed activities for any Knights passing by to have the chance to battle in a jousting match or relax before finals. 
"[UCF Housing ambassadors] see how students struggle with finals, and it can get them down, so we just want to lift them back up this week," said Lauren Smith, UCF Housing ambassador and sophomore marketing major.
According to UCF, there are 6,440 rooms available for students to live in on campus for the 2018-2019 school year, not including fraternity and sorority housing.
UCF Housing has been known to hit the maximum number for dorm residents. 
The UCF housing administration said for the 2018-2019 school year, 7,412 students lived on campus, with 5,031 of them being freshmen. 
Jeorge Rogers, on-campus resident and freshman accounting major, was one of hundreds who attended the Knights Final Faire event. Rogers was close to where the event was going on as he lives at the Libra dorms. 
Rogers and his friend, Nacey Fernandez, freshman film major who lives in a Hercules dorm, both stopped by to grab free barbecue food and also watch a magician perform card hat tricks. 
"I juggled actually," Rogers said. "There's a guy on stilts, and he was throwing me the juggling balls, and I was juggling."
Knights also had the opportunity to participate in an array of medieval-themed activities. 
A full list of the activities included: 
Jousting 
Fencing 
Potion-making
Card tricks and illusions 
Face painting 
Macaroni and cheese and barbecue food
Corn hole
While students had the option to participate in activities and receive free items such as food, T-shirts and sunglasses, UCF Housing also set up information tables regarding any housing questions students had. 
"[The housing table] just mainly provides information and facilities for students," said Andrew Sheely, UCF housing ambassador and senior chemistry major. 
UCF Housing hosted the event as a "thank you" to students who house with UCF and to attract the crowd of on-campus residents, Sheely said.
UCF Housing hosted multiple events on campus for this school year, such as carnivals and free luncheons, but the Knights Final Faire was the last one of the year. 
"We have the Knights Final Faire...so all the residents here can just leave with a bang," said Smith.