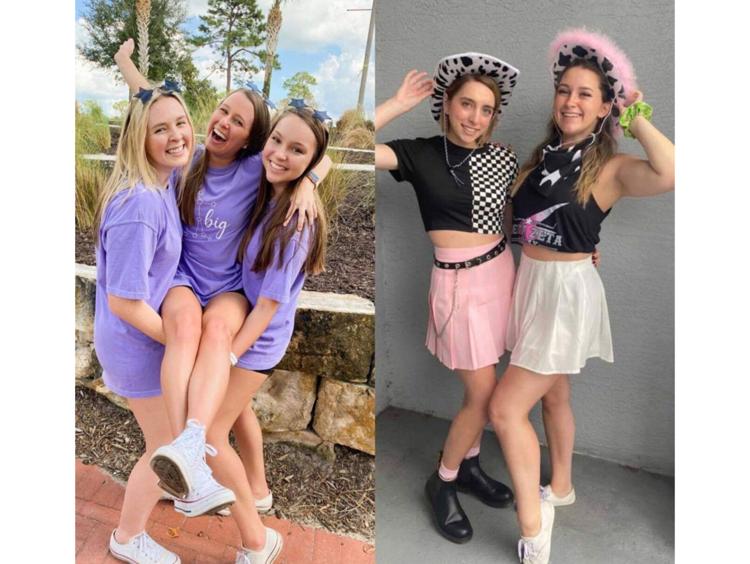 Two sorority members found that their mental health and wellbeing have improved because of the social connections created by being involved in Greek life at UCF.
"My favorite part about being in a sorority is the overwhelming support you feel on a daily basis," said Danielle Roque, a junior psychology major.
Being a part of communities - like sororities - is one way students like Roque have maintained their mental health during the pandemic. 
Karen Hofmann from Counseling and Psychological Services at UCF said prioritizing mental health is crucial in an unpredictable time like this.
She said involvement in extracurricular activities like sororities allows students to create meaningful connections even during a pandemic. 
For anyone who is new to the university, Hofmann suggested finding a group of people to make social connections with. Hofmann said a sorority can be a great way to not feel so alone while at college.
Hallie Richardson, junior film major, said this is her third year in Delta Zeta. Richardson - a Georgia-native - came to UCF knowing absolutely no one when she arrived.
Richardson struggles with being a shy extrovert. She loves to be around people but found it challenging to physically walk up to someone she didn't really know and talk to them.
"I was told throughout high school that I wasn't enough which made me feel lonely my whole life. After joining a sorority, it allowed me to find people who have accepted me for who I am. I no longer doubt my self worth,"  Richardson said.
Both sorority students said the beneficial impacts their sororities have provided for them gave them a sense of purpose in college. 
Roque is in the Eta Eta Chapter of Kappa Kappa Gamma at UCF. She has been a part of the sorority for about a year and a half.
"My mental health has greatly improved. I have always struggled with anxiety my whole life, and it is just so heartwarming to know I have sisters that I can rely on and go to for advice or just have a shoulder to cry on," Roque said.
She is grateful to the sorority for helping her develop lifelong friendships that will always be there.
"I found the place where I belonged with real genuine girls," she said.