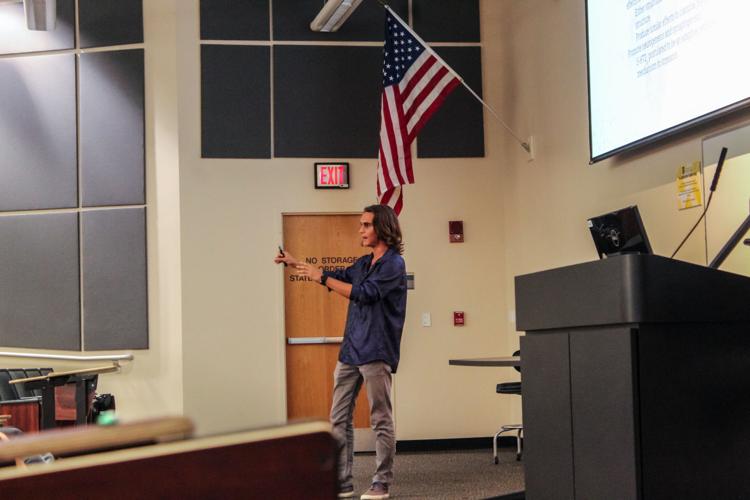 A presentation discussing the current research of psychedelic drugs on Wednesday looked to help UCF students break away from the current ways of seeking treatment. 
The presentation was held by the Holistic Healing Organization to a group of 17 UCF students at Health and Public Affairs I. 
"I believe in spreading as much information of this sort of treatment that can help so many," said Andrew Laino, 20, junior biomedical sciences and psychology double major.
The presentation illustrated how psychedelic drugs can reframe someone's mind to make new neurological connections. Shana Harris, assistant professor at the anthropology department, saw this change firsthand while researching ibogaine, a psychedelic-based drug used to treat addiction in Mexico.
"Withdrawing from an opioid isn't the most pleasant experience but after 24 hours of taking the ibogaine, the patients experience none or minimum withdrawal symptoms," Harris said. "They feel and look completely different."
Harm reduction was also highlighted in the presentation so attendees could understand the risks of taking the drugs. Laino went into detail about picking the right people and place to take the psychedelic drug, ways to test if the drug is not harmful, what combinations you shouldn't do, and what type of setting you should take the psychedelic.   
Jeffrey Schaefer, president of the club said he believed in all types of treatments even though they are not mainstream. However, both Schaefer and Laino made it very clear that the club does not encourage its members to go out and use psychedelic drugs.
"I'll give them as much advice as possible if they are interested in treating themselves but I always tell them that psychedelic drugs will not create a good life," Laino said. "The psychedelic is the catalyzer for you to gain a good life." 
The journey to researching psychedelic drugs began for Laino in high school when his friend told him about his experience with a psychedelic drug. That sparked Laino's curiosity about how the brain worked and how it could be changed. Now, he is researching the topic and plans to present it to as many students as possible.
When asked why they decided to finally leap into doing the presentation, Laino said this is when momentum will be gained. He and Harris want to bring new perspectives and bridge the information gap for those who are interested in the rejuvenated field.
"It's a good sign that students are taking the initiative to learn more, rather than just saying 'oh that's just a hippy thing or drugs are bad', which is great to see as a professor and a researcher," Harris said. 
A previous version of this story stated that a name was spelled Andrew Lain but has been correctly updated to reflect that the name is Andrew Laino. A previous version also stated that Laino's experiences started in middle school, but has been updated to reflect that they started in high school.