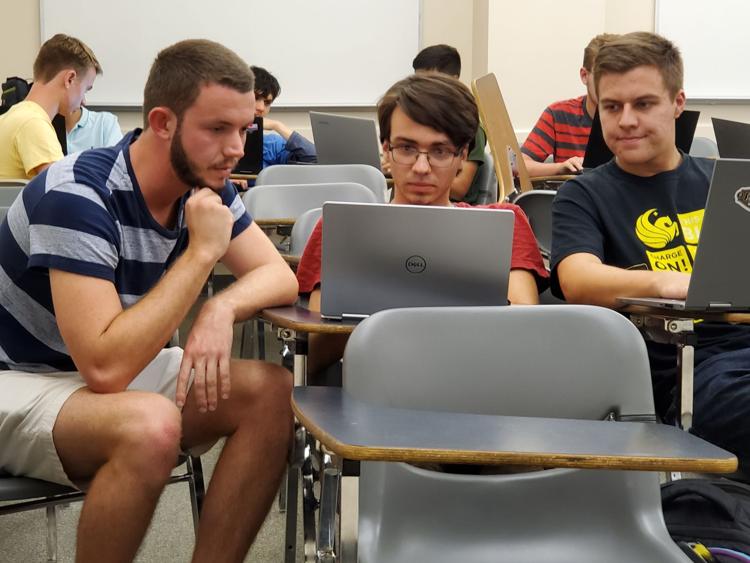 Classroom Building I fills with laughter and conversation as groups of students prop their computers up side by side to work on code after 6:30 p.m. every Tuesday in room 109. 
The students are part of Python@UCF, a new club founded in September. The club's mission is to teach students of all majors how to code using the programming language Python.
"Just about everything you do is controlled by some kind of software. So, whether I am buying a coffee or scrolling through my phone or sending a snapchat to someone, I'm going to be using something that someone developed and coded themselves," club founder Harry Sauers said. 
Coding is the process of instructing computers to complete the task you want them to do. To accomplish this, programmers will use a programming language like Python to write instructions for the computer.
Sauers, sophomore computer science major, said one advantage that Python has over other programming languages is it is easy enough that anybody, even beginners, could learn how to code with it.
Its simplicity also allows the beginner student to apply what they've learned to a project relatively quickly. 
At the club meeting on Tuesday, the students were able to test this advantage for themselves by working in groups to apply the Python they had learned so far to a project of their choosing. 
There, sophomore computer science major Daniel Cosentino worked with fellow sophomore computer science major Charles Anderson on a web scraping project.
He said the project involved writing a program that can look at the Rotten Tomatoes website and extract only the title and score of a movie and then put it into a variable and print it. 
"I was surprised at how easy it was. I will not lie. I've had experience with programming languages before. I'd like to think I know what I'm doing with the basics. Some of the advanced stuff sometimes, but not all of the times," Cosentino said. "But this time it was definitely out of my comfort zone and it definitely worked the way I thought it would."
For sophomore computer science major Ariane Avendano, the opportunity to code in a group setting was a refreshing change from her computer science classes.
"I feel like, especially with engineers, we are already not social enough, so I would like some group projects in C or in Java so I can at least talk to people. One of the biggest things in computer science or just the engineering field is teamwork," Avendano said.
According to Sauers, many of the other computer science clubs at UCF work with Python, yet don't take the time to teach it to beginners.
The computer science department at UCF also does not currently teach a programming class specifically on Python. Instead, they teach the programming language C as the foundation language of the computer science program. 
Currently, COP 3223C Introduction to Programming with C is the only available prerequisite programming course for the computer science major.
However, Arup Guha, professor of computer science, said there is a push to change the curriculum so that Python is the introductory programming language for computer science majors instead of C. He also said the process of changing the department's curriculum will take a couple of years if adopted.
"Part of the difficulty in changing it is A: we have a big chain of courses that depends on it in our major," Guha said. "But then the majority of kids who take intro to C are actually out of major and they are fulfilling the requirement that their department made for them and so they assume that this is what's being taught in the class. It's a non-trivial thing to change it."
In the meantime, Guha said he is hoping to offer an introduction to Python class for beginner students next semester.
In the future, Sauers hopes to increase the number of students involved with the club and get more employers in the area and guest speakers involved with Python@UCF. He is also in the process of getting the club officially registered as a Registered Student Organization with the Office of Student Involvement.
Sauers said, "I've been really proud I've had the opportunity to bring a passion for software and coding to a much much wider number of people than I would have had the opportunity to at a lot of other places."