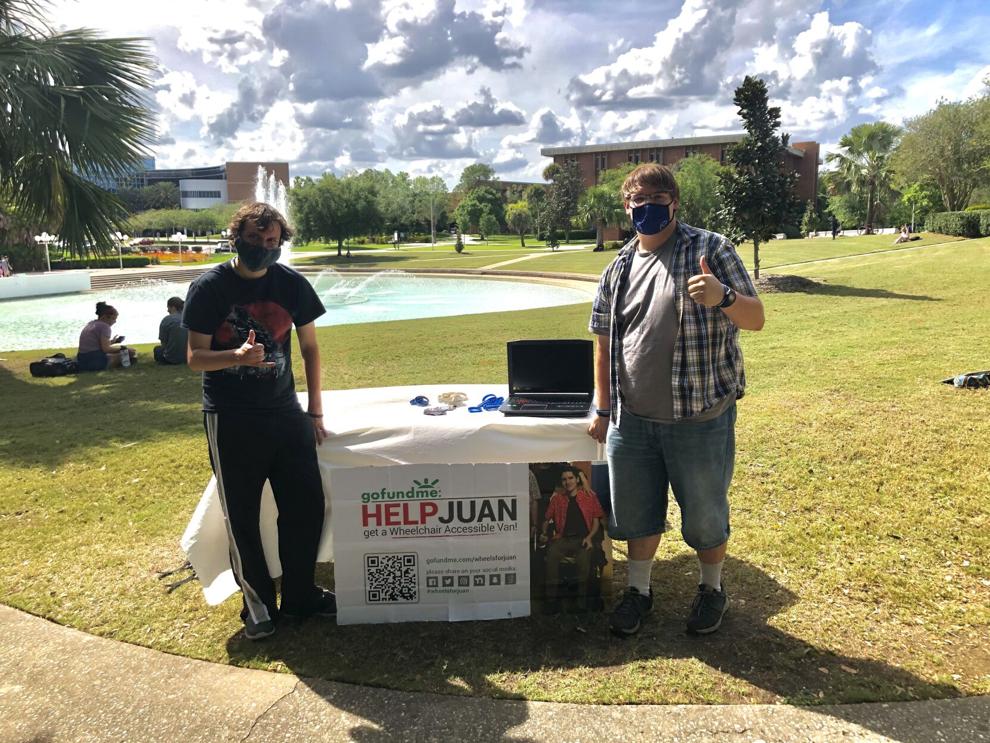 UCF students came together on Wednesday, March 31 to help a 27-year-old Orlando resident with muscular dystrophy raise money for a new car.
Juan Alana was diagnosed with muscular dystrophy, a degenerative disease that weakens muscles over time, at the age of three. He's been using a wheelchair since he was 12 years old, but he hasn't been able to travel since his car broke down a year and a half ago. His two best friends of ten years, Joey LaPointe and Garrett Wincey, started a GoFundMe to help raise funds for a new car. They plan on tabling at UCF every Wednesday until they meet their goal. 
Alana said he talked to his mom about starting a GoFundMe, but LaPointe, a Full Sail film graduate, started the page for him on March 7.
"It's amazing how a community can come together and help out. This is one of the biggest schools, and everyone has been extremely kind. It's a nice campus with a lot of nice people," LaPointe said.
Senior film major and Alana's other best friend, Wincey had the idea to table at UCF. He said that he did not expect the 22 donations that would follow the one day of tabling.
"Joey called me and told me he wanted to create the GoFundMe. At first, I was unsure if it was going to work, but judging by how much we've gotten so far, it's been pretty successful," Wincey said.
Wincey became best friends with Alana his freshman year of high school and returned to the UCF campus for the first time since the pandemic started to raise money for his best friend.
"We want to do something for [Alana and his mom] and help them out. We all know how it feels to be a prisoner in your own home, especially after this last year," Wincey said. "It's almost like we owe him this, because he's such a good friend, and he's like the glue that brings us all together. We want to pay that back as much as we can."
Alana's mother and UCF alumnus, Blanca Mayal does her best to provide by selling orchids on Etsy, an online marketplace, as a side business, but she hasn't been able to work due to a degenerative disk disease.
"I have to be here for him too, but unfortunately I'm disabled as well. After my third back surgery, my doctor said, 'I know how hard you work, and if you keep doing it, you're going to end up in a wheelchair. And who's going to help Juan?'" Mayal said. 
Mayal said that the GoFundMe will be crucial to purchasing a new car since buying one with her current income is unrealistic. 
"It's really hard from what you get from social security to support me and Juan and having a car payment," Mayal said. "I can't afford that in my wildest dreams with me not working and not having an income."
Mayal said it's not worth putting any more money into the car since it has 160,000 miles, and everything is breaking down. She said that carpooling services and taxis are out of the question since most aren't ADA-accessible.
She said that she hopes the GoFundMe will help them avoid being stranded at the movie theater.
"After watching a movie at Altamonte mall, I called a taxi service, and they said they didn't have anyone who could pick us up. We were there until midnight after watching a movie at 2 p.m.," Mayal said.
Kurt Ramos, a senior English major said that he hopes UCF knights can spread the word to help Alana.
"Mutual aid is so important still, especially because muscular dystrophy is a degenerative condition, and it's difficult enough that so many people that are marginalized also happen to be disabled to some extent," Ramos said on an Instagram post. "The fact that this is someone who's around our age is even more critical. I know we can only do so much as able-bodied people to relieve any suffering and helping them live a more mobile life, but I really hope that he meets the fund that he needs."