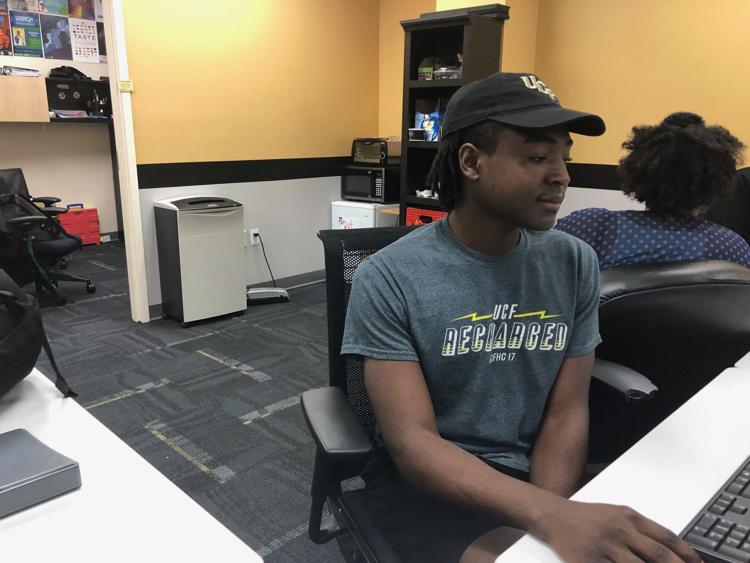 As the first male in his family to attend college, UCF student Savon Crumity described himself as someone who has set standards for his other male family members to follow.
Originally from Tampa, Florida, Crumity said he chose UCF after a relative of his who attended the university raved about its resources and opportunities.
Crumity said he "wanted to be a part of something bigger in the future" and felt the support from the UCF community could help him achieve just that.
During the fall 2017 semester, Crumity joined the Multicultural Student Center's executive board as a marketing director. After realizing he wanted to start programming events for the underrepresented communities at UCF — including the black male student population — he opted to transition to co-culture director.
"Since then, it's just really opened my mind to different communities that I didn't know was [sic] on campus," Crumity said. "It led to me navigating through this whole executive board position and then becoming [the] culture director."
There were almost twice as many black female students enrolled at UCF than there were black male students in fall 2018, according to the the university's Institutional Knowledge Management website.
The website also shows that from fall 2014 to fall 2018, UCF's black male population grew from 2,438 to 2,818 — about a 16% increase. Meanwhile, the university's female black population grew from 3,970 to 4,723 — about a 19% increase.
In comparison, according to IKM's website, in fall 2018 there were 15,006 white male students and 17,748 white female students. This is only about a 17% difference in gender for white students, a far cry from the roughly 51% gender gap for black students.
The same pattern can be found at Florida State University in a 2016 report from the Black Male Initiative at FSU. The report revealed that black female students made up 5.4% of FSU's student population, while black males made up only 3%.
The Black Male Initiative is a program that can be found at many universities and was designed to encourage and support African American males throughout their educational journeys, according to the Black Male Initiative at FSU's website.  
While this program isn't available at UCF, Crumity said certain departments at UCF are trying to help curb the disproportionately low number of black male students. One of these departments is Multicultural Academic and Support Services, he said.
From his experience with MASS, Crumity said he believes one of the reasons for the disparity in the number of black males and males in general at colleges can be traced to the assumption that men are typically less likely to reach out for help than women are.
Crumity said he believes unity is the biggest factor in fixing the disparity, and the goals for getting through college are the same for both men and women: learning, having fun, socializing and graduating as soon as possible.
"When males come together, we all understand what we need," Crumity said.
Black Faculty and Staff Association President Kensington Shields-Dutton said he shared the same sentiment as Crumity in regard to unity among black male students.
Shields-Dutton said he believes one of the reasons for the low number of black males in college is a lack of black male college graduates in society to act as role models. He emphasized the need for black male college graduates to be regarded as role models in their communities just as much as black male rappers and professional athletes are.
"When you're a black man in college, you should return home to where you're from to be a champion of going to school," Shields-Dutton said.
Shields-Dutton, who himself holds three college degrees, said he thinks the lack of representation for black male students makes it harder for them to "matriculate" at UCF because socializing and finding someone to talk to during difficult times can be hard when you don't see many people you relate to.
"Any time you can find someone like you, even though you may not know them personally, it gives you something to aim for," he said.
Jaycee Cureton, executive director of the advisory council Knights of the Round Table, said she also believes the lack of black males in college is linked to a lack of representation.
Cureton, senior biomedical sciences major, said she has noticed there are more females than males in her own pre-dental courses at UCF.
As an African American who said she didn't grow up in a community surrounded by black culture, Cureton said she believes there needs to be a shift in the focus of representation for black males. Though there are many black college graduates, there aren't as many of them in the spotlight as there are musicians and sports professionals, she said.
"There are probably a lot of black children out there who want to maybe be a doctor or maybe go into engineering," Cureton said. "It could be harder for them if the people they are looking up to in that field don't look like them."
Assistant professor Candice Bridge is one of only two African American faculty members at the National Center of Forensic Science, a research center at UCF. Bridge said she has noticed there is less representation for black men in areas of leadership and management because these are the areas in which college degrees are highly regarded and required.
Bridge said black males may be subconsciously less likely to go to college because of a lack of family support, and representation can lead them to think they don't need to have a degree.
"I think it stems from the home, and I think it stems from poor representation of black men in media and social media," Bridge said.
As a graduate of Howard University, a historically black university, Bridge said she was pushed by her family and a high school teacher to fight for and explore the best options for college. She said she believes black males are able to change their views about the possibility of becoming college graduates if they are offered more familial support — even through small gestures.
"The black men in America are not dumb," Bridge said. "There are certain limitations that are placed on them from the outside. Just a little bit of push helps their self-esteem."
As for Crumity, he said he decided to pursue his master's degree in public health for the field's connections to diversity and inclusion, as well as social justice and advocacy. He then plans to attend medical school in Texas with the intention of becoming a family doctor in a rural community.
"There's so much support in rural settings for a minority gay male to kind of reach out and take advantage of those avenues that others aren't willing to go for," he said.
In the meantime, Crumity said he will continue to work with organizations at UCF like MASS and MSC to develop ways to help black male students feel supported and included.
"I'm actually lucky enough to be with MASS," Crumity said. "I'm able to work with them, and in the upcoming semester or so, they are starting the Collegiate Male Institute."
Crumity is now planning to serve as mentorship and membership chairman for UCF's upcoming Collegiate Male Institute, which will be similar to the Black Male Initiative, and uphold the five pillars of MASS: career development, academic development, mentorship, leadership, social justice and advocacy.
"We want to create a more all-around male," Crumity said. "We want to understand how to navigate this whole change in demographics as well as being open-minded to new things and new environments."