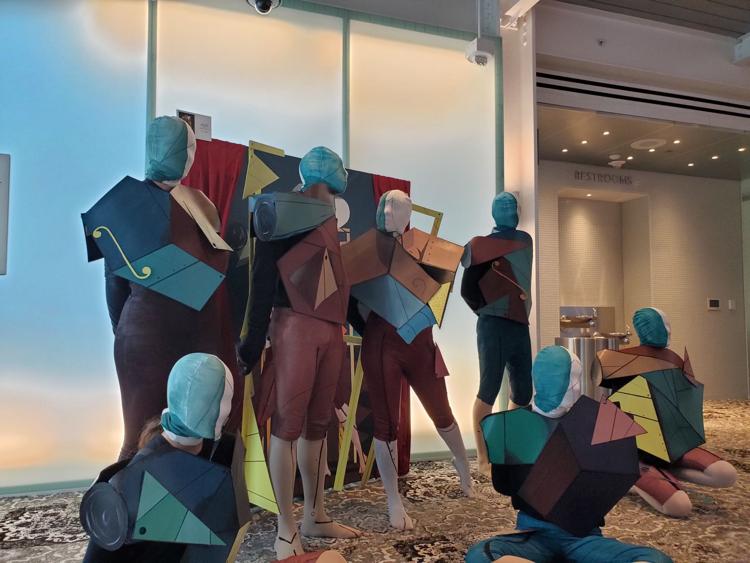 The first three tiers of the Dr. Phillips Center for the Performing Arts were filled with works by more than 160 UCF School of Visual Arts and Design students Friday and Saturday.
The exhibit on display, "Tableaux Vivants" in French or "Living Art" in English, was hosted in conjunction with the 5th annual UCF Celebrates the Arts showcase.
Students from SVAD's 3D foundations course created and brought to life 6-by-6 foot recreations of famous art pieces with correlating costumes.
Working in groups of six, the teams had one member dressed up as the art piece's creator who informed visitors of their accomplishments. Other members of the group dressed up as the art itself, some wearing full-body suits to blend into their artwork.
Debi Starr, SVAD lecturer, said while the work of the students is akin to cosplay — a performance art where participants wear costumes and accessories to represent a specific character — it is still within the realm of art.
The "Living Art" exhibit was themed after art from 1912 in correlation with this year's Theatre UCF production of "Titanic: The Musical," which ran on April 5 and April 6. The exhibit totaled 16 art pieces, Starr said.
Some students took their presentations to the next level by replicating the accents and speech patterns of their art's artist. Others invited passersby to step into their exhibit space and become part of the art for a photo opportunity.
Hailey Goff, junior emerging media major on the experimental animation track, said she used her character's prop of a newspaper from her artwork "The Morning News" by Francis Luis Mora to entice spectators to take a photograph with her team and learn about the art.
Goff's team was one of a few to utilize role-playing to bring their art to life.
Another piece, "Garden Restaurant" by August Macke, simulated walking by a busy, fancy restaurant courtyard with the artwork's team switching between being in motion and freezing when spectators drew close.
"They must know everything about their artwork," Starr said. "I will send people around during the exhibit to ask questions about their art to quiz them."
Starr said students spent around one month working multiple times a week to complete their "Living Art" pieces. Aside from creating the backdrop and costumes, her students also created business cards, renderings of their artwork and a budget.
"My favorite part of this assignment is to see the excitement of my students," Starr said. "At first, they look at me like a deer caught in headlights, and then once they get started, they're really excited."