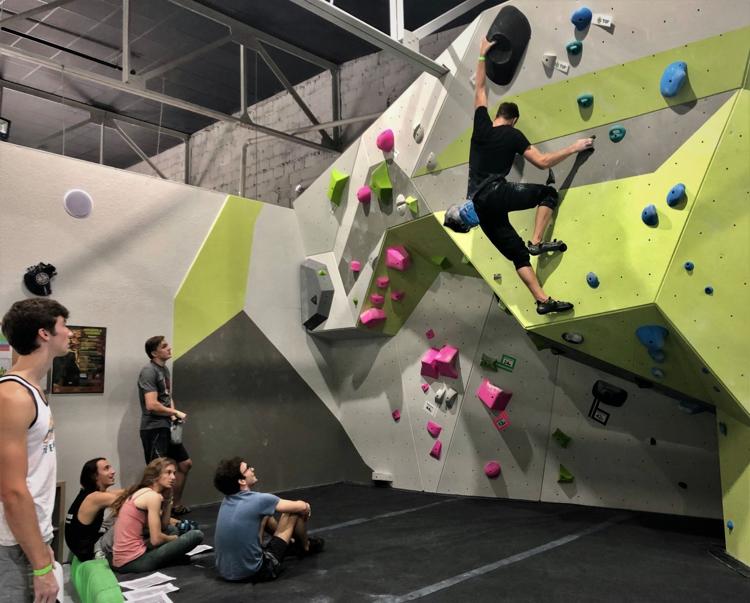 With hands full of powdered chalk, UCF students gripped, reached and pulled up on a race to the top against other Florida universities at the DeLand Before Time Bouldering Competition.
The challenge was a bouldering course at the Dynoclimb indoor adventure gym in DeLand Saturday.
Unlike sport rock climbing, bouldering does not use a harness, ropes or a belay system, but instead it is a form of free climbing. All participants need is chalk for the hands, climbing shoes for better grip and a strong willingness to keep trying.
"I like bouldering better, but that's just me," said Kyle Benko, the former president and current USA Climbing regional coordinator of The Rock Climbing Club at UCF. "It's more powerful. Usually the moves are just harder."  
The event was this year's first collegiate local competition for USA Climbing. Some of the other colleges present were Miami-Dade College, University of Florida and the University of South Florida. 
Almost 50 students had three hours to take turns climbing the walls with the goal of reaching the top boulder with both their hands to win. Competitors then logged their number of attempts and submit their best five to be tallied.
No two people climbed the same. Everyone seemed to work on their own strategies that worked for them, contingent to their size, strength, experience and abilities.
"That's kind of the fun part about climbing," Benko said. "There's no one way to do anything. Everybody gets an opportunity to kind of show their skill sets depending on the climb and you get to have lots of fun because of that." 
The courses offered various difficulty levels ranging from one to 50, with one being the easiest and 50 the hardest.
Up on the walls, many of the students would shake involuntarily as their arms and legs got tired while they looked for their next best move as their teammates cheered them on.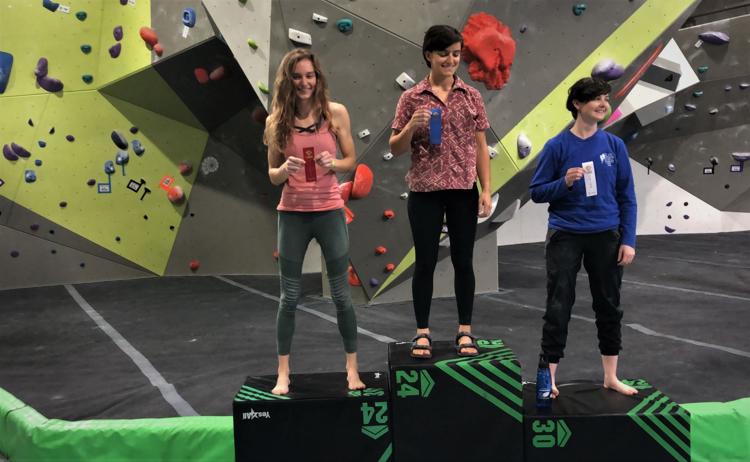 "It's all very much like a dance," Dynoclimb co-owner Britt Frankel said. "It is all movement based, all about balance, coordination, and control. It is mental and physical concentration – a true full body workout."
Holding on for too long or missing the next boulder on the course could make the difference between success or falling to the crash pad below.
"In fact, part of learning how to rock climb is learning how to fall," Britt said.
For some, the experience is all about challenging themselves, beating their personal bests, and connecting with the community.
"Oh, I love it," said Sean Markham, a mechanical engineering sophomore at UCF. "It's physically challenging, it's mentally challenging, and you get to meet a lot of cool people. Everyone is really nice and it's just a great community."
The first-place winner on the women's list was Maris Silvestri from UF and the first-place winner on the men's list was Samuel Vasquez from Miami-Dade College.
Leah Rogers from UCF won second place on the women's list and Johnny Shafer from UF won second place on the men's list.
Third place for the women went to Molly Luedecke from UF and for the men it went to Tobias Langhans from UCF.
The next local collegiate climb will be on Nov. 17 in Tampa, before the teams head to regionals, and then nationals.