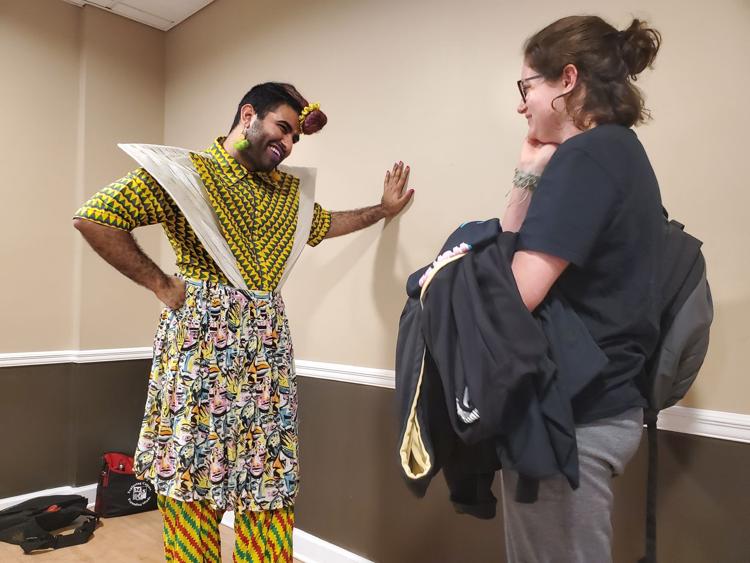 The Egmont Key Meeting Room in the Student Union was set aside as a safe space for celebration and acknowledgment on Thursday.
The UCF Multicultural Student Center invited Alok Vaid-Menon, gender non-conforming performance artist, poet and educator who uses they/them pronouns, to spread awareness and talk about their experiences as a member of the transgender community with about 60 students.
Vaid-Menon was also featured in the New York Times, the Guardian and presented their work 400 times in over 40 countries, according to their website.  
The event took place on Transgender Day of Visibility, which is celebrated on March 31 and works to provide an understanding outside standard gender binary norms and provide support for the transgender community at UCF and beyond, MSC Pride Director Vilma Portocarrero said.
"I want people to take away that they can do something, even if it is within themselves to challenge those gender norms, and to celebrate that difference and that non-conformity" Portocarrero said.
Vaid-Menon's performance was meant not only to celebrate and observe the holiday with UCF students, but was also meant to educate them about the transgender spectrum.
Transgender is a term used to describe those who identify with a gender different from which they were assigned at birth, Vaid-Menon said.
Vaid-Menon brought attention to transgender being an umbrella term with multiple ways of expressing it, as well as how to cope and thrive in a society that expects individuals to visibly adhere to gender roles. Vaid-Menon found a way to communicate to those outside of the LGBTQ+ community who want to become better informed.
"Emotions translate better than categories and words," Vaid-Menon said. "Maybe they [audience members] don't need to understand all the terminology or politics, but they can understand the pain, struggle and hurt." 
Vaid-Menon identified themselves to the crowd of students as non-binary, which describes someone who was born male or female but identifies outside of those labels. Their performance included satirical comedy that garnered laughter from the audience, as well as an informational lecture with interludes for song and performance.
Following the conclusion of Vaid-Menon's presentation, a Q&A session was held for attendees who were curious about the topic and for any clarification on questions they might have. They were also allowed a meet-and-greet opportunity with Vaid-Menon.
While answering questions, Vaid-Menon urged those who also identify as gender non-conforming to create a support group for themselves.
"I think visibility is different than just being looked at," Vaid-Menon said. "Visibility is actually giving dignity and respect [and] actually bearing witness to the entirety of someone."