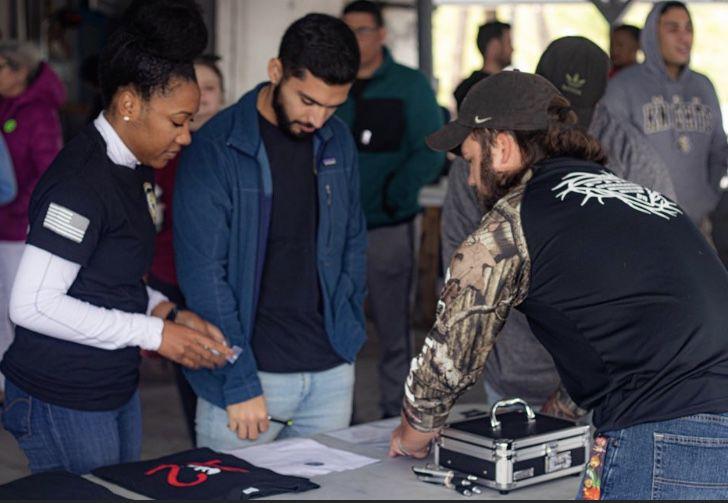 The Student Veterans Association at UCF offers a feeling of belonging to veterans in student life after service, president John Glenny III said.
"Our purpose is to build camaraderie and bring veterans together to make them feel at home," Glenny said.
Glenny, 27, is a former combat medic for the U.S. Army. He became a student at UCF in the fall of 2017, almost five years removed from the classroom, and said he was struggling to find any sense of belonging. He said he's now set to graduate this semester with a bachelor's degree in integrative general studies.
"I felt like I had people here that were like me," Glenny said. "SVA changed my life." 
The same was true for senior mechanical engineering major Lisa Harrison, an E5 in the U.S. Navy who attended Oregon State University fresh out of service. 
"I never really made any friends," Harrison said, referring to her time at OSU. "I promised myself that things would be different coming here [to UCF]."
Harrison said she went to the first Friday night meeting at Burger U not expecting much, and walked out not only with a group of new friends, but also as the new secretary and female veterans coordinator.
"SVA is everything to me," Harrison said. "It's my job, it's my hobby, it's my friends."
Along with meeting twice a month at Burger U on Friday nights, the SVA club has many social events, including tailgates at UCF sporting events, Disney trips, golf days and — most importantly to junior English major Loren Lacy — service projects.
"What I like about SVA is being around highly motivated individuals that want to do better for not only ourselves but for our community," said Lacy, who was deployed four times as an aviation electrician in the U.S. Navy.
Glenny said the SVA club held a fundraiser last November for Veterans Affairs Supporting Housing to help homeless veterans. Before being canceled due to COVID-19, Glenny said SVA was planning a golf tournament this April to raise funds for various veteran organizations, including the Fisher House Foundation.
Other service events in partnership with the Veterans Academic Resources Center were also canceled, Glenny said.
Glenny, Harrison and Lacy said they are looking forward to future events and welcoming new veterans in to the club. However, because of how easily emails can be glanced over, Glenny said he believes that the majority of veterans at UCF do not know what the SVA is and what they can offer, citing spreading the word as their biggest challenge.
"We are here, it doesn't matter who you are or what experiences you've had," Glenny said. "We have to be here for each other, we have to be a family. I love SVA. It is everything that's important to me about the veteran community."