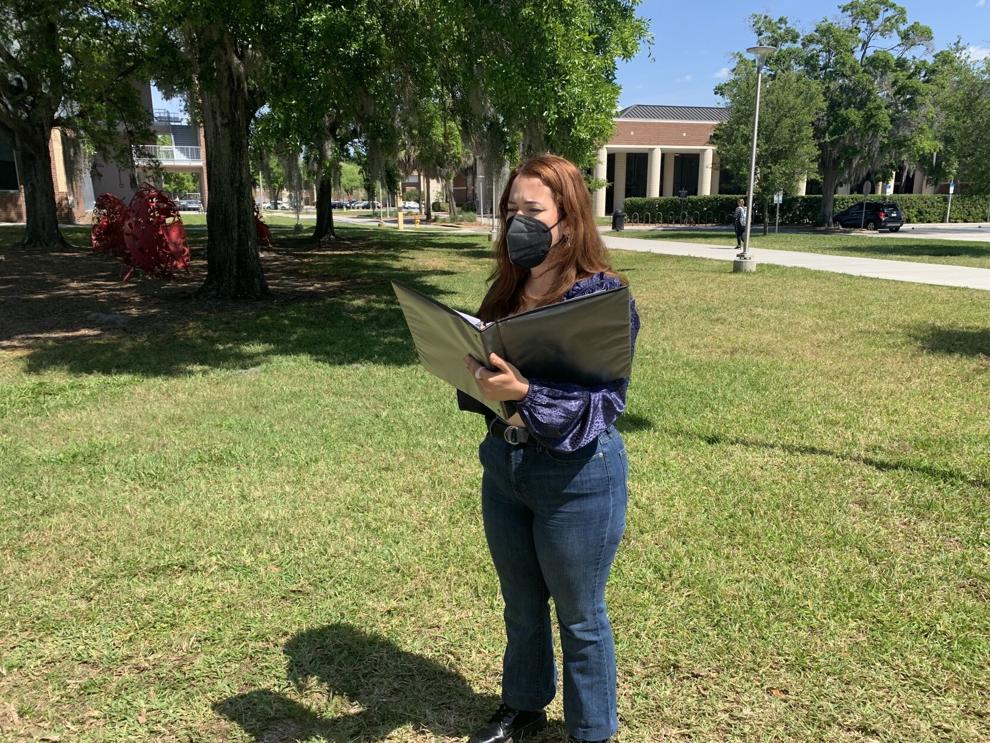 Isis Bermudez was trying on her shoes for her opera class when her phone started blowing up and her classmates began to fill the hallway with congratulations.
Bermudez, a sophomore music performance major, had just found out she had placed first in the treble category at the South Eastern National Association of Teachers of Singing and was moving on to nationals. Bermudez is the first UCF competitor to place first in the competition since 2016.
"I was surprised and I had no expectations at all. This was just an amazing opportunity and I took it," Bermudez said. "I'm so excited and so grateful, and I still can't wrap my head around it."
SERNATS, a competition where student performers compete with other students in the tri-state area, Puerto Rico and the Virgin Islands, has more than 30 categories and was held virtually this year. Students submitted their audition videos on Feb. 19, and the results were announced on March 19. The top five students who win the round move on to compete at the national level. 
Bermudez said she spent hours practicing and that moments like this reminded her what she worked so hard for. However, for Bermudez, the win was about more than just singing. She said it was about the fact that she would move on to represent her home island of Puerto Rico.
"It makes me so proud and I am so honored. I cry thinking about it," Bermudez said. "The fact that I get to be selected for this as a Puerto Rican woman is incredible, 'se me infla el pecho.'"
Bermudez said she fell in love with music in Puerto Rico, and if it wasn't for her island, she would not be doing music. She said she started singing when she was young with her family in "parrandas," a Puerto Rican music tradition that happens during the Christmas holiday season.
"If I hadn't been raised in Puerto Rico my relationship with music would've been different," Bermudez said. "I'm grateful I was raised in a musical culture and that I get to represent it."
After competing in "Idol Kids" when she was 12, Bermudez said she started taking voice lessons with Hilda Ramos, a well-known Puerto Rican soprano, and later sang with her in "La Fortaleza," the official residence of Puerto Rico's governor. A few years later, Bermudez said she also sang for well-known artists such as Ednita Nazario, and that those were moments she'd never forget. 
"She said I reminded her of her when I was young and was 1,000 percent sure that people would know my name. It was literally amazing," Bermudez said.
Bermudez studied at the Conservatory of Music of Puerto Rico in 2015, where she started singing classical music before moving to Florida in 2016. While in high school, she formed part of choir and musical theater. However, she said writing music and poetry during her free time has allowed her to combine the pop and folklore genres, and features traditional aspects of Puerto Rican music.
Wanda Rivera, Bermudez's mom, said she is extremely proud of her daughter and all of her hard work.
"I feel really proud of her; I see her time and her passion for music. When I see these results, I'm just as happy as her," Rivera said. "Her sacrifice and dedication is paying off."
Rivera said she is also extremely proud about the fact that Bermudez will represent Puerto Rico in this competition and she can't wait to see all the great things her daughter will do in the years to come.
"She's so dedicated and passionate, I know she will thrive. She has a musical gift and I hope that down the road she can fulfill her dreams," Rivera said. "Hoping in God that he opens doors for her."
Jeremy Hunt, an associate professor of music in the College of Arts and Bermudez's voice teacher, said that these competitions are great experiences for the students. Hunt said he is very happy and proud of Bermudez for her hard work and dedication.
"I think it's a confidence booster, it helps remind them they're on the right track in terms of what they're doing with their life," Hunt said. "They do get some money out of this too, which is great for them. I'm just really proud and happy for them."
Nonetheless, Bermudez said that although she feels a bit of pressure, she is looking forward to competing at the national level.
"I just hope I can be a good representation of the UCF voice program, Puerto Rico and the Hispanic community as a whole, because they deserve the best representation," Bermudez said.