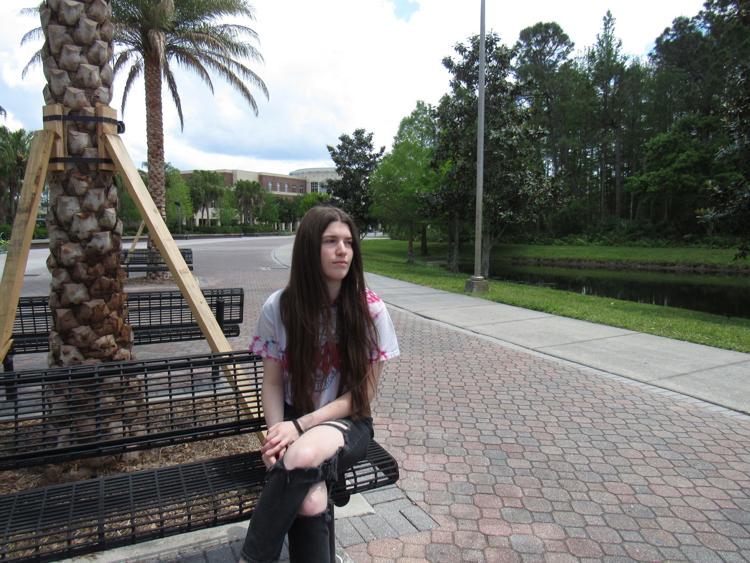 UCF senior Jessica Strohmeyer said she knew something was very wrong with her body at a young age.
She found herself facing fatigue and anemia, and she had a frequent urgency to use the bathroom. 
At 12 years old, she was diagnosed with ulcerative colitis, a disease causing irritation and inflammation in the large intestine, or colon.
Strohmeyer created UCF Crohn's and Colitis Support Group about a year ago, which aims to raise awareness and guide others through the hardships of having an inflammatory bowel disease.
Strohmeyer, biomedical sciences major, said she set up the group to create a community of people with similar problems to her own.
"It's mainly feeling like less of an outsider, like you're [not] alone," she said.
According to the Crohn's and Colitis Foundation of America, approximately 1.6 million Americans have inflammatory bowel disease, or IBD, which can include Crohn's disease and ulcerative colitis.
Dr. Vishwas Vanar, gastroenterology and hepatology specialist at UCF Health, said with no existing cure yet, there is still a lot more to discover about Crohn's and colitis.
"It's an autoimmune disease," Vanar said. "Something triggers in your immune system to fight your own body tissues. We still don't know much about it [and] we don't know why it happens to a certain group of patients."
Vanar said dealing with IBD can impact an individual's mental health by creating stress that can manifest as anxiety and depression.
Strohmeyer said taking certain steroids for IBD can make patients retain water and look overweight, which can be particularly difficult to deal with while growing up and attending grade school.
"The disease on its own is hard, and when you take a medication to help you [and] it ends up getting you bullied, [it] isn't fun," Strohmeyer said. "It makes a hard situation even harder, especially for young kids."
Strohmeyer was diagnosed with ulcerative colitis in 2009 after undergoing a colonoscopy for symptoms she experienced for six months.
"I started some medication, but they didn't really work that well and I was in and out the hospital," she said.
Going through these changes at a young age was a struggle, Strohmeyer said. She once found herself having to be excused multiple times during standardized testing at school to go to the bathroom to throw up. 
Strohmeyer said doctors then introduced her to a new medication that was recently approved for pediatrics. Since then, she has experienced fewer symptoms.
"Immediately, a switch flipped," Strohmeyer said. "Nine years I have been on it. I get infusions about every seven weeks, and it allows me to actually be normal and not have to run to the toilet every 20 minutes."
Vanar said there are now more drugs available to fight Crohn's and colitis than there were even five years ago.
"There are more clinical trials going on, and we hope that we will have more drugs in another five years," Vanar said.
At 13 years old, Strohmeyer said she joined her hospital's support group for people living with Crohn's and colitis after her doctor advised her to do so.
"It was nice to talk to people who had the same problems [and] having tips on how to deal with certain things," Strohmeyer said.
Strohmeyer began forming the UCF Crohn's and Colitis support group last semester. Sessions will be held twice a month on campus and provide a place for students with similar conditions to support each other, she said.
"[It is] a little community of people who understand other people's struggles," Strohmeyer said.
Strohmeyer's boyfriend, Caimin Shuman, said she is in a good position to lead the support group.
"Jessica [Strohmeyer] is a very selfless person," Shuman, sophomore health sciences major, said. "She's determined, she's hardworking and she's extremely organized, and those are all amazing leadership characteristics."
Shuman said it's likely there are many UCF students affected by IBD, and even if they are not directly affected themselves, they may have family members or friends living with the disease.
"This is a good way of fostering a voice for those people," Shuman said. "They can come together and learn from each other. It's going to help them look to the future and have a network of people that share this common battle that you are facing — that alone is very empowering."
As the support group comes together, Strohmeyer said she hopes it will do work with the Crohn's & Colitis Foundation at its events hosted in Orlando. The foundation aims to find a cure for IBD and improve the quality of life for children and adults affected by the disease, according to its website.
Bianca Isabella Hernandez, junior human communications major, serves as an advocacy chair on the National Council of College Leaders with the Crohn's & Colitis Foundation and said she plans to be involved in the UCF Crohn's and Colitis Support Group when it begins this fall. 
Hernandez, who also has ulcerative colitis, communicates with Strohmeyer via email and phone calls and said she is looking forward to being a part of the support group's mission.
"I am excited to get involved when the sessions begin next fall," Hernandez said. 
Strohmeyer also assisted Hernandez in promoting an event the Crohn's & Colitis Foundation will host on UCF's Memory Mall – called Take Steps – on April 27 to raise money to find a cure for IBD.
"It is centered around taking steps to raise money for Crohn's and colitis cures," Hernandez said. "The hope is that individually, the community can gather to help take steps and hopefully one day find a cure."
With 12 members so far, UCF's support group is growing. Strohmeyer said the group is open to any student with a connection to IBD, whether through their own experiences or those of a loved one, to help destigmatize the disease. 
"It's a good feeling not to feel as weird," Strohmeyer said.
Click here for more information on UCF's Crohn's and Colitis Support Group.