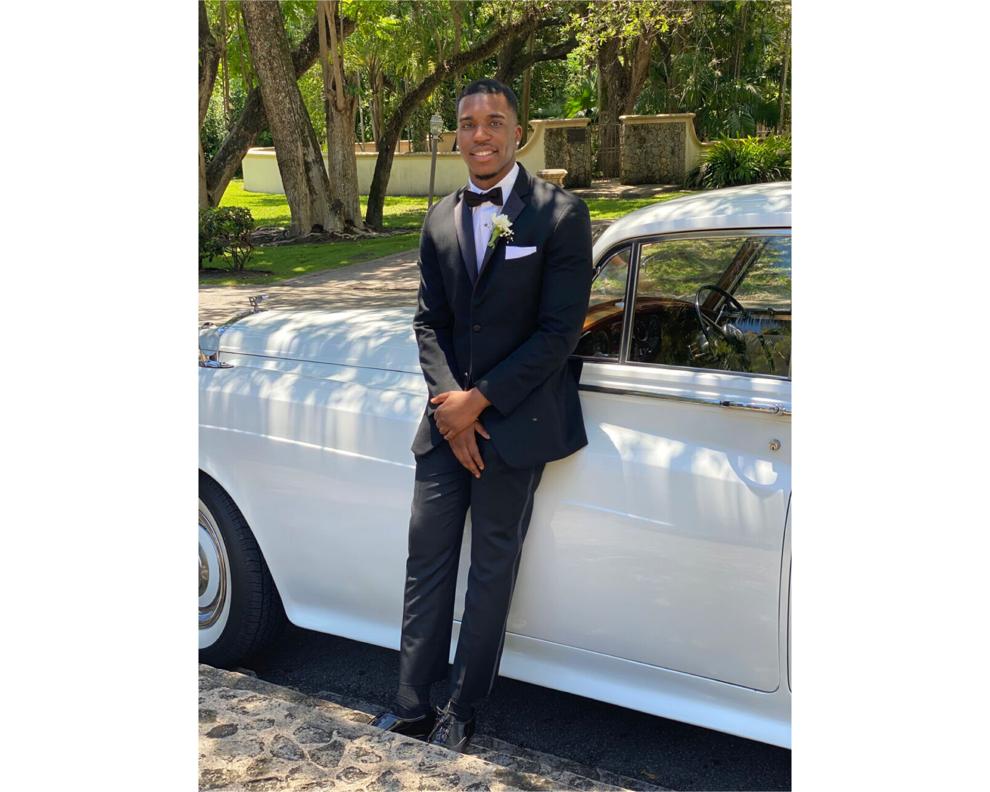 Senior health sciences major David Prudent gained a new perspective on life after losing half of his right leg in a car accident.
"I was just thinking about whether I was gonna live or die, honestly," said Prudent, 21.
Prudent was hit by a car near UCF and was sent to the hospital on Sept. 29. Prudent was helping his friend move her broken-down car off the road when a driver did not see him and hit him on North Tanner Road and Lake Pickett Road after 9:00 p.m., according to an Orange County Sheriff's Office report. 
Prudent's right leg was amputated below the knee and his left leg's tibia and fibula were broken. He stayed at Encompass Health Rehabilitation Hospital for treatment and was released on Oct. 16.
Prudent went through rehab twice a day for five days a week. He had to learn how to use a wheelchair, learn how to use a walker and rebuild strength back in his legs. He also had to use his upper body strength.
"It could be tough sometimes. Sometimes frustrating but you know, I'm just taking it day by day, taking it a day at a time," Prudent said while he was still receiving treatment. "I've been progressing. I feel strength back in my legs, but it's still difficult."
The Night of the Accident
Senior digital media major Jordan Sterling, Prudent and a bystander were pushing junior biomedical sciences major Aliyah Green's broken-down car when Sterling suddenly felt a hit to the face, he wrote in an email.
He said the force of the other car caused Green's trunk to pop open, which hit his left eye and displaced him onto the street.
Sterling visited a local emergency room the day after the accident and again a week later because of his eye pains, which lasted for about two weeks. 
He was worried about Prudent for the first few days, and he had some trauma from the accident. He has not done much to relieve the trauma except talk about it with friends and family, he said.
"I was also battling the trauma of constantly reliving the accident and thinking about how close it was to being both of us in his situation," Sterling said. "Now I try to focus on the fact that we're both still alive and were meant to be here for a reason."
Green said she was steering her car when she suddenly heard a loud crash, got out of the car and saw someone on the ground. 
"I started freaking out. I ran back to my car trying to find my phone so I could call the ambulance, but I couldn't find my phone, so I just sat in my car like having a freaking panic attack trying to find my phone," Green said.
Green said she had her emergency lights on, and even though the road was pretty dark, every other car moved out of the way without a problem.
"Every other car went around with no issue, so it was enough light for him to go around," Green said about the driver who hit Prudent. "He was just going entirely too fast and not looking."
The driver stayed to help Prudent and was still talking to the police when Green left, she said. She has only spoken to his insurance company and has not spoken with him directly. 
Coping
Prudent said the support of friends and family — especially from brothers in his fraternity Alpha Kappa Psi  — has been helping him progress. Prudent is the health and brotherhood wellness chair of AKPsi. 
"They've definitely been able to take me through everything, calm me down if I need someone to talk to," Prudent said.
Prudent said he lives a healthy lifestyle and turns to working out as a form of stress relief.  
"It's something that I still feel like I have to work out still. I'll still pursue it," Prudent said. "I just feel like it's something that's been a part of me for so long, so I'm not gonna let the accident stop me from working out."
Brothers at AKPsi, a professional co-ed business fraternity, made a GoFundMe page to help Prudent and his family cover his medical expenses.
Prudent said he is now more accepting of the situation and is taking his mental health more seriously than he has before. He is journaling every day with a book an AKPsi member gave him, an idea he initially opposed. 
"I'm journaling my thoughts. Never done that before. It's forcing me to reflect, which I never really do," Prudent said. "Self-reflect and looking at myself internally and asking myself how am I doing every day and just accepting the good days with the bad."
Green said Prudent is still being himself and joking around. She said Prudent wants to use this accident to motivate other amputees and is looking forward to the future.
"Honestly, David is one of my favorite people. I can't see anybody else going through this and having the mindset he has," Green said. "I feel like anybody else would be bitter right now and wanting revenge. He's putting his energy toward stuff that's gonna make this a positive outcome, make something out of nothing."
With a little help from his friends
Quanisha Bernard, Prudent's mentor in AKPsi and a junior majoring in health services administration, was bombarded with messages asking what was going on with Prudent the night of the accident. She found out about Prudent being taken to the hospital and was pained to hear about it. 
"I just started praying to the most high like, 'Please he's too young, he's got too much going for himself. This is a lot. What do I say? What do I do?'" Bernard said.
She started questioning why Prudent was chosen to be in her life. She said it was tough because, being in the health field, she has seen amputees at an older age, but not at Prudent's young age.
"He calls the next day and, oh God, that probably was like the worst call ever," said Bernard, who stopped to catch her breath and think. "For me, it was his eyes. I seen pain, I seen hurt, and that was hard."
She said Prudent has an upbeat and outgoing energy, but it was the first time she had ever seen what she saw in Prudent's eyes during their video call.
"His eyes, just looking at his eyes, you could literally tell he was trying to hold back tears. That he was trying to hold back pain," Bernard said. "He was trying to be strong. He didn't want me to worry. Everything he was trying to hold back from me, I seen it all. I seen it all in his eyes."
Bernard went to visit Prudent the day of his release from the rehabilitation hospital. She said she saw him give a natural positive energy so she was able to give that back.
"I was just so happy that he was mentally OK. I mean, I know physically this is tough, but when I seen that he was mentally OK and in high spirits, I was just happy," Bernard said. "I already knew he was strong, but it truly showed me how strong he really is."
Bernard said as his mentor in AKPsi, she guides him with advice for the medical field — like how to deal with patients and general life advice. He also helps her with maintaining an active lifestyle. 
AKPsi brother Quincy Jamal, a student in UCF's executive master of health administration program, said he was heartbroken to hear about Prudent's accident. He said Prudent is like a little brother to him, and he sees a lot of his younger self in Prudent.
"When I found out the details from David himself, I was heartbroken — just because it's tough," Jamal said. "Out of all the people it could have happened to. He's just one of the strongest, most physically fit people I know."
Jamal said it took him a while to reach out because he couldn't find the words. He said he didn't want to sound fake by saying he understands Prudent's situation when he doesn't really know. Jamal eventually found the words and reached out to Prudent to let him know he is always there for him. 
"It was heartwarming, because even though I know he has his moments, he was just very positive about his outlook on it," Jamal said.
Jamal said they will pick up where they left off once things are better, and he knows Prudent is bouncing back.
"We can just link up and be able to joke around and make him laugh and have fun and make him feel that — well not make him feel, but let him know that nothing has changed on our end," Jamal said. "That's one of those that like something so dramatic happens, or so traumatic I should say, you start to realize who's really in your corner."
Prudent said he read about a UCF student, Reuel Buchanan, who was killed after being struck by a car while crossing the street in April 2018 near UCF.
"I saw the impact he had on a lot of people, in the campus, in the community and he was unfortunately hit by a car and lost his life," Prudent said. "And I was hit by a car too, and I lost my right leg."
Prudent said drivers do make mistakes, but UCF and its neighboring counties need to supply drivers with better driving conditions.
"I just want to not only put emphasis to UCF but also to the county," Prudent said. "We definitely need more lights, more streetlights in those roads that are much darker so this doesn't become a continuous trend."
UCF spokesman Mark Schlueb wrote in an email that UCF is not able to make improvements on roads outside of campus, but that UCF has been taking steps to increase safety for pedestrians and motorists within campus.
UCF added "STOP for Pedestrian in Crosswalk" signages at five locations on campus last year, and five crosswalks have been upgraded with flashing yellow lights.
"It shows great courage for David Prudent to not only recover from such a devastating injury but to use that accident as motivation to help others," Schlueb wrote. "We at UCF applaud his efforts to make roadways in the area safer for motorists and pedestrians. His service to others is what makes him a Knight, and we wish him success."