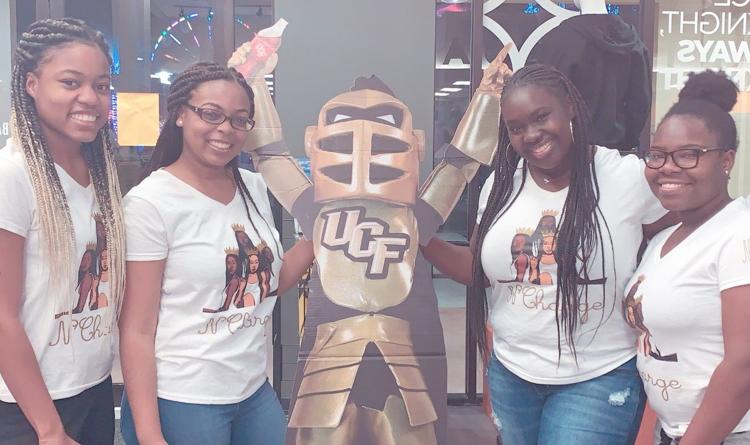 Amid reading many heart-wrenching stories from fellow students, one UCF student has decided to give back this holiday season by delivering a "Christmas blessing" to students who have lost one or both parents.
Destiny Anderson, junior social work major, works in a special department of the Office of Student Financial Assistance where she reads additional aid requests from students who have lost loved ones.
She was struck by the amount of people who have lost one or both parents.
"There are a lot of students that we encounter every day that their parents are gone and we have no idea," Anderson said. "We just kind of move along with life like it's nothing, but that's something that they battle and they deal with."
Recently, Anderson's close friend's father passed away. A few years earlier, her friend's mother passed away as well. When Anderson returned from the father's funeral, she found that her mother had given her a care package.
"I was very emotional just for the fact that I used to take for granted my parents and my mom and all the things she does for me," Anderson said. "But something as simple as that care package — my friend will never be able to get that again from her parents. And, I was just thinking about the other students here at UCF that don't have that either."
Because there is only a certain amount of funding the OSFA gets, Anderson knows firsthand that not all of the additional aid requests get approved. That is why she decided to take matters into her own hands with "Destiny's Christmas Blessing," a fundraiser for students who have lost their parents.
Any student currently enrolled in college who has lost one or both parents is eligible to enter and must answer the question "How do you overcome challenges when the odds are against you?" Anderson will read the submissions and announce five winners on Dec. 24. Winners will receive a monetary gift and a care package. 
As fundraising chair for the UCF section of the National Council of Negro Women, Anderson thought it was the perfect organization to partner with for the fundraiser.
The NCNW is a non-profit whose mission is to "lead, develop and advocate" through giving back to the community.
"I hope the winners understand that they do have a family at UCF," said Shannon Hollback, sophomore legal studies major and NCNW member. "So they can rely on people even though they did lose their loved ones. They can have someone to depend on."
In addition to NCNW, Destiny's Christmas Blessing is partnering with UCF Nupes fraternity, Experience Christian Church and more. Anderson is still open to other organizations reaching out to her to partner with her as well. 
"We know that it's hard even just being regular college students with parents," said Kemba Joseph, junior forensic science and criminal justice double major and NCNW member. "I hope that with this [students who have lost loved ones] look at it like they have a family at UCF and they have people who care about them."
Anderson's slogan for this fundraiser is "I'm just a college student who cares." She plans on putting this slogan on shirts and selling them, with all proceeds going to Destiny's Christmas Blessing.
She also invites students to send video clips of themselves saying the slogan to destinychristmasblessing2019@gmail.com in order to motivate students who haven't lost a loved one to participate and to encourage students who have to apply.
"This isn't just some gift like, 'Here you go,'" Anderson said. "It's something to let you know that you are not alone and we are here to help you if you ever need help. It's from the heart."