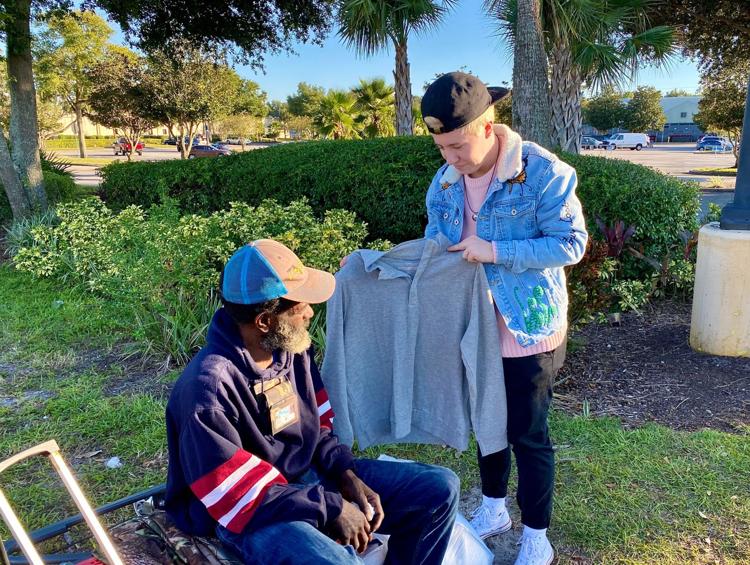 Almost every day, a Vietnam War veteran sits outside the Walmart on Colonial Drive hoping to catch someone's eye and be the recipient of someone's generosity.
Leroy McCrea, 61, got his wish Wednesday when Claire Brittain, a sophomore political science major, brought him an assortment of things to keep him company — and keep him warm.
Brittain said around the holidays, she likes to go to thrift shops and buy the less fortunate, things that will keep them warm like jackets, blankets and even suits.
"Growing up, my mom and grandma would always keep water and snacks in their car to give to homeless people that we drove by, so I grew up used to the whole idea of helping," Brittain said. "There's something about giving back that makes me feel so good."
Brittain said she likes to step up her giving back around the holidays.
"To me, the holidays have always been about making other people happy and giving to those who don't have anything," Brittain said. "Not to mention it gets cold around this time, even here in Florida."
This time Brittain specifically choose to give to McCrea. Brittain said she would drive by McCrea almost every day and see his sign that said he was a veteran.
"Seeing stuff like that almost brings me to tears," Brittain said. "This guy risked his life for us, and now he doesn't even have a home. I feel like I'm simply just doing the right thing, everyone should help someone like that out."
McCrea said that his homelessness began after he lost his job around 20 years ago. After that, he suffered an accident where he severely damaged his finger and had to amputate it. Because of this, he said that it became hard for him to find another job, and he eventually lost his home as well.
"Once I lost my house, I just got stuck out here," McCrea said. "It's hard because people steal things from me like my wallet and my bag."
McCrea said he loves to receive prayers, clothing and food.
"It makes me feel good that people care and are helping," McCrea said.
Brittain is no stranger to giving back to others in the community, though.
Francesca McCarty-Brown, one of Brittain's closest friends, said Brittain does things like this all the time.
"Claire's just a super generous person, I've never seen her do anything selfish," McCarty-Brown said. "She always puts others before herself."
Brittain said that just this week, she changed her major from business management to political science. 
"I feel like being a political science major will put me down the path that I want to really be able to help people and make a difference," Brittain said. "Giving back has always been a big part of my life, and I want it to stay that way in my future."