With Hurricane Irma howling outside her window Sept. 10, Nicole Goldman's mind was occupied with thoughts of a tiny island in the Caribbean.
Goldman, a senior studying graphic design, said she recognized a need for information and organization after Irma hit her parents' home of St. John in September. She began designing an infographic as Hurricane Irma made its way through Central Florida, believing the information in her graph was a necessity for those wanting to know how to donate to the island of St. John.
"I still have a very strong connection [to St. John]," Goldman said. "That is my childhood home."
Unable to get in contact with her family on the island during the storm, Goldman said she stayed informed through a Facebook group named the "St. John State Side Alliance."
After the Category 5 storm passed the island, Goldman began seeing photos of how hard Irma hit St. John. In August, she had visited to see her parents, and said she remembered leaving the island as a lush and green paradise.
Goldman said her heart sank when she saw photos of the once towering trees reduced to stumps; however, she decided to remain optimistic.
"Everything will grow back eventually. It's just going to be a long time," Goldman said. 
Four days after the storm hit St. John, Goldman said she received two messages from her parents. She said their first concern was her safety, especially with Irma making its way to Florida.
After getting in touch with her parents, Goldman decided to turn her attention to helping her childhood home. While Irma made its way up the west coast of Florida, Goldman began working on her own relief effort project for St. John.
"Irma is hitting and I'm on the Facebook group and everyone is freaking out about donations. I'm looking at this as a graphic designer and I'm thinking it would be really great if we had one thing that said everything," Goldman said. 
While looking on the Facebook group, Goldman discovered an organization selling stickers and donating the profits to the St. John hurricane relief.
"Everyone on the Facebook page felt incredibly helpless. The stickers gave everyone a real thing that they could purchase to show their support," Goldman said. "It gave them a real way to show everyone else that they care. It allowed them to feel not as helpless."
Goldman said she decided to create a sticker and donate the profits to friends she had in St. John who were volunteering with the relief effort.
Using a similar design from her infographic to create the stickers, Goldman realized she needed help with the lettering and reached out to her friend Ashley Spofford, a senior studying graphic design. She had visited St. John with Goldman in August and was also shocked by the destruction caused by Irma.
When Goldman reached out for help with the design of the stickers, Spofford jumped at the chance. 
Goldman decided on a heart design with the caption "Love City," which she said is the nickname of St. John. She sent the design to Spofford, who was evacuating from Florida with her neighbors at the time.
Spofford said she completed the lettering on her iPad in the car on the way to Nashville, Tenn. She then sent the design to Goldman, who had to wait for her Wi-Fi to be turned back on before ordering the stickers and advertising them on her website and the Facebook group.
Within 24 hours, Goldman said she had made more than $1,000 on over 100 orders.
"I wasn't expecting any more than 50 stickers [to be purchased]. I didn't expect anything honestly," Goldman said.
Goldman said she had orders from all around the United States and even one from Greece.
"There was one lady who bought twenty stickers to give out to people," Spofford said.
Realizing she needed help preparing the stickers to be shipped, Goldman reached out to Kaitlyn Osorio, the vice president of the Graphic Design Student Association (GDSA) at UCF.
Osorio let Goldman speak at that week's GDSA meeting to ask for volunteers from the club to help package the stickers. Osorio said more than a dozen members stayed after to help and formed something similar to an assembly line.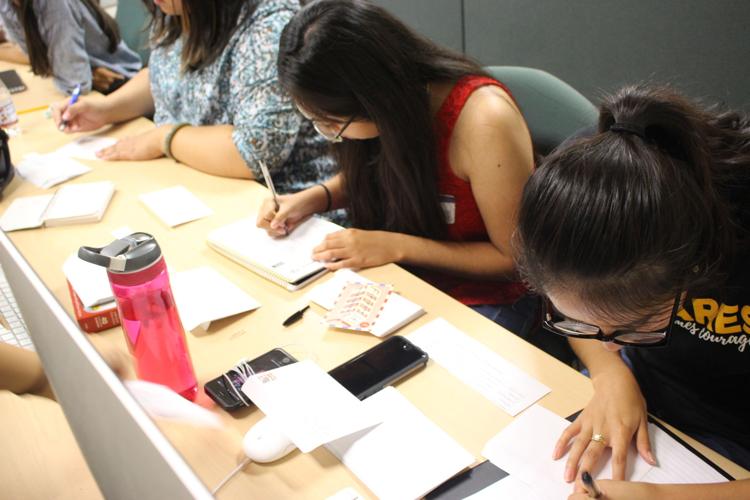 "Everyone helped me so much. It didn't take much time at all. It was awesome to see people caring and donating a little bit of time," Goldman said.
Osorio said the entire project of packaging took less than an hour to complete. She believes that displaying this kind of relief effort project is important for emerging graphic designers.
"You solve an issue by combining visuals and typography and a really solid concept," Osorio said. "Part of what we want to teach to new members is that graphic design isn't just something that you make and you keep for yourself, it's something you share with the world."
Goldman said that she began shipping out her stickers last Monday and that she has raised more than $2,000 for St. John.
"It amazes me that my one person effort can make an impact due to just the small donations of a large quantity of people," Goldman said. "That blew my mind. I'm just really impressed by human beings right now."
Goldman plans on reorganizing her relief effort. She said she wants to work together with other graphic design students to create stickers for Puerto Rico and other islands affected by Hurricanes Irma and Maria.
For more information on Goldman's stickers visit her website here.