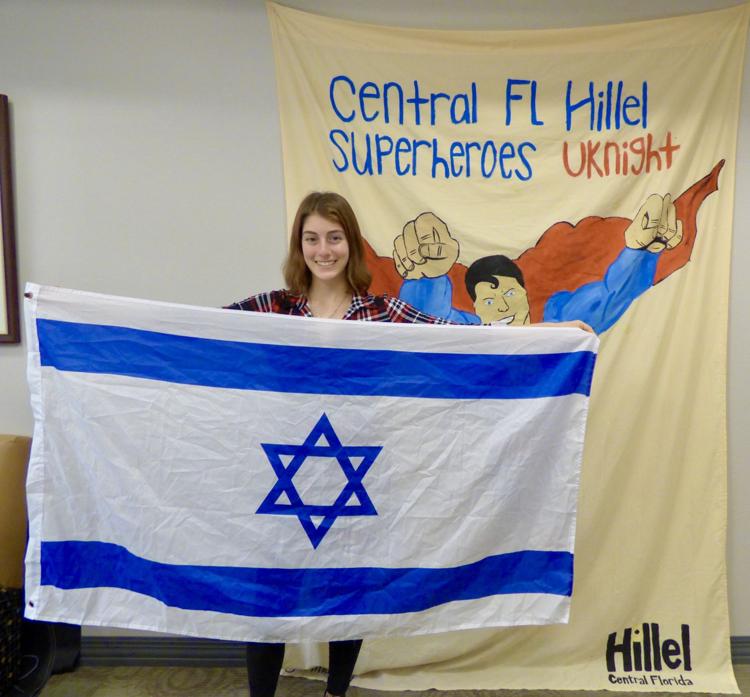 Riley Shurack, a UCF health sciences junior, dreams about packing up her American life and moving across the world to Israel for the rest of her life.  
However, a life in Israel wasn't always the goal for Shurack. 
Growing up as a Reform Jew, one who doesn't do many of the customs that more observant Jews do, Shurack said she wasn't religious until starting college at 18 years old.  
"I was bat mitzvahed, and after my bat mitzvah, my family felt I should try to find my own path when it came to discovering more about myself and so we didn't do many Jewish activities," Shurack said. 
Shurack said she became more in touch with her Jewish culture after meeting a well-known person in UCF's Jewish community, Jesse Slomowitz. 
"[Slomowitz] has this tendency to reach out to any Jew that goes to UCF or just any Jew in general," Shurack said.  
Shurack, a South Florida native born and raised in Cooper City, said Slomowitz inspired her to get closer to Judaism and ultimately helped her discover her love of Israel.  
"The Jewish community was the first place I sought familiarity in," Shurack said. 
Hillel, UCF's foundation for Jewish campus life, said 10% of the university's students are Jewish, making it the third largest undergraduate population in the world outside of Israel.  
After meeting Slomowitz, Shurack joined UCF's Jewish organizations like Hillel and Chabad. She also became a member of Knights for Israel, an independent cultural organization on campus. 
"I saw this community and I was just amazed at all the different opportunities to pursue my Judaism," Shurack said.  
Like Shurack, Slomowitz also seeks comfort and peace in the Jewish community. He said one of the things that stuck with him growing up religious, was that all Jews are family.  
Now a UCF alumna, Slomowitz said part of the reason he enjoyed talking to and recruiting other UCF Jews to join the university's Jewish organizations was that he wanted them to feel like they belonged in their heritage. 
"I used the tools I had to pitch to Riley and others about the ways of being part of something bigger that will give them a sense of home for them," Slomowitz said.  
Once joining UCF's Jewish organizations, Shurack said she discovered many opportunities to visit Israel and has traveled there three times since starting college. One of the trips she went on through UCF was Birthright Israel, a free ten-day heritage trip to Israel offered to Jewish young adults.
"As a college student going back there, my whole view shifted. I'm older, I learned a lot more about myself and college is the time really to explore all these different things that you can do," Shurack said.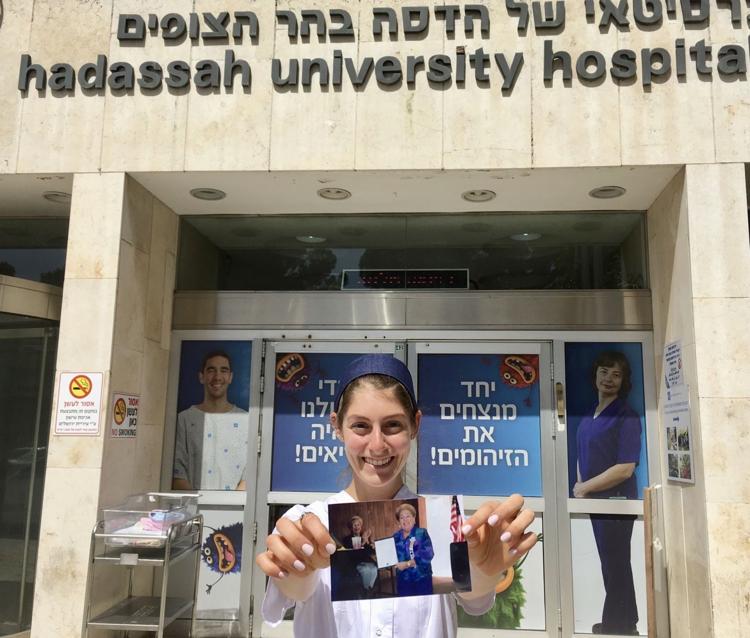 After spending time in Israel for a summer internship, Shurack decided she wanted to move there as soon as possible. Her original plan was to finish her fall semester at UCF and move to Israel in January.
Unfortunately, those plans changed for Shurack when she discovered the absorption program she applied for in Israel was already full. 
"It's a mix of feelings. A bit relieved because moving is a lot and I may just not be ready for it yet," Shurack said. "Disappointed because of how hard I worked on it, but I did save myself a lot of time and know a lot more for the future when I do move."
Shurack now plans on graduating from UCF in 2021 and moving to Israel after graduation to pursue her master's there. Until then, Shurack plans to continue staying active in UCF's Jewish community. 
Jonah Keehn, president of Knights for Israel, also plans on moving to Israel after graduation. He said he believes he's seen a change in Shurack after visiting Israel and deciding she wants to move there. 
"She has had more connection to Judaism and as such has made an effort to actively care about her heritage," Keehn said. 
The process of Jews returning to Israel is called "Aliyah," which means elevate in English.
Aaron Weil, executive director and CEO of Hillel Central Florida, said about two students a year from UCF move to Israel to make Aliyah. 
"I've been here for six years, so about 12 to 15 UCF students have picked up and moved there," Weil said.
Weil said there are many organizations, like one called Nefesh B'nefesh, who try to help Jews make Aliyah. 
"There's more than a quarter of Americans living right now in Israel," Weil said.
Shurack said she is waiting to join those Americans living in Israel and is excited for the day she can finally call herself an Israeli.
Correction: A previous version of this story stated that Shurack applied for an osteopathy program, but she applied for an absorption program. This story has been updated to reflect the change.