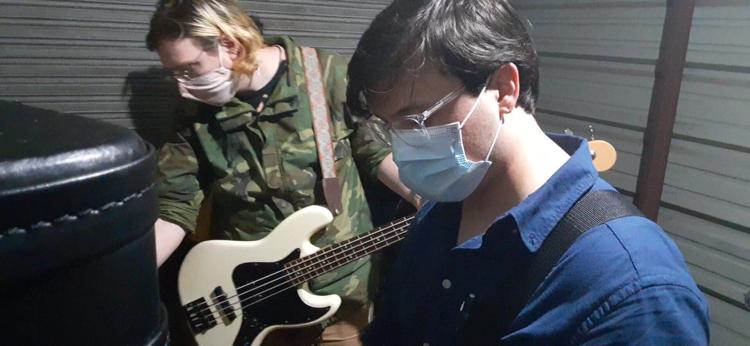 As Glenn Ritchey warmed his guitar up for a night of band practice, he reminisced about his musical origins.
"My first concert was a Social Distortion show my parents took me to in 2004," he said. "The energy in the venue was so exciting. I knew then I'd always love music."
Ritchey, UCF junior english literature major, is the lead guitarist in a band called Witchbender, who describe themselves as "smeared, volatile and unleashed" on their website. The band, who have been releasing music since 2014, have toured the east coast of the United States as well as parts of Canada.
Ritchey was not an original member of the group, but joined in 2017 after hosting a festival the band auditioned for. The vocalist, Julio Felix, sent him a Facebook message after the festival.
"They needed a new guitarist, and I went for it," Ritchey said. "I recorded my first record with them, and my guitar playing has become better. Marginally."
Felix, also the band's songwriter, said positive things about Ritchey's contributions to the band. Not only does he play the guitar on their tracks, he also has input on songwriting.
"Glenn is the keeper of the negative vibes," Felix said. "We're a heavy, loud band and we don't want to sound too happy. Glenn will sometimes dial it back and bring out the dark tones in our music. It's great." 
Even after a tour and more success, Witchbender and Ritchey say they are most proud the benefits they have contributed to. They have provided songs to two separate compilations this year. The first was to All Black Lives Fund in July, the second to Pouring Out Refreshing Outreach. So far they have raised around $250 for each.
"A lot of our songs deal with mental health, racism, inequalities," Felix said. "When this pandemic happened, I thought we should stay active in one way or another. We had songs lying around, so we got together with like-minded people and made a compilation." 
Ritchey reflected on both his contributions to the band and to his community. He said while it has been great to produce music, what really mattered to him was bringing relief to those in need.
"It's a great release to play music," Ritchey said. "It's even greater to step aside to see there's more to creating than the indulgence. It's nice to make, and to be important to someone artistically, but it's far more important to give back to the community you grew up in."