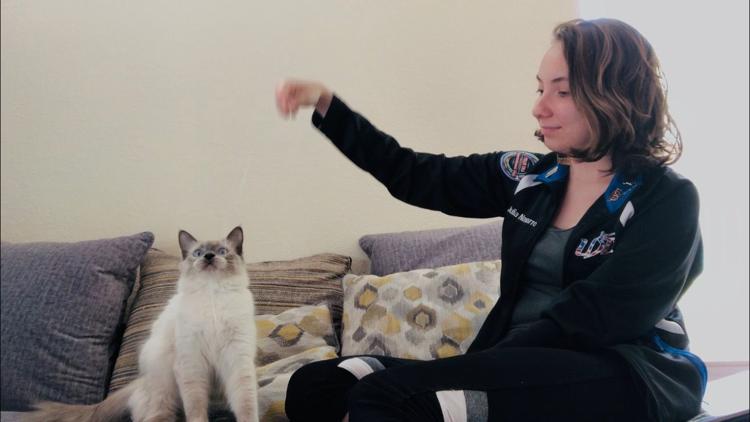 Some students struggle with leaving home for a long time.
Senior emerging media major Julia Navarro, whose parents live in Buenos Aires, said she brought to UCF something that would always remind her of home: a stray kitten.
Navarro is a first-generation student who said she struggles with being away from her family and misses them dearly.
"It hurts being away from my family for so long, and I know they're working really hard to send me here, so while I'm here I want to do everything I can, to try and succeed in my goals and make my family proud," Navarro said.
Last summer, when Navarro was visiting her family before the fall semester, Navarro's mother Erika said she gave her a stray kitten that had been roaming around the house for weeks after its mother had died. Erika said she thought that the kitten would not only make a good companion for her daughter but serve as a reminder of home.
"I used to feed this stray cat for months, and one day she shows up with a little baby kitten," Erika said. "Not too long after the mother died and the kitten would keep coming for food so I decided to give her to Julia."
Navarro said she named the kitten Lita and took her in despite initially being afraid of taking care of her. Lita was always cautious around her and would run away and hide whenever someone approached her, she said.
Navarro said Lita would also bite her whenever she tried to hold her, which didn't help her fear of taking care of the kitten. Over time, however, the two began to spend more time together and formed a special bond, she said.
Lita is an emotional support animal that Navarro said keeps her anxiety down when she gets homesick or overwhelmed. She said Lita has also helped her cope with handling stress stemming from school.
"Sometimes I have so much work on my plate at once that I want to just give up, but Lita always keeps me calm," Navarro said. "If I get overwhelmed with a project or a deadline, I just grab Lita and start cuddling with her to calm my nerves."
Since 2018, registration for emotional support animals like Lita has increased by 65%, according to UCF Housing and Residence Life. Navarro said that she encourages students who have trouble being away from home adopt an emotional support animal.
Navarro said she's had Lita for about a year or so and every time she looks at her, it makes her feel a little less homesick. It hasn't always been easy, but she loves taking care of her, she said.
Erika said that she has seen how much of a difference Lita has made in her daughter's life in just under a year.
"Julia used to always call us about how she misses us, but ever since she got Lita she doesn't as much," Navarro said. "Now all she talks about is what she does with Lita and her school life."
Navarro said that she considers Lita to be part of her family and that the kitten even reminds her of her mother. She said no matter where she plans to go after finishing her degree at UCF, one thing is for sure: Lita will be with her.