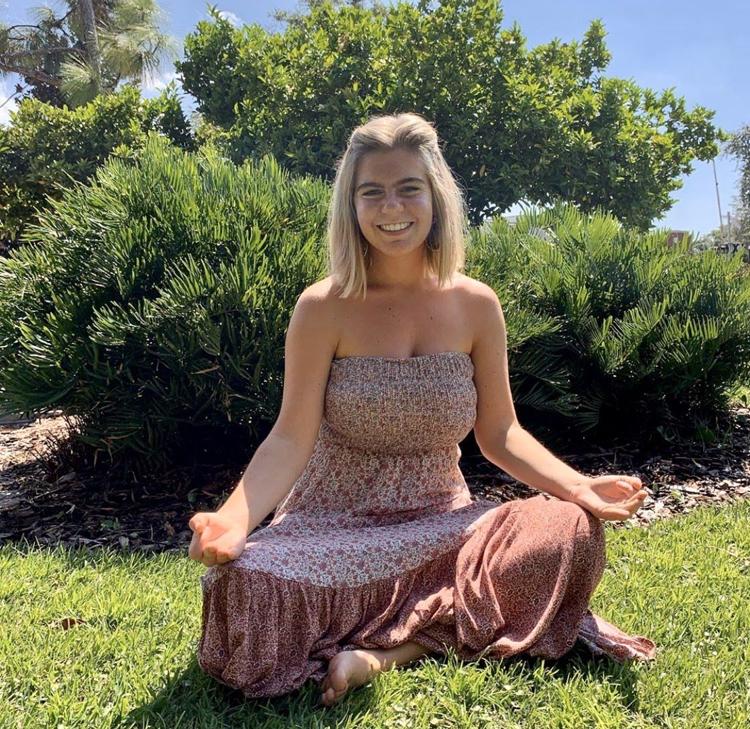 Before the COVID-19 pandemic changed the lives of most college students, Brooke Barber said she was building a community for healing.
The senior health sciences major can usually be found selling cacti outside the Student Union, guiding meditations for the Holistic Healing club or just snacking on vegan food in a hammock near Memory Mall.
Now, Barber is leading circles via Zoom for the UCF student club Magikal Womben. Each video meeting centers around a different technique for women to heal, such as healing exercises and guided meditation.
"I want to open people's minds up to this idea that we can embrace a life beyond what we're told," Barber said.
Barber is a self-proclaimed "healer" who teaches people how to shift the health of their mind and body through techniques such as meditation, breathing exercises, energy healing, mindset coaching and even hypnosis. Barber is focused on creating a community as an alternative to traditional methods of treatment when it comes to chronic illness.
She said her mission is to empower people to heal themselves.
Barber said she teaches women how to let go of their self-doubt and limiting beliefs which can change women's perspectives to achieve their goals. 
She shadowed an acupuncturist in 2018 and immediately after that experience, she worked in a traditional hospital in Italy. She said in the hospital they saw large quantities of patients for less than 10 minutes each, and this form of treatment seemed focused on just getting patients in and out instead of what's best for them long-term.
Barber said she knew the treatment method of natural remedies and an intimate setting dramatically improves the lives of patients.
"I found myself constantly comparing the two, and I really felt myself leaning towards the natural path," Barber said. "It really was a big influence for me, it was the first time I saw chronic diseases being healed."
A year later, Barber said she attended a meditation workshop on manifestation where she gained the tools she'd needed to spread her message. That workshop motivated her to begin practicing daily and she said it led to her the realization that she needed to commit to the path of holistic healing.
Brooke is still a health sciences major, but she said she wants to go in a different direction to pursue a non-traditional lifestyle and not attend medical school.
"When I first told my mom I didn't want to go to med school she just cried all night," Barber said. "It was all because she just wanted me to be safe, happy and successful, which I always tell her I already am successful."
Now, nearly every morning Barber said she begins the day with 30 minutes of mindful movement, such as dancing or yoga, followed by varying combinations of meditation, mantras or energy exercises. She said she found confidence in her purpose and began teaching others meditation and other holistic healing methods.
"It was scary at first, but everyday it becomes less scary and more real," Barber said. "I really see the importance in what I do and how it affects others. There's no doubt that I'm not doing what I'm meant to do."
She has led plenty of her own meditations and workshops and she said that she wants to teach anyone who's willing to learn. And through events like these, Brooke said she met the perfect partner-in-healing, UCF alumna Samantha Thompson.
"We complement each other really well," Thompson said. "Brooke is a lot more grounded. She's softer and peaceful and I seem to have a more fast, outgoing personality. When we are able to come across two different ways with the same message, we can reach more people."
Together, they decided to start a women's circle to create a safe space for women who need to heal from past experiences and grow their confidence. Barber said the name Magikal Womben seemed like a perfect fit.
"We love the fact that we can connect to the women in our lives in a deeper way and help them through whatever they're going through," Barber said.
Each meeting has a theme based on what Barber and Thompson have experienced. Themes have included, speaking up, divine sensuality, healing through sisterhood and, more recently, immune system tonics and meditation for global healing.
Senior environmental studies major Nicole Prieto is a regular participant at their events, and she said that she has learned many impactful lessons from the pair. 
"The women's circles have shown me how easy it is to simply connect with yourself and others through softening oneself," Prieto said. "I think that overall they have helped me be kinder to myself by reminding me that we are not our thoughts, and that healing takes time."
Barber said that the women in attendance aren't the only ones who learn lessons; she has learned there is beauty in vulnerability.
"I always really appreciate it when someone can open up and share something that's really hard for them because it gives everyone else permission to do the same," Barber said.
Thompson said it has been difficult to create an intimate, personal space through Zoom video conferencing so they focused more on intellectual topics that aim to directly help people and share knowledge, rather than build personal connections. However, Thompson said that knowledge and connection are equally necessary.
"I really am trying to take advantage of this time to improve my state of being, my mind, my body and all," Barber said.
Barber is on a mission to change people's views on holistic healing, and she said she hopes in the future that holistic remedies will be included in modern medicine. For now, Barber is focused on creating a community as an alternative for modern hospitals when it comes to chronic illness.
"Something powerful happens when you gather connected heart-centered, nice, kind people together," Thompson said. "It feels like you could team up against the world."