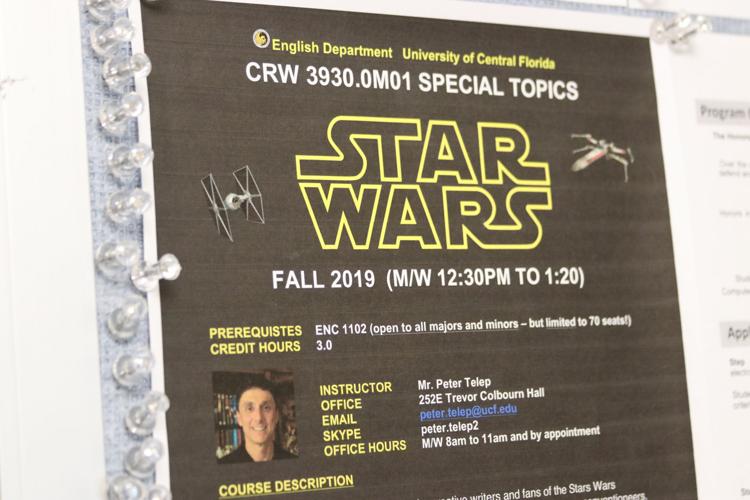 A long time ago in a department not-so-far away, UCF faculty member Peter Telep came up with the idea to merge his love for writing and all-time favorite movie series.
Telep's creation, CRW 3930 Special Topics - "Star Wars," was born. The creative writing class based on the franchise will commence in fall 2019.
Telep, senior instructor in the UCF Department of English, remembers his first time watching "Star Wars." He said his father drove him across county lines to a packed movie theater in Nassau County, New York, to see "Star Wars: Episode IV - A New Hope" in a stand-alone movie theater.
"The line was around the block of the area, but we got there and got our tickets and waited in line," Telep said. "It turned out that the movie theater was sold out by the time we got inside the movie theater."
Telep said the movie theater staff made extra space in the overflowing cinema by telling kids to exit out of their seats and sit on the floor.
"People were cheering, and it was like a roller coaster … and I walked out of there like, 'oh my god.' It was the greatest thing ever," he said.
Over 40 years later, Telep remains a fanatic for the franchise. He said he devoured every Star Wars film and book, as well as many other types of related media.
Throughout it all, he said his favorite character is Luke Skywalker, although he relates more to Obi Wan Kenobi for his path as a teacher.
"With Kenobi in the prequels, you get to see him start from a young man in training to a master struggling to train Anakin," Telep said. "In the third film, he has such a difficult path. He's fighting Anakin and trying to save him from the dark side."
Telep is no stranger to forming creative writing classes with a twist. For 10 years, he taught a course called Writing for Video Games, which is associated with game design and allows students learn writing techniques for developing original video games. 
Telep said it is usually a long process to develop a special topics course because the Department of English and College of Arts and Humanities usually need to approve the course topic. However, Telep said almost every professor was supportive of him teaching a writing class based on "Star Wars." As of now, 43 students have signed up for the class, he said. 
Kathleen Hohenleitner, senior lecturer in the Department of English, said she could sense the excitement among students for Telep's new writing course.
"I'm seeing a lot of students being so excited to see a 'Star Wars' writing class happening for the fall," Hohenleitner said. "It's great to see."
Hohenleitner said Telep worked hard to try and get the course approved by doing extensive research.
Julian Pollifrone, junior double majoring in radio/television on the production track and writing and rhetoric, signed up to take the "Star Wars" class and said Telep is someone filled with wisdom. 
"He has a lot of experience in creative writing," Pollifrone said. "He's worked on some stuff in Hollywood and wrote novels as well. He puts a lot of effort to plan this class, and I can't wait to be a part of it."
Pollifrone said he wants to gain an understanding of the "Star Wars" franchise in a new aspect. As a devoted follower of the series, he said he still wants to learn more.
"I'm a big fan, but I want to know the mythos that surrounds the series," he said.
Another goal in the class is to help students through their toughest times by using "Star Wars" as a focus, Telep said.
"I want to make this class heal people," he said. "I believe that in any bad situation, 'Star Wars' can help you heal."
Now, Telep said he will wait for the fall semester to see what the force will bring for him. However, no matter what happens, he said "Star Wars" will remain his passion.
"All 'Star Wars' property is like my children," Telep said. "I always see them as children, and no matter what I will enjoy it."