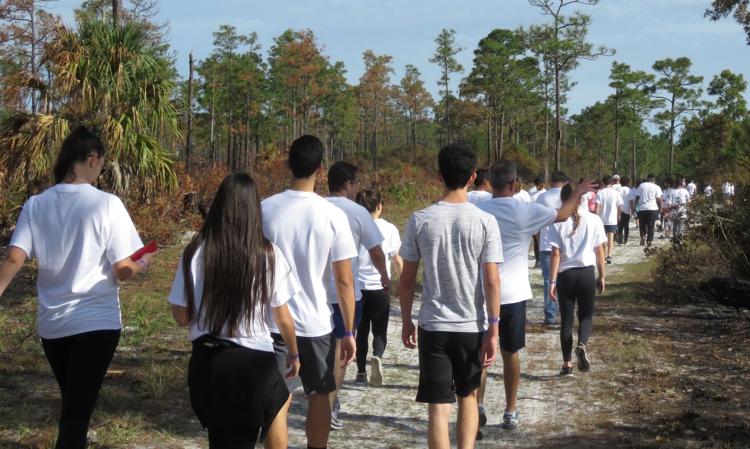 On Saturday morning, UCF student Josephine Di Russo's 6K dream of organizing one of the biggest WASH Project 6K Walks became a reality when friends and families came to the UCF Arboretum with the smell of incense in the air and the sound of popping balloons.
Di Russo, senior international and global studies and nonprofit management double major, organized the walk by partnering with the Violet Foundation, an Orlando-based nonprofit organization with a mission to work in the humanitarian field to develop health, social and cultural projects. It also seeks to get youth involved in service projects to preserve the environment. The foundation also helps anyone with immediate needs, such as education.
Sixty-six donors and volunteers walked around the trail surrounding the Arboretum three times to raise money for water, hygiene and sanitation in Haiti.
"There's so much spirit for volunteerism on our campus, and a will to do good for others," Di Russo said. "No matter what somebody's major is ... they'll all say, 'I got into this because I want to help people.' What we did today was one of the many ways we try to help other people."
Di Russo is the district governor of Florida's district of CKI, a collegiate service organization and leadership program. She is also an active member in the UCF CKI chapter. She said while she has attended several other 6K WASH Project walks at UCF, Saturday's walk had the biggest turnout due to the partnership with the Violet Foundation.
The WASH Project, which stands for "Water, Sanitation and Hygiene Project" is a collective project by Circle K International and The United Nations Children's Fund.
According to the CKI website, women and girls in Haiti often walk 3.7 miles, or 6 kilometers, to gain access to water that may not even be safe or clean to use and drink. The mission of the project is to raise $240,000 by 2022. Internationally, WASH Project 6K Walks have raised $37,000.
Di Russo, who had already raised around $300 for the WASH Project from her own previous 6K walks off campus, said Saturday's walk increased the donations total by over $500.
"This is the distance that people have to walk to get drinking water — sometimes of questionable quality," said Roger Neves, president of the Violet Foundation. "That's why we decided to do the walk."
UCF students also participated in the walk, including Liliana Paula, civil engineering Ph.D. student. Although her two children volunteer at the Violet Foundation, Paula said she felt the urge to participate in the walk because her master's degree in civil engineering focused on infrastructure. She said she understood how the lack of clean water affects the groundwork of communities.
"This is related to [civil engineering infrastructure] research and [teaches] students here what they can do for other countries, not only this country," Paula said.
Di Russo said she hopes to not only continue raising money for the cause, but also to help other students understand the reasoning behind her walks.
"I've always been passionate about proper access to basic needs," Di Russo said. "The fact that people don't even have clean, safe drinking water — it's heartbreaking. I like to live by the motto, 'What breaks your heart, and what are you going to do about it?'"