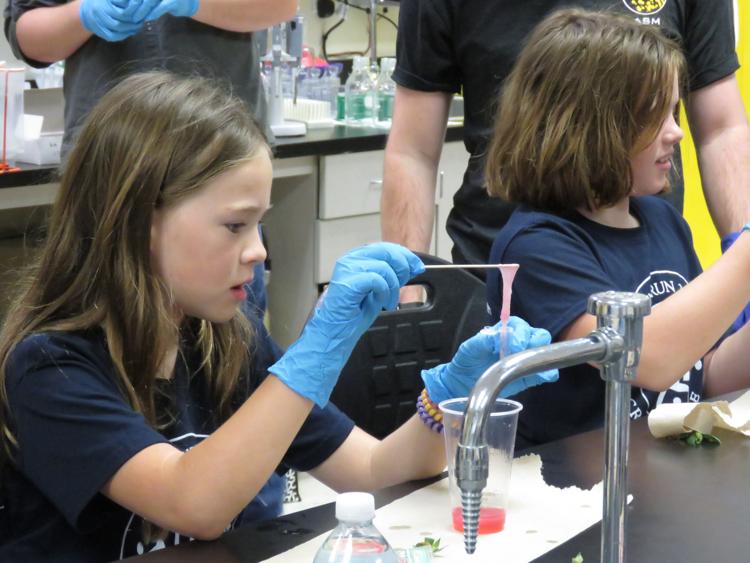 When 25 elementary school students pull strawberry DNA out of a plastic cup, the reactions are all the same: a mixture of disgust and fascination.
On Friday, the Center for Initiatives in STEM, or iSTEM, held its bi-annual STEM Day on UCF's main campus. STEM is a collection of fields comprised of science, technology, engineering and mathematics. iSTEM, an education-based program, was created to promote an interest in STEM-related initiatives. 
"Just seeing their faces when I tell them to take the DNA out of the cup with their stick every time [is], 'Ew, that's so cool,'" said Stephanie Macassi, junior biomedical sciences major and STEM Day activity lead. "For me, that's what keeps me going. I have 10 projects to do and all of this, but STEM Day always has a special place in my heart."
This semester, about 1,000 K-12 students from local public, prep and home schools attended STEM Day, said Renee Johnston, the iSTEM K-12 coordinator. She said almost 60 companies and student groups, such as Lockheed Martin and Hack@UCF, participated in the event. Each group organized its own activity or demonstration for students to learn from.
"STEM students really tend to get down about how they're doing in all their classes, but when they have younger students looking up at them as if they're gods within their fields, it's a very positive interaction," said Jaden Baldwin, volunteer coordinator and senior forensic science student.
Macassi said although there were less attendees than usual, this year showed a shift in the kinds of students attending. She said because more and more female K-12 students are beginning to attend STEM Day, it's important for the kids to see women working in the field.
"For me, it's important to see women in STEM because a lot of girls think, 'Oh, that's a man's job.' It's the unfortunate reality that a lot of girls think that [working in STEM] is not possible," Macassi said.
Johnston said not only did more female students attend the event this year, but there were also more female student volunteers participating.
"It's really important for those kids to see at a young age that this is accessible and they can do this," Johnston said.
According to UCF's Institutional Knowledge Management, there were about 17,000 female students enrolled in STEM-related fields in fall 2018, an increase from around 14,000 female students in fall 2017.
As the numbers for female attendance continue to increase, Johnston said she hopes STEM Day continues to inspire young women to get into the field.
Po Dickinson, adviser for Hagerty High School's after-school robotics program, brought 10 of her students to the event along with their robots. She said she wants to get young girls interested in STEM because she was not afforded the same opportunities when she was in grade school.
"I want them to feel like their voices matters," Dickinson said. "Their contributions and their talents are valuable. I don't want them to shut down when they hear, 'Oh, they're a girl, they can't do that.' I want them to say, 'No, we can think for ourselves, and we're just as smart and capable as you are.'"
Hagerty senior Haven Carter said Dickinson played a big role in influencing her to join the robotics club. Before joining, there was only one girl on the team, but now there are seven, Carter said.
"A lot of girls, I feel like, you have a box made out for you," Carter said. "You're told kind of what you should do, and I think it's really important that we can show that we can do everything too, just like anybody else."
Johnston said the event welcomed K-12 students of all backgrounds to learn from students just like themselves. She said STEM Day was designed to give different opportunities to students who wanted to learn more about what they were interested in.
"You want to show them all the different opportunities that are there and show them that it is accessible," Johnston said. "There are students majoring in STEM that are just like them that might have come from the same type of background, and [they can] just show them, 'Hey, you can do it too, and this is exciting and fun as well.'"