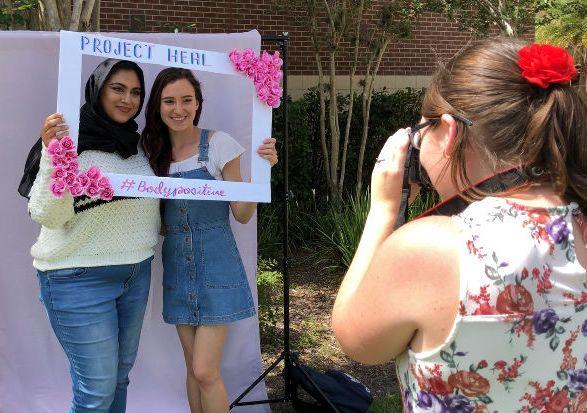 UCF students of different shapes, sizes and races attended Project HEAL's body positivity photo shoot on Friday by Classroom Building 1.
Project HEAL hosted the photo shoot, welcoming students to participate and feel confident about themselves and their bodies. 
Kristen Pizzo, Project HEAL president, said since self-esteem and body image correlate with the organization, the body positivity photo shoot was intended to help people feel confident.
Pizzo said Project HEAL's official mission is to provide access to healing for all people with eating disorders.
"We want to meet people wherever they're at on their self-love journey and help them celebrate themselves," Pizzo said.  
Students such as Anjelica Chavera, second-year transfer theatre major, said she physically felt herself get more comfortable in her body while taking photos. 
"I felt the change," Chavera said. "As I got more comfortable, I just kind of acted more comfortable, so things just seemed to come more naturally as pictures were being taken."
Chavera wore a "Captain Marvel" shirt to the photo shoot, adhering to Project HEAL's request for students to show up in an outfit they felt empowered in. She said she has struggled with body issues most of her life.
"I've always had a really bad self-image of myself, and I've really — the past year or two — been trying to combat that more actively, and kind of be more accepting of myself as I am," Chavera said.
Pizzo said Project HEAL, which stands for "Help to Eat, Accept and Live," seeks to help shape a conversation about food, mental health and body image among college students.
Angelica Bryan, junior interdisciplinary studies major, said she found out about the event through a flyer and supported the message behind it.  
"I really liked the message and how it was encouraging people to take photos of themselves — to love themselves for who they are, and look beyond their insecurities and really see that each of them are beautiful in their own unique way," Bryan said.
Diego Lanza, junior biomedical sciences major, said while he understood the impact negative body image has, the event's photographer Karalee Weaver helped him appreciate different elements of himself.
"The conversations I had with the photographer were really nice, and just talking about me and myself as a person and who I am definitely showed the other parts of me that are really important," Lanza said.
Weaver, senior film major, said she decided to participate since she felt it would be a great opportunity and wanted to service the UCF community while helping students grow.
"When you start talking to the person that you're shooting or the person you're taking the photos of, they start to kind of like blossom like a flower," Weaver said. "It's really beautiful."
Weaver spoke to the students she photographed, asking them questions about their favorite artists, songs, vacation spots and career goals in an effort to capture a "moment with the passion in [their] eyes."
Weaver, who practiced figure skating for four years, said she draws on her experience from training when viewing grace and beauty.
"It's not the outward beauty that matters," Weaver said. "It's the inner strength and the motivation ... just your passion and emotion coming out." 
Arige Shaukat, Project HEAL's acting vice president and sophomore health sciences major, said she had past experiences with negative self-image issues but credited the organization with helping her face them.
"Seeing how positive everyone was here and how it was definitely okay to be who I was without having to change anything about myself — I definitely gained confidence, I will say that," Shaukat said.