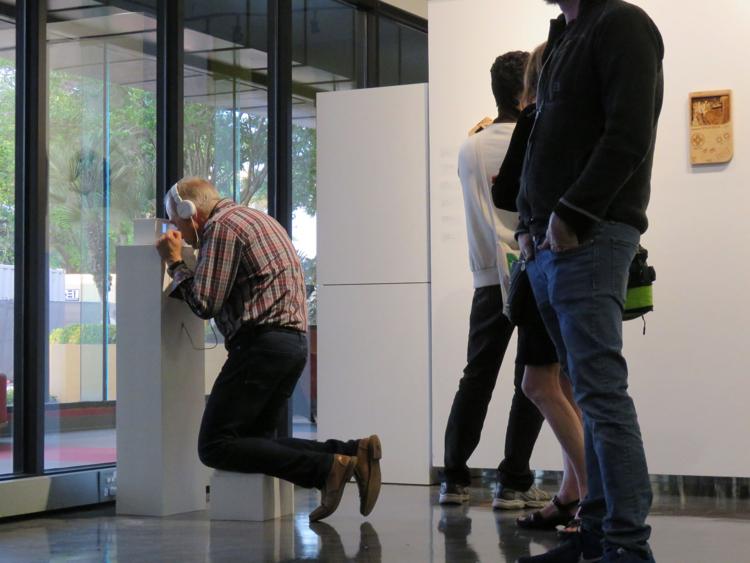 A one-room art gallery remained almost silent — only the sound of visitors mulling over the topic of migration was heard.
The "Flickering Landscapes - The Image of Migration: Landscapes and People" conference began at the Center for Emerging Media at UCF Downtown on Thursday evening.
The conference, which ran from Thursday to Saturday, centered on migration around the world. Barry Mauer, event coordinator and associate professor in the Department of English, said it was designed to help viewers and participants understand migrants displaced due to political upheaval and climate change.
"We've seen incredible political disruption over three million refugees in Europe and North America in the last few years," Mauer said. "We're talking about hundreds of millions of people on the verge of being displaced from climate change. That's very concerning to me…climate change is the problem and the political atmosphere of hostility is the problem. We're going to have to solve this one way or another."
Around 35 scholars, students and artists attended the gallery opening for Jave Yoshimoto, a contemporary artist and assistant professor at the University of Nebraska Omaha, on the first night of the conference.
Yoshimoto's wooden laser-cut relief sculptures were on display, with each panel depicting some form of refugee hardship he saw while volunteering in Lesbos, Greece, in 2015. The relief sculptures used modern elements, such as video game systems or phones, to sharply contrast the image of refugees going through some form of hardship, such as crossing a border or the sea.
The refugees came from countries around the world, ranging from Turkey to the Democratic Republic of the Congo, to flee violence and poverty, Yoshimoto said.
"The biggest refugee camp [in Lesbos] is a former military base, which is surrounded by barbed wire," Yoshimoto said. "They're sitting in prisons, this is their home. It's so overflowing right now. It can host 3,000 people, but right now they have 8,000 in the camp."
Yoshimoto said his art is intended to help people open their eyes to what's happening around the world and to have empathy for those around them. Rather than treating refugees and migrants as outsiders who don't belong, he said the simplest message he wants to convey is to "just be kind."
Asia Gonzalez, junior game design major, said she attended the event as part of her art history course but was surprised at the insight the pieces gave into the migrant experience.
"[Refugees and migrants] are people at the end of the day," Gonazalez said. "Not everything is true about what the media says. We treat them like they're enemies, but I think it's important to understand that these are people with children who want to provide for their families, so hold up, they're not the enemies."
Keynote speaker Dorita Hannah, a performing arts scholar and adjunct professor at the University of Tasmania in Australia, also spoke about her piece, "PhoneHome." Her exhibit had viewers kneel and peer through a tiny home that displayed images of refugees struggling to survive.
"I decided to look at the performance of screens," Hannah said. "To look at the screen, which I've always avoided because I felt like it was a distancing device. But then I thought, 'No, that's a bit [old fashioned] just to think that.' And everything has meaning and everything has a richness to it and a potentiality to it."
Mauer said he hoped attendees would gain an understanding that people voluntarily and involuntarily migrate for different reasons.
"Most people here are the descendants of migrants — my grandparents were migrants," Mauer said. "So even thinking about our own history in those terms is significant."