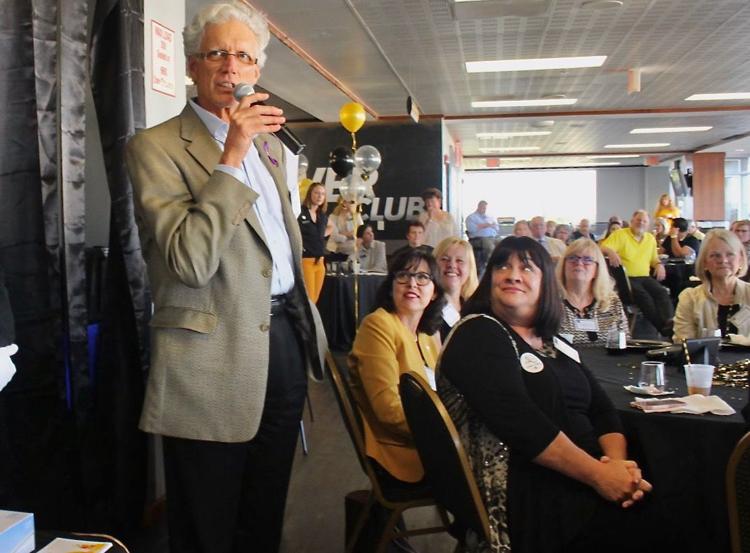 Juanita Green leaned against a counter overlooking the football field at Spectrum Stadium, peaceful in the noise of the party behind her.
The former faculty member at UCF's College of Nursing had a long career, and she, along with a group of her fellow staff members and some former students, was celebrated for her efforts.
Green was a guest of honor at the College of Nursing's 40th Anniversary Kickoff Event on September 19th. She was one of the first professors who taught the program, and her and her students from that first graduating class were honored at the event.
"Nursing students have always been eager to learn," Green said. "I found that eagerness throughout the whole program. From while I was teaching to the more recent nurses-in-training. That has never changed."
Green and her colleagues all have storied histories, both in and out of UCF.
David Hanke, one of the first graduates of the UCF College of Nursing in 1981, went on to work at Hewlett Packard and was in charge of global sales at General Electric. Hanke said the values he learned at UCF brought him success.
"The classes here were so inclusive. We all learned and taught each other," Hanke said. "Not just professor to student, the faculty was learning at the same time. I took that into every senior management position I had after that as leadership."
UCF's Nursing program was founded in 1979, but did not become an official college until 1995.
According to Mary Lou Sole, dean of the college who spoke at the event, there have been 11,000 alumni who have gone on to work in the medical field, and the current group of students ranks in the top percentage of BSA nursing credentials.
David Benjamin, head of special collections at UCF, said that the College of Nursing had a vast amount of history, both from the alumni and faculty, and from the documentation that was on display at the event.
"These documents show the history of the Nursing School as well as the history of UCF," Benjamin said. "Students can come down to the library and see these items, and not only can they visualize the history of the nursing profession, they can see the history of UCF's students. There was some wild make-up on Nursing School students in the 80's."
The event wasn't just for celebrating the past. Kate Dorminy, clinical coordinator for undergraduates at the Nursing School, feels that looking to the past can shape the present and future.
"By celebrating our past 40 years, we can look forward to our future priorities and endeavors to come," Dorminy said. "Talking to our seniors has an impact on what we do today and how we structure our future."
Rosemary Noarantonio, another member of the first graduating class, rounded out the event by highlighting that community is just as important as your studies.
"There is an art and a science to nursing," Noarantonio said. "You just can't rely solely on science. You must look at the beauty in your practice, and that comes from experience, from being there for people."
Green brought that experience to her students when she taught them 40 years ago, focusing her efforts on community health. Her students went on to work as leaders at large companies, but Green always continued to work for healthcare at a smaller scale.
"You can't hold back, you have to do," Green said. "A willingness to learn will do more for you than any connections you have throughout your life. You just have to do."
Correction: A previous version stated that the UCF School of Nursing was founded in 1979, but the program was founded then. It became a school in 1995. The story has been updated to reflect that.