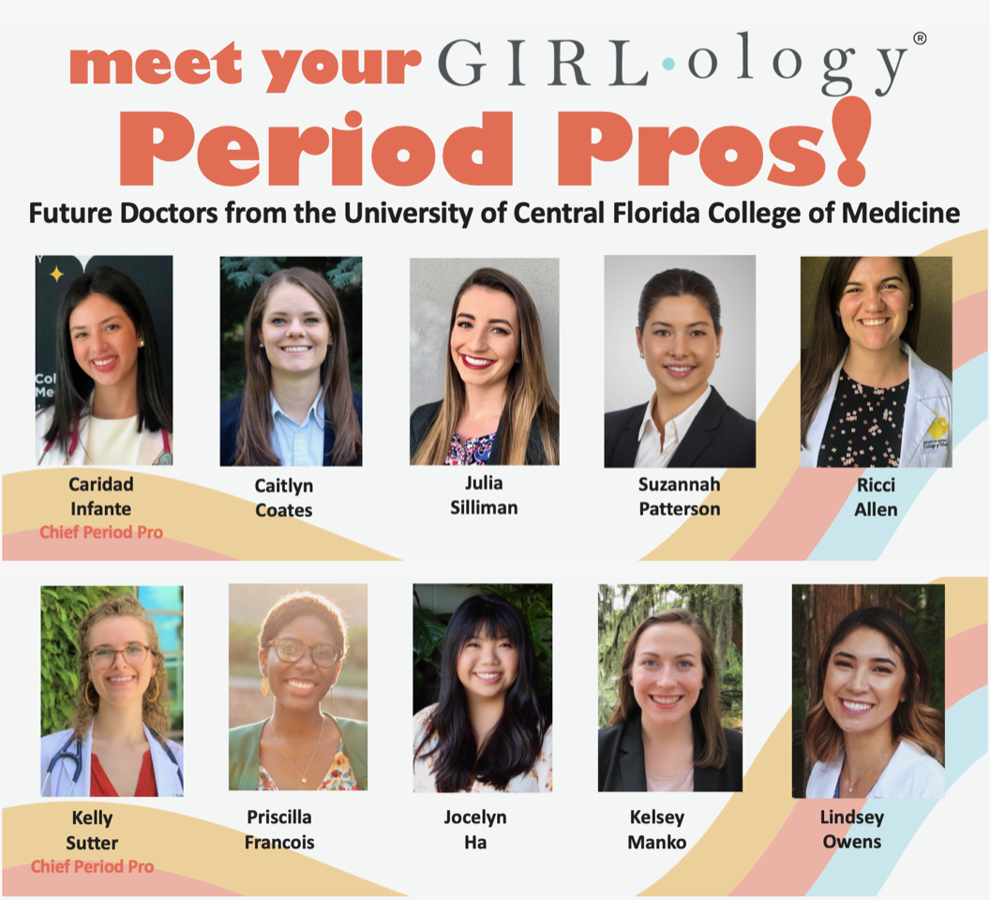 This spring, UCF's College of Medicine collaborated with the Girlology Foundation, a nonprofit organization that promotes access to quality health education for at-risk girls, to create a branch of their period education project at UCF.
The Girlology Foundation first piloted the period education project at three medical schools in the Carolinas, where Girlology was founded. Due to its success, the foundation recruited 10 different medical schools around the country to promote menstrual education through the program, said Dr. Lonna Gordon, an assistant professor in the College of Medicine and a chief period pro.
"Girolology is a national organization that really promotes girls' understanding of their bodies and the caregivers who support them, as well as understanding their bodies. Puberty is full of lots of questions," Gordon said.
Gordon said when girls feel confident about their bodies and understand how their bodies work then their confidence and awareness of the world improves as well. She said that as an assistant professor in the College of Medicine and as member of the Girlology Foundation, it made sense to apply. UCF applied to be a branch of the Girlology program in the spring, and for some UCF medical students, the branch has allowed for a needed discussion on menstrual health education in less resourced communities.
"The PEP rally is a period education program designed to combat all three areas of menstrual poverty or period poverty and we utilize medical students to do that," Gordon said. 
"Period Poverty" is the idea that there is a decrease in menstrual supplies as well as a decrease in hygiene, but also a decrease in knowledge about menstruation in how the body works, what is normal, and what is not, Gordon said. The Girlology Foundation aims to decrease cultural stigmas around the reproductive processes. 
"It also decreases their feelings of shame, body dissatisfaction, and the outpouring of bullying as well as other possible risk factors," Gordon said. 
Cardidad Infante, a second-year medical student at UCF and chief period pro, said she feels passionate about this organization because growing up she saw a lot of misinformation being passed through her friends. She said that generations of women not understanding their bodies caused her a lot of anxiety.
"My mom didn't even know what a period was when she got it, she thought she was dying, that stayed with me. I really want to teach girls the foundations, the basics, so later they can become advocates of their own care and notice when something is wrong," Infante said.
Infante's experience led her to join the program as a chief period pro. The Girlology Foundation recruits' medical students at different medical schools to create their own PEP coordinators, Gordon said. 
"We have a person who is kind of the lead coordinator, we call them the Chief Period Pro and they then recruit two or three Period Pros underneath them," Gordon said. "The four of them together help execute these programs at various different community organizations."
Due to COVID-19, all of the recent PEP rally sessions have been held virtually. Though sometimes it is harder to connect with the attendees online, Gordon said she feels like moving virtually has allowed for a larger outreach to different communities. The foundation aims to reach out to various communities and cover different educational material about the menstrual cycle and understanding of the body.
Some of the feedback the foundation has resulted an overall increase in confidence from women, and a lot of the parents feel more comfortable about having these conversations with their kids, said Kelly Sutter, chief period pro and first-year medical student at UCF.
"There is an increase confidence and de-stigmatization of the words surrounding period health. They have also seen a lot of the parents feel more comfortable having these conversations with their kids and they would recommend this program to any of their other friends who want to have those conversations," Sutter said.  
Sutter said that, like Infante, she had a weird experience growing up and discussing period health, even with four sisters, it felt taboo. She said she dealt with bullying when she was younger because she felt there was a lack of education about period health in her school.
"Schools still have the same exact education programs now that they had 10 plus years ago when I was experiencing the education. One of my goals that I have personally is to make sure anyone going through that phase in their life doesn't experience the same things I did when I was younger," Sutter said. "I want them to have complete power with the knowledge that they have about their own bodies."
The founders of the program think it is extremely important that financial ability is never a barrier to a girl's education or care, Sutter said. 
"The core of this organization is really about helping get the word out and not letting anything inhibit your knowledge acquisition," Sutter said. "For anyone who is interested to not let anything stop them from reaching out if they are interested in getting this education."