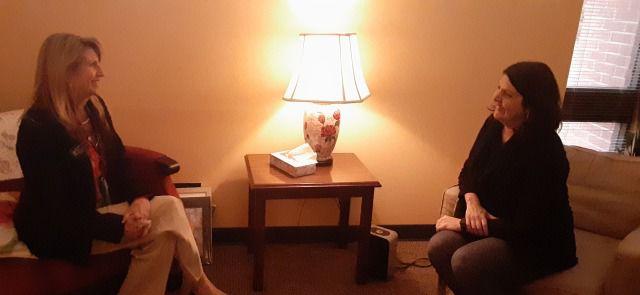 Karen Hofmann, Ph.D., surrounds herself with friends and family no matter where she is.
Hofmann, director of the University of Central Florida's Counseling and Psychological Services, has not only stuck pictures of her husband and three daughters around her work space, but she has also promoted a healthy working relationship with everyone that provides mental health therapy to UCF's students.
"I love my staff," Hofmann said. "We save lives here, and every day I get to work with passionate people makes me feel that much better."
Hofmann decided she wanted to be a therapist while she was studying at the University of Texas. A friend of hers had begun therapy and Hofmann decided to try it too, leading to what she called an "ah-ha moment."
"I was actually learning journalism at first," Hofmann said. "After trying therapy myself, I knew this was what I wanted to do with my life. I finished at the University of Texas, then got my doctorate at Texas A&M."
Since Hofmann became director in 2013, CAPS has instituted many new features and Hofmann brought these events from idea to fruition. One example is the annual Healing Art Exhibition. UCF students and staff are welcome to create artistic pieces, which are then displayed in CAPS' waiting rooms.
"She's very open to new ideas and she's a visionary herself," said Dr. Jocelyn Buhain, associate director of clinical services at CAPS. "We feel very supported here. She gives us the opportunity to come up with new ideas and implement them easily."
Hofmann's graduate student assistant and doctoral intern, Min-Jeong Yang, found the director to be a positive guiding influence. Yang met Hofmann just this past September, but the intern said she felt that Hofmann was easy to approach.
"The biggest thing she taught me was to be genuine with my patients," Yang said. "Therapists must be aware of our privileges and we cannot take for granted that we have power in a doctor-patient relationship. Dr. Hofmann has made herself completely available for any problems I may have and that's how I will treat my patients."
One of the most popular events that Hofmann has helped bring to CAPS is the Paws-a-tively Stress Free meetups. These regular events allow students to visit CAPS and stay in a room with therapy animals for a time.
"UCF originally had one therapy dog, Bodhi," Hofmann said. "Eventually we brought more dogs in, and now every few weeks students can come play with dogs, cats or other animals. Even people who don't use CAPS for therapy will visit to see the animals and relax for a while."
Hofmann doesn't come up with every new event that happens at CAPS, but her leadership is what allows the staff to experiment and help students in new ways, said Associate Training Directior Annatolee King.
"Dr. Hofmann impacts everyone at CAPS," King said. "She's a great leader and brings out the best in all of us. She's always here and never calls out sick. This is her life."
Hofmann's current project is introducing "Telehealth" to the CAPS staff. Currently training is underway, but once it's done, students will be able to receive therapy through phone calls or internet video chats. 
"She's a huge advocate for online therapy, which can help anxious students," Buhain said. "She's always on top of new trends and, while it's a struggle sometimes, she helps us grow and keep up with new forms of therapy to help students."
Hofmann keeps a copy of the CAPS annual report on her desk next to her family's portraits. The report lists the programs' morals, which include accessibility, collaboration and a positive work environment. These morals are echoed by the staff she works with daily.
"The director is a people person," King said. "When she went out of town, she left the administration team kind notes, and often gave us care packages to remind us she cares. Therapy, CAPS, is everything to her."
An earlier version of this story stated that Hofmann has two daughters when she has three. This has been corrected to show accuracy.