What do cheese puffs, a goldfish, jail and a seemingly good samaritan with an agenda have in common? They are all key elements of the top four finalists from UCF's Campus MovieFest on Feb. 18.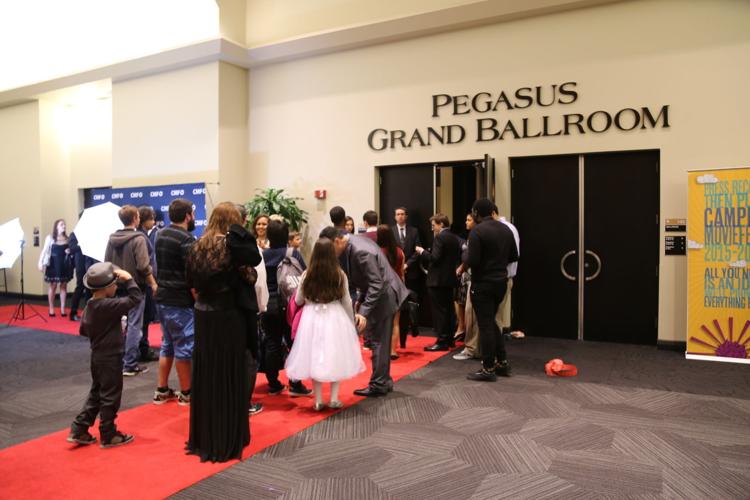 Celebrating its 10th anniversary, Campus MovieFest broke the record of submissions as UCF students submitted a total of 104 films this year.
"Prison Please", "Life, Inc.", "Joyride" and "The Curious Case of Jeff Jefferson"  were the jury winners of the event.
The best actor award was given to Austin Davis for his role in "The Curious Case of Jeff Jefferson" and best actress went to Dylan Curtis for her role in "SlashHER".
Filmmakers' expertise ranged from novice level to experienced.
"We've been making these videos for about 10 years now. We keep, kind of, building our ideas, and I got this idea about a year ago. My thought process was just thinking of something and then turning it backwards. People don't want to get into prison, so lets make a film of people wanting to get into prison," said Nicholas Pletcher, writer, director and editor of "Prison Please".
Since the film must be made within a week's time frame, it is important to stay focused and keep the silver lining in sight.
"When we started we started, all three years we've had the same set of priorities. Number one, have fun; have the time of our lives, which we did. Number two was make a movie we were personally proud of, and a very long gap, something that might actually do well," said Robert Allten, director of "Life, Inc".
Winners received an invitation to attend and see their film screen at the Campus MovieFest Grand Finale in the summer of 2016, as well as an invitation to attend and screen at the Cannes International Film Festival. The winners also received a 12-month membership to Adobe Creative Cloud and an opportunity to show their film on Virgin America.
"Not being a film major, or a theatre major, I don't have access to this equipment. So, being able to just rent out the equipment was great," said Brianna Courchene, a freshman hospitality management major who worked on "Don't Let Her In".
An award not usually given at every campus selection, the Silver Tripod award presented by Distinguished Filmmakers Network, was given three times at UCF. "Borrowed Time", "Red Alert" and "Life, Inc" were the recipients.
For those looking to submit a film for next year's festival, the best advice is to just do it.
"Do it; make something, and finish something. Making a film can feel like a mission to Mars, sometimes. But you do it to finish it, and then, like, when you finish it is something to celebrate," said Joey Engelman, writer and director of "Borrowed Time".
To watch the winners' films and the entire collection of submissions visit the Campus MovieFest website.