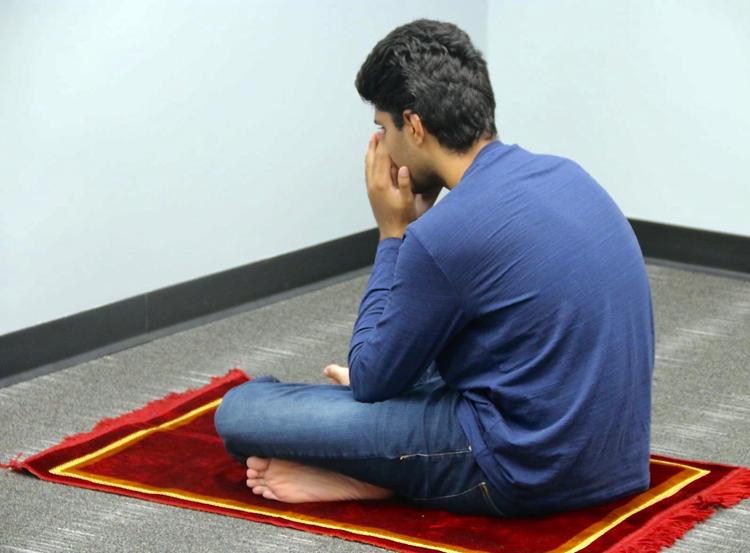 The UCF Reflection Room is where multiple religions thrive–Muslims, Jews and Christians are all unified harmoniously practicing their beliefs. 
"It is quite beautiful. You walk in there and see them sitting down breathing like wow, everyone is going through it in their own way. Everyone has their own story. Everyone has their own struggles. It is beautiful that we all have that and desire some type of greater connection," said Khaled Itani, Muslim Student Association senior adviser.
Although it's a place of prayer and reflection created by the Muslim Student Association, it's intended for use by all faiths and even non-believers.
"Life is filled with trials and tribulations, from family, to financial, to academics. Everyone has issues. The reality of the matter is all of those things can get to you," said Abdullah Saqib Muslim Student Association president.
Many students were struggling to find a place to meditate and practice their religion so the reflection room became the designated place. Groups of different religions are simply sitting together, reading a book or relaxing their mind. 
"The reflection room is a dedicated place of prayer," Saqib said. "Just as it functions as a place of relaxation for a Muslim, it can do the same for a person who is Christian, Jewish, Buddhist, Hindu and so forth."
The room also contains two ablution rooms. Ablution involves cleaning your hands, feet, legs, arms or face depending on religion before praying.
"When students are coming for orientation, they should be told about this room like when they are told about housing," Saqib said.
The reflection room also serves as a place where students can educate themselves on different religious beliefs.
"Although I am an Atheist, I would still go to the reflection room because I know it holds value to the people there and even educate myself about it," said Sarah Woodcock, sophomore biomedical science major.
The main priority for many students that attend the reflection room is creating diversity, unity and maintaining mental health for everyone despite any religious differences. 
"Unity does not mean one. It means within one there is many," Itani said.