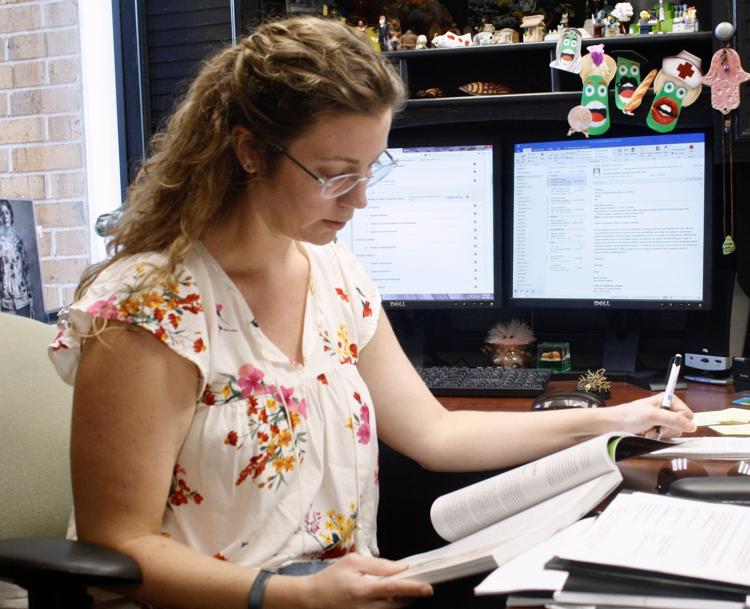 With news of the COVID-19 outbreak and the quick turnaround to virtual learning, professors and students were quickly forced to battle unique challenges in the spring semester. Professors knew they had to make changes in order to work with students and have a successful fall semester. For Amanda Groff, online coordinator for anthropology, this was nothing new.
"For me, personally, I'm well trained in online. When we made the transition to spring, it wasn't as intimidating because I have taught a lot of courses online," Groff said. 
Virtual learning led to an increase in the number of students in a course. The influx of students created more populated sections within courses as a majority of in-person classes shifted to remote. Groff will be teaching a total of 537 students this semester. 
For professors like Groff, who have taught numerous courses online prior to COVID-19, this switch was not new. However, she attributes her success as an online professor to the Center of Distributive Learning's training. 
"It's pretty fantastic we have the Center for Distributive Learning there as a resource and they make sure all of the faculty are trained before they can even teach online," Groff said. "We as a university as a whole had a strong advantage in making that transition like we had to in the spring."
For the past 24 years, CDL has been training professors to adapt to virtual learning. Before a professor teaches an online course, they must complete CDL training.
Prior to COVID-19, roughly 30% of faculty had received training. Over the summer, those number changed. In the past, CDL would train 40 faculty per semester, but COVID-19 has forced accelerated teaching. This past summer, 288 faculty members completed training in preparation for fall.
Kelvin Thompson, executive director of the CDL, said the department changed its mindset to teaching so professors and faculty would be prepared for the fall. 
"Because of the circumstances we are finding ourselves in, we need to be open minded to well-designed online instruction," Thompson said. "When it's done well, students will learn just as much, if not more, in online courses as they would in a face-to-face course."
Thompson says prior to COVID-19, resources such as Zoom were not considered ideal for online teaching because they demand students to attend synchronous classes. The CDL took into consideration that students would be experiencing changes in their schedules during the shift and worked with professors to provide successful, synchronous learning that was more lenient when it came to attendance. 
Before everything switched to virtual learning, students had the option to attend office hours, where they could ask professors questions outside of class. The office hours also shifted virtually. The increase of students in virtual classes has led to limited time slots for office hours, which has resulted in a decrease in office hours attendance.
"In these large classroom situations that I currently find myself in, I have to put the information out there, remind them and hope they're seeing it and will communicate with me if they need any clarification," Groff said. 
Working through busier schedules, professors do not have as much time to interact with students as much as they used to, Groff said. To allocate for that, more professors have provided additional resources for students on Webcourses.
For some professors, solely providing resources is not enough. Professors like Juli Dixon, a math professor, have sacrificed more of their personal time in order to be available for students and offer more time slots for office hours.
"I'm spending at least twice as much time on teaching this semester than any other semester because students are going through so much now that I want to be as accommodating as possible," Dixon said.
This semester, Dixon, who instructs aspiring elementary teachers in teaching math, is responsible for teaching three classes and advising graduate students. While her courses were previously split into sections that would teach online and face-to-face, she now works exclusively from home. Her passion for teaching keeps her motivated.
"The challenge is that I'm working too much, but the positive is that I enjoy it," Dixon said.
Teaching online has congested Dixon's schedule. To balance the extra time she spends in office hours connecting with students, she prioritizes time with her family. They do yoga and meditate together to relieve stress and bond as a unit. 
While working from home has allowed for more family bonding, it has also created one of the biggest challenges. Professors converted their homes into their offices and work from unorthodox locations, like William Hanney, a professor teaching a limited access physical therapy program. 
"The challenge is I have a wife and two kids and I do not have a dedicated home office," Hanney said. "I have a corner of our bedroom we have dedicated to my workspace, and my wife is also working. We both have to find different areas of the house to work from."
Not all professors have the option to teach completely online. Because labs are impossible to conduct online, Hanney will be returning to campus later this semester to teach his first in-person class during COVID-19. While he understands the risks of conducting labs, he feels as if UCF has prepared professors like himself for face-to-face learning. 
"I feel extraordinarily safe," Hanney said. "The way UCF, our college and our program has handled COVID has been very appropriate. All of our students and faculty are on board with the requirements, so there's no concerns about the procedures."