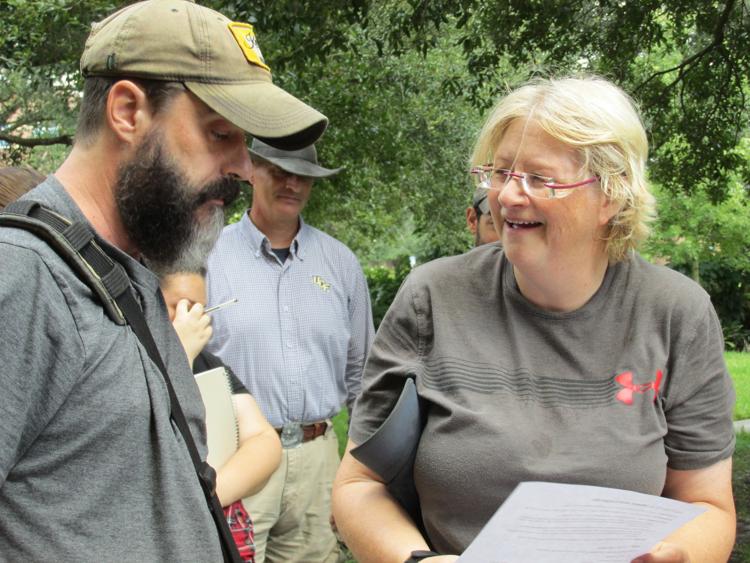 Among the first group of women to track missiles in the military is UCF anthropology professor, Lana Williams.
Williams is a member of the LGBTQ community who served during a time of intolerance. She stands tall with the strong build of a soldier, a smile and a vibrant glow mimicking her blonde hair.
The small, book-filled office she shares with her wife, Sandra Wheeler, compliments her story-filled life.
"The idea of a woman veteran is the last thing on people's minds," Williams said.
Williams offers a different perspective on military service and life as a veteran professor being a gay woman. 
Williams said she was around 19-years-old when she joined the United States Marine Corps, and was propelled by the desire to run toward something.
"I'm from a really small town, and I wanted to see something else other than cows", Williams said.
During her 12 years in the service, Williams undertook many different duties including crypto-analysis, missile tracking and serving in the Gulf War. Williams said it was the first time women were allowed to carry out dangerous jobs such as these, and often found herself alone in a sea of men.
That wasn't all that made her experience different. Williams served during the 'don't ask, don't tell' era, in which members of the LGBTQ community in the military were continuously being outed. Once outed these soldiers faced possible discharge for being themselves. Williams' voice hardened as she shared the difficulty of it all.
Wheeler, an associate lecturer for the UCF anthropology department specializing in bioarchaeology, said she shared her belief of the importance of having veterans as role models in the classroom.
"You can do other things and apply those skills that you got from the military," said Wheeler. "I think having positive role models is really important for students to know what's possible."
After 12 years in the service, Williams exchanged the barracks for the classroom.
She shared that, once out of the service, forming a new identity is the most difficult thing to do. She said she has made it a point to assure her veteran students that they are still being seen even though they no longer wear a uniform. 
Now Williams applies the lessons she picked up from her service to her lectures. She said the military taught her how to explain something technical in a simple way that allows everyone to understand.
While William's students mapped scattered plastic human remains outside Howard Phillips Hall Friday, one student enthusiastically shared her view of Williams.
A second year masters student, Lindsey Lefebvre, described her as a down-to-earth, approachable professor, who makes everyone feel understood. Williams walked around and spoke to every group of students, happily answering all questions.
Lefebvre, whose focus is in biological anthropology, was the first one to show up to class. Lefebvre said that Williams is an inspiration for her peers, and for herself.
"She's the reason I am here," Lefebvre said. "She made me, more than anyone else, feel like it's not too late. No matter what your circumstances are, how old you are, what's going on in your life, you belong here." 
Lefebvre is a single mother who joined academia later in her life, and was encouraged to do so because Williams had also started college later in life.
When asked what one lesson from her service she would share with the student body, Williams said she reminds people to put themselves in other people's shoes.
Williams said, "Never ask someone to do something that you wouldn't do yourself, or find a reason in doing it."