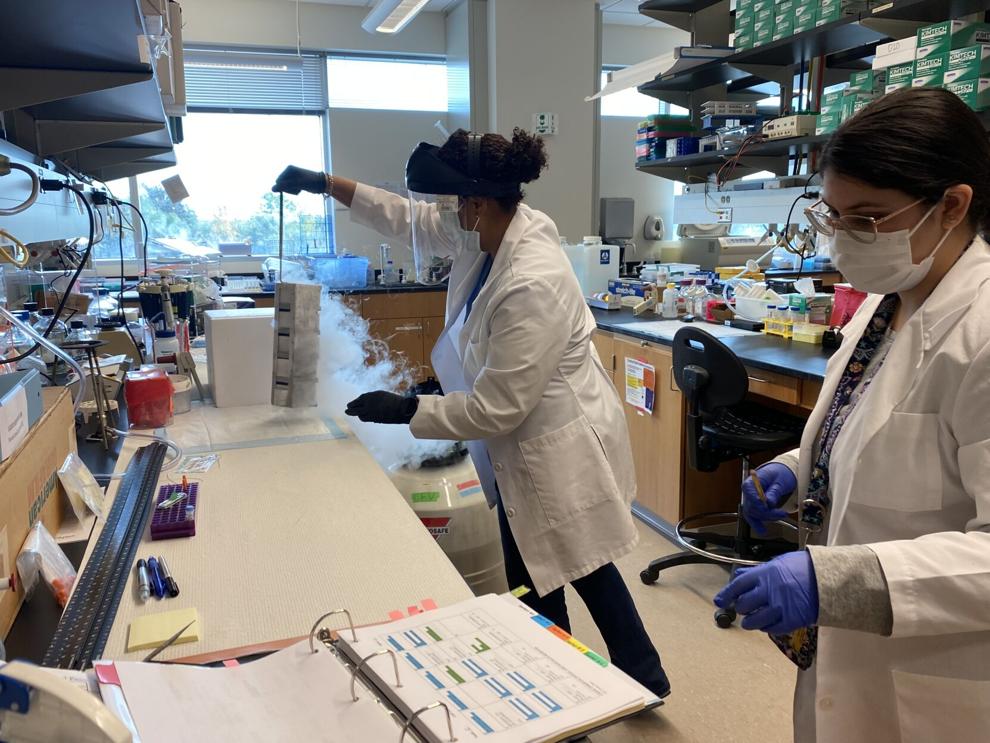 Taking her early work a step further, an honored UCF professor and researcher is dedicating the rest of her career to breakthroughs in pediatric cancer.
Dr. Cristina Fernandez Valle is a Pegasus professor at UCF, the university's highest faculty honor. 
"I hope to impact healthcare and find a treatment for cancer before I retire," Dr. Fernandez Valle said.
Dr. Fernandez Valle teaches neuroscience courses for undergraduate and graduate students at the Burnett School of Biomedical Sciences and the College of Medicine at UCF. She is also a neuroscientist and cancer biologist who studies how cells form tumors and how to stop them from doing so. Dr. Fernandez Valle said she specifically studies Schwann cells, such that protect nerve cells in the nervous system, and schwannoma pathology, the formation of tumors from Schwann cells in the nervous system that can potentially become cancer. 
In October 2017, the Florida Department of Health posted a funding opportunity announcement for a pediatric cancer non-profit organization called the Live Like Bella Pediatric Cancer Research Initiative, she said. Dr. Fernandez Valle immediately applied to participate in this research. 
The group was founded in 2013 by Raymond Rodriguez-Torres after his daughter, Bella, passed away from a rare and aggressive form of cancer known as alveolar rhabdomyosarcoma. 
"Bella battled valiantly for six years, until she passed at 10 years old, and in the process she inspired the world to live like Bella," Rodriguez-Torres said. "There was a hashtag created called #LiveLikeBella, which for Bella meant to serve others."
The hashtag later became the Live Like Bella Childhood Cancer Foundation, which worked with the Florida Legislature to create a research initiative fund of approximately $5 million, Rodriguez-Torres said.
She said the initiative has since awarded UCF four grants to conduct research on finding a cure for pediatric cancer. With these grants, UCF provides the infrastructure, facilities, resources and laboratories for scientists like Dr. Fernandez Valle to perform potentially life-changing research.
This, she said, will hopefully have a greater and more immediate impact for patients. 
"My research used to be very basic science where you make initial discoveries, but it might take years or decades before it affects anyone's healthcare," Dr. Fernandez Valle said. "The kind of research I've started doing now because of the Live Like Bella initiative is what they call translational research."
Dr. Fernandez Valle said her translational research is beyond the understanding of how tumors are formed, but rather the action of researching how to stop tumors from being formed. Through this type of research, she said patients can be treated faster.
On top of the cancer research Dr. Fernandez Valle leads, she said she also teaches her students the same research methods for them to carry on into their careers. 
"I had a family member who passed away from cancer, so I think cancer is a very important problem that needs to be solved," Hailey Hardin, one of Dr. Fernandez Valle's doctorate students, said. "I like how translational Dr. Valle's work is. We test drugs and patient models, we try to do things that will really impact patients soon."
Even though Dr. Fernandez Valle said the cure she's looking for may not be found for decades, she's confident that educating the next generation of cancer biologists will provide lots of help in the future — and perhaps success.
"I'm proud of the lives I've impacted in education and in their personal career development, and now I want to impact the lives of children and adults with cancer through translational research." Dr. Fernandez Valle said.