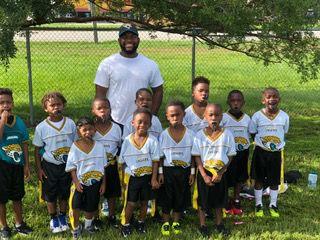 Getting a job or volunteering for the first time can come with its challenges, such as learning to work within a new system or getting along with different kinds of people. For UCF student Shawn Batista, this is a familiar experience.
On his first day volunteering at Orlando's Northwest Community Center in February 2017, Batista, senior sports and exercise science major, said he found himself having to break up a scuffle between two young boys.
The employees of the community center, after witnessing him diffuse the fight, admired his ability to control the situation, he said.
"They really liked how I handled myself," Batista said. "They thought I was very patient and not as aggressive with breaking up the kids. They asked me if I was interested in continuing to volunteer with them as an assistant for the flag football team."
Many people know Batista for having a great heart and love for inspiring and developing youth. 
"The positive attitude and the direction he is headed in as a young man is a positive influence for the kids in this urban area who do not have a lot of positive male role models," said Gary Wilcox, team director of the Boys' and Girls' Club of Central Florida.
Batista said his many volunteer opportunities have allowed him to interact with the youth, something he is interested in pursuing after he graduates.
"I look forward to working with the youth on any level," he said. "Whether it's in a nonprofit organization, in an educational setting or in the medical field."
Batista, who is from West Palm Beach, Florida, began his volunteer work by joining an organization called ASIPRA, a community-based youth nonprofit organization intended to help Puerto Rican, Latino and other communities through advocacy, education and leadership development. Through the organization, he participated in small events and volunteer activities during his sophomore year at John I. Leonard High School.
Batista became an active member of the UCF chapter of National Association for the Advancement of Colored People in January 2017. Through the student organization, Batista said he helps children in low income areas predominately known for crime.
In 2017, he took his volunteer work further by volunteering at the Boys' and Girls' Club of Central Florida as a representative for NAACP at UCF. He now serves as president of the student organization.
Maurice Mcleish, a friend of Batista, has known him since meeting in their Introduction of Sport and Exercise Science class and described Batista as a "good friend".
"When I met Shawn [Batista], his personality is what stood out," Mcleish said. "He has always been a good friend, very compassionate person, which makes him a good leader."
Mcleish, who is a member of both Progressive Black Men, Inc. and Omega Psi Phi on campus, worked with Batista on several events and said he knows him for being a generous person.
When Mcleish asked him if he would be interested in getting involved in the Boys' and Girls' Club, Batista said he was immediately on board and made it his mission to volunteer much as he could.
"I thought it would be perfect," Batista said. "I'm always willing to go even if no one else goes because that's what I'm passionate about."
In the summer of 2017, Batista and members of NAACP at UCF joined several other organizations to travel out to the Boys' and Girls' Club of Apopka where they kick-started a backpack drive to support schoolchildren with coupons, free haircuts and food.
He said he believes the effort to travel that far of a distance allowed NAACP at UCF and other organizations the opportunity to make a connection with that community.
Batista said he believes the growing presence of NAACP at UCF in cities like Apopka is an example of the interactive engagement organizations on campus can achieve if they try to interact with Central Florida communities more often.
Cassandra Allen, 21, UCF alumna with a bachelor's degree in health sciences, said she saw NAACP at UCF grow from Batista's leadership and believes it is because of his activity on campus and ability to delegate leadership to other people when needed.
Allen said during her time at UCF working with the Multicultural Student Center, National Council of Negro Women and Zeta Phi Beta, she worked with Batista indirectly through overlapping causes.
"He's definitely been more of a behind-the-scenes type of leader," Allen said. "He knows when to delegate power to other people, giving a voice for other student leaders on campus."
Batista said he is proud of the work he has done, like helping relocate the Boys' and Girls' Club of Central Florida from Colonial Drive to its new location on Livingston Street, and believes what he does is a chance to show the children he works with that a person who comes from the same difficult beginnings can change the world around them.
He said his enthusiastic need to impact communities comes from his desire to give.
"I've always had that willing need to give," Batista said. "Something will always come back to you when you give back — maybe not when you want it, but eventually it will."