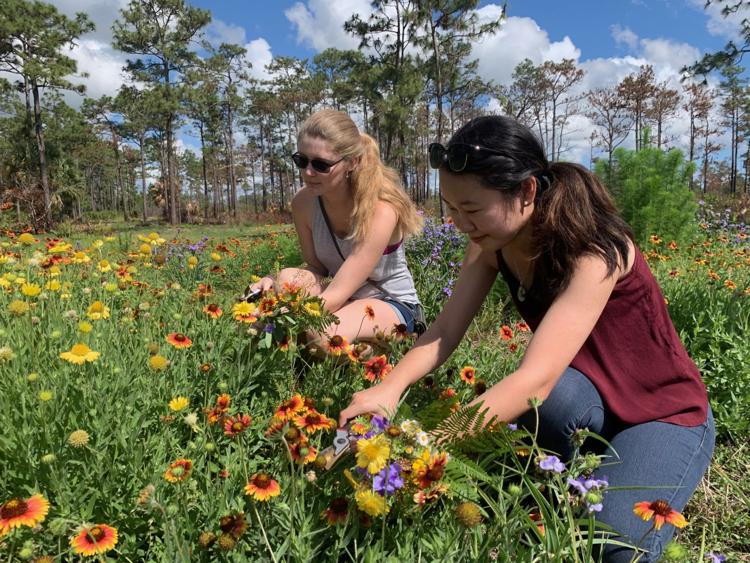 As part of a series of events titled Naturally UCF and planned throughout April to bring awareness to Earth Day, Arbor Day and environmental conversation, the members of the UCF Arboretum and the John C. Hitt Library hosted a plant pressing workshop Thursday at the Timothy R. Newman Nature Pavillon.
Eight students attended the Plant Pressing Workshop, which was an educational, hands-on experience that focused on the scientific process behind plant pressing. During the workshop, students learned how to collect and preserve flowers and plants by pressing them inside papers or books. Pressing plants into the books and papers dries them out over the course of a few days to produce a mold. 
"Plant pressing is a preservation technique that can be used to learn how to identify plants, record what plants grow in your environment and create mementos of a time and place," said UCF librarian Christina Wray.
The workshop educated students about specific rules to follow while picking plants for pressing.
"You don't want to accidentally pick a rare plant, so a good rule of thumb is if you see 20 individual plants in the area, then it's OK to pick one to be pressed," Wray said.
Wray said that activities like the workshop are a fun way to become more aware of nature.
"Climate change is influencing our lives in many ways, and I think it's hard to notice change when we aren't explicitly paying attention to the natural world around us," she said.
Andre Simoes, junior biology major and Arboretum staff member, guided the workshop's attendees through the Arboretum's natural lands to collect plants and flowers. He said there are many ways that plant picking and pressing can be done.
"You can do them scientifically, which is more strict in how you do it," Simoes said. "You got to pull up the entire plant if it is an herb, [and] you got to take a very nice chunk if it's a tree."
Annika Garcia, senior art major, said while she was familiar with flower and plant pressing before the workshop, she hadn't realized how simple the activity was.
"It was really fun and a lot easier than I thought," Garcia said.
Garcia said she didn't think it would be as easy because she has never walked through the UCF Arboretum field, which she thought was going to have a limited amount of flowers and plants.
More information on the upcoming lineup of events for Naturally UCF can be accessed on the UCF Libraries website.