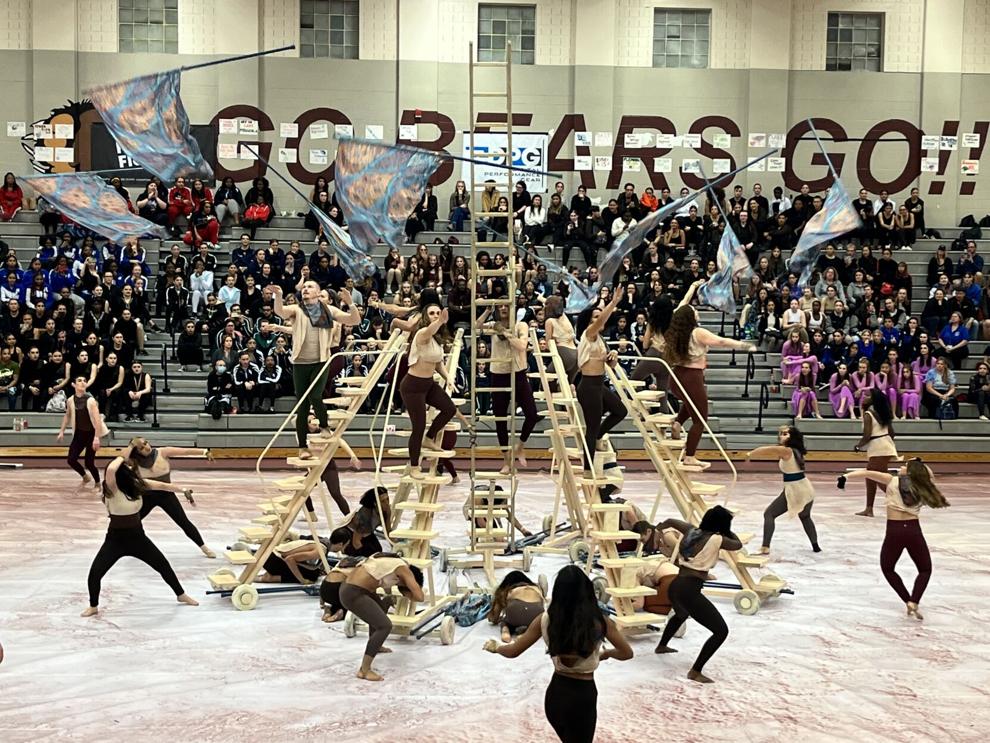 On Saturday, all divisions of the Pegasus Winterguard made placements at the Florida Federation of Colorguards Circuit's National Color Guard Premiere, held at Cypress Creek High School.
According to the official Pegasus Winterguard website, UCF Pegasus Winterguard was formed in 2012, so Starlet Knight Colorguard members could continue performing after their marching season ends. Since then, Pegasus has fielded two more teams to compete per season.
According to the FFFC website, the FFCC provides competitions for winter guard, indoor marching and concert percussion teams, and runs from January through April. The FFCC provides multiple competitive classes to accommodate all competitive teams of any size or skill level. 
On Saturday, 53 winter guard teams from high schools, colleges and independent companies around Florida competed at the National Color Guard Premiere.
UCF's winter guard teams placed top three in their respective divisions, Pegasus A placing third, and Pegasus Open and Pegasus World placing first. This was an average competition day for some performers, but for others, this was a first.
Chloe Weller, first-time competitor and freshman hospitality management major, said she was uncertain about her performance leading up to this competition since she had never participated in one before.
"I didn't truly know what to expect, but it went much better than I thought, and I'm very happy with my personal performance," Weller said via text. "It gave me a much deeper appreciation for the sport and how many people are willing to support you and make you the best performer possible."
Sheri Scofield, sophomore environmental studies major, said the first team to compete was Pegasus A with their show titled "De La Nuit," which is French for "into the night." Scofield said the show was meant to be elegant yet impactful.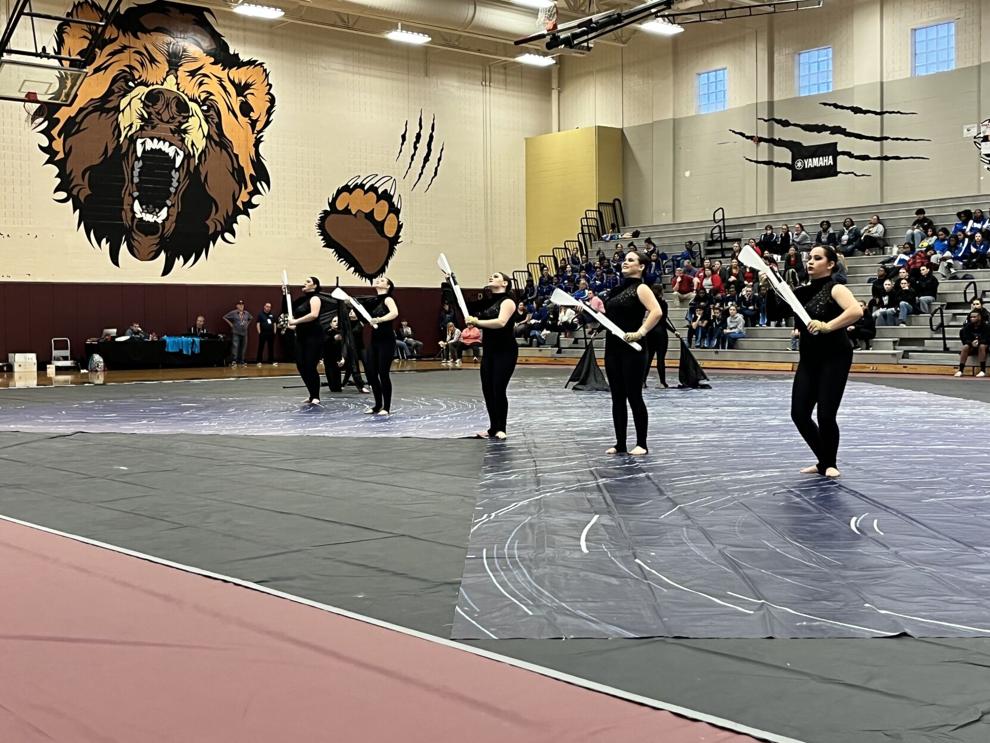 Performing for her first year with Pegasus Winterguard, Chloe Zimmerman, sophomore elementary education major, said that she used to only perform with the Starlet Knights Colorguard but found community in competing with the Pegasus Winterguard.
"The show means to me, bringing all of us together despite a lot of different circumstances," Zimmerman said. "One group, one organization, and then making it something beautiful and elegant and something we can all enjoy."
The performers wore black costumes made of velvet material, with only one sleeve. Scofield said the show featured solid black flags and rifle work, paired with choreography that showed the performers grouping up close to one another, also known as 'clumping.'
The second team to compete was the Pegasus Open. Weller said their show titled "I Haven't Said Enough" shares the story of a relationship that isn't working out because one can't fully commit, causing the relationship to end.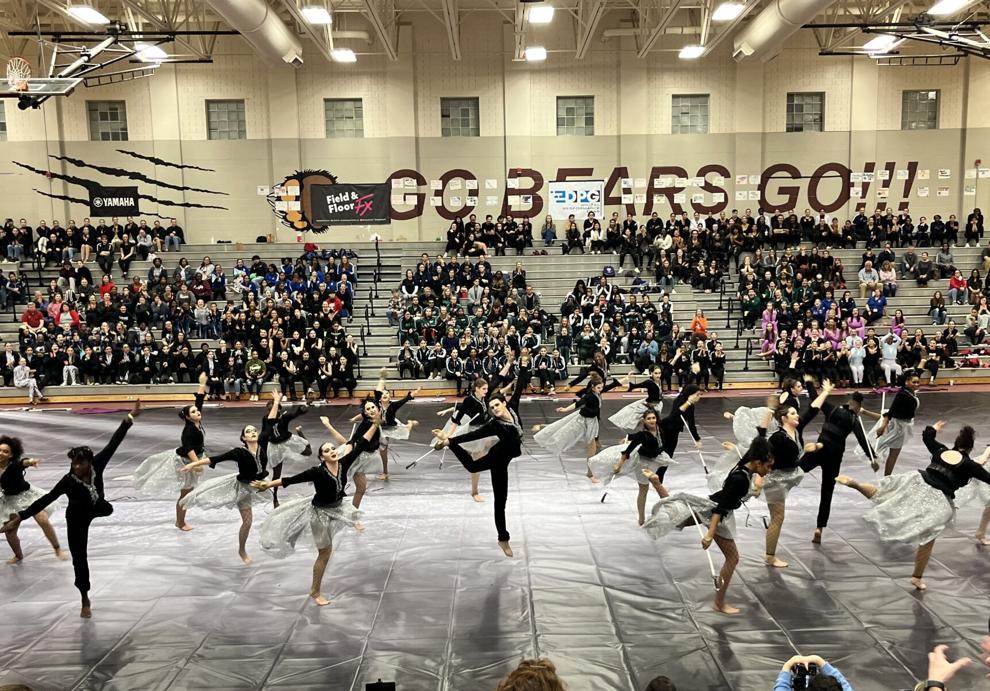 Weller said that her inspiration to participate in winter guard after marching with the Starlet Knights was mainly from watching the Pegasus Winterguard perform.
"I was already spinning with the Starlet Knights when I was told about Pegasus," Weller said via text. "Watching them spin and how talented this program made them made me very interested in what Pegasus could do for me as well."
Dressed in black velvet jumpsuits and a metallic silver skirt for the female performers, two performers can be seen throughout the show doing choreography together and getting close to one another before quickly pulling away, portraying this struggling relationship. Hannah Blake, Pegasus leadership member and sophomore psychology major, said several performers could be seen spinning and tossing solid purple flags, symbolizing the love and passion in the relationship. Blake said the performers used solid gray flags portraying the 'death' of the relationship due to the lack of communication.
The night ended with Pegasus World and their show titled "Babel," the biblical story of the Tower of Babel. Sasha Cavallaro, Pegasus performer and junior nursing major, said when God wanted his people to spread out to fill his earth, his people retaliated and built a tower in an attempt to reach him. God cursed them so they could no longer understand each other, causing the tower to finally collapse.
Cavallaro said she has been participating in competitive winter guard since 2014 and that despite her countless competition experiences, competing will never get old.
"The feeling of being surrounded by teammates and audience members that support you is a feeling like no other," Cavallaro said via text. "Hearing all of the cheers and seeing all of the smiles during shows will never get old. That's why I've been doing it for over a decade now."
The show featured several sets of tall wooden steps and a metal ladder in the middle of the floor that nearly touched the gym's ceiling. Cavallaro said the steps and the ladder were meant to represent the "Tower of Babel" itself, with the performers portraying the Babylonians attempting to climb it. For most of the show, the tower was in the middle of the floor. However, as the music intensifies, performers can be seen moving the steps away from the middle of the floor until the tower is unrecognizable, symbolizing the tower's collapse.
With all three Pegasus Winterguard teams placing top three from Saturday's competition, Cavallaro said the teams are hopeful that with more time, effort and hard work in rehearsals, more top-three placings will be in their future. 
Pegasus Winterguard's next competition will be at Oviedo High School on Feb. 18.
"All three teams are working incredibly hard to form an enjoyable show for both the performers and the audience," Scofield said. "Of course, all the teams have hopes and desires of winning, but what really matters is that we are all here because we enjoy the sport and everything that comes with it."
Correction: A previous version of this article did not clarify that the interviews with Chloe Weller and Sasha Cavallaro were conducted over text. It has been corrected to reflect the medium in which the interviews took place. NSM Today's policy is to preferably conduct interviews in person, over the phone or over Zoom. 
Correction: A previous version of this article stated that this was Chloe Zimmerman's first time performing in competitive winter guard. It has been corrected to reflect that this is the first year that Zimmerman has performed with Pegasus Winterguard.