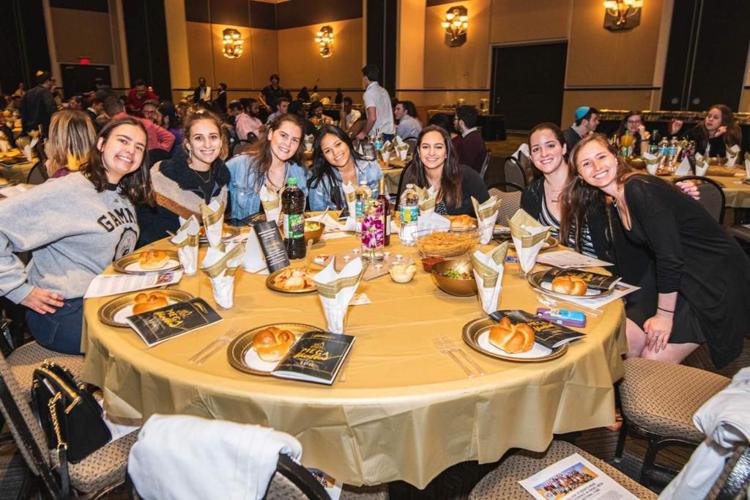 Houses of worship can be sanctuaries for many people, but many have had to close their doors because of restrictions brought about by the COVID-19 pandemic.
Synagogues, mosques, temples and churches have learned to adapt to these conditions. 
Rabbi Chaim Lipskier, the executive director for Chabad at UCF, said he encourages calm during these times. He said Chabad at UCF is a synagogue built with the purpose of providing students an environment in which they may explore Judaism and access other services such as Torah lessons and Shabbat meals.
Lipskier said that the pandemic fills people with uncertainty because human beings like to be in control of everything. When humans can't have control over certain situations, panic takes over, but this a time to turn to faith, he said.
"When we wash our hands, we have to remember whose hands we're in," Lipskier said. 
He said there is no place for fear and anxiety, but that this is a time to focus on positivity. 
"Happiness breaks all boundaries. No matter how far away we are from each other, when we're happy and joyful," Lipskier said. "It breaks the boundaries which allow better things to happen."
Lipskier said a fundamental teaching in Judaism is that good things will happen when people believe it.
"Think good and it will be good. Being optimistic influences outcomes," Lipskier said. "All the fear in the world isn't going to change what's going on. Trust and have faith that everything will be okay."
Yasmeen Garib, sophomore health sciences major and marketing director for the Muslim Student Association at UCF, said mosques have closed due to COVID-19. She said even the Grand Mosque of Mecca in Saudi Arabia has been closed due to health precautions. 
As Muslims turn to face Mecca for their prayers, Garib said people should remember their faith and not to turn away from Allah.
"I think this is a good time to go back to your roots," Garib said. "Muslims turn toward God in times of crisis. Once you lose faith, what else do you have to hold on to?"
Vivian M. Cruz-López, senior biotechnology major and H2O College at UCF's student treasurer, said the organization has been holding Bible study sessions via Zoom. H2O College is a non-denominational organization at UCF and Cruz-Lopez said the organization is a safe haven for students who decide to join.
However, there are voids technology cannot fill. 
"Not being able to meet in person has been challenging for a lot of us," Cruz-Lopez said. "Our relationships are built around God for sure but also we get to live that out spending time with each other."
For many people, going through hardship might waver their faith. Cruz-Lopez said this might happen depending on a person's situation prior to the pandemic. She said the time that has freed up by being at home can be used to mull over faith.
"You could use the situation to draw closer to Him. Praying and worshiping in the midst of the unknown are very strong tools," Cruz-Lopez said. "I find comfort in knowing that His love is never-ending and everything that is happening He already knew about."
Dvaipayana Das is the president at International Society for Krishna Consciousness-Orlando, a Hindu temple which focuses on the teachings of the Hindu deity Krishna. He said that while the temple is closed due to the pandemic, there are devotees who volunteered to stay in the property to care after the deities.
Das said Krishna devotees chant verses known as the Hare Krishna Mahamantra to invoke Krishna and ask for safety. This is a time to get closer to Krishna, he said. 
"Krishna is always giving us opportunity to remember him," Das said. "It's time to remember the Lord as much as we can." 
Das said spiritual preparation at this time is important. He said it's like flight safety, in which passengers are told to put on their own oxygen mask before helping others.
"We must seek refuge in the lotus feet of the Lord," Das said. "Let's be prepared."