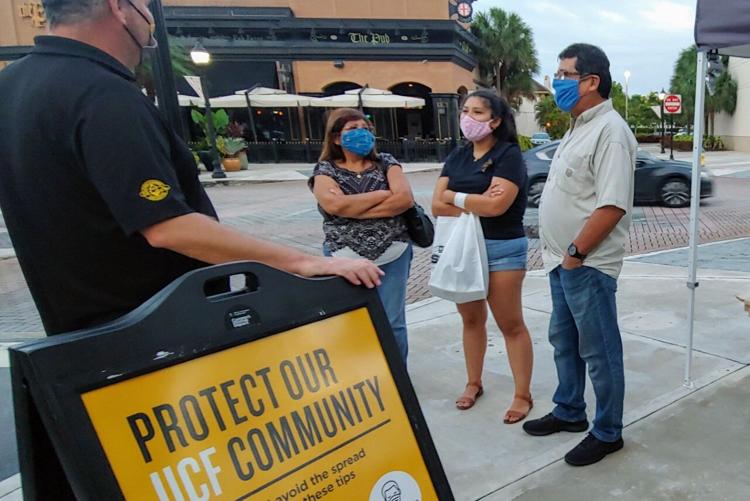 The UCF Office of Student involvement took a bus trip to South Florida on Thursday as part of a pilot outreach program to virtual UCF students.
A group of six OSI and SG students, including SG President Sabrina LaRosa and OSI director Shane Juntunen, planned two events in South Florida. The first was on Thursday at 5 p.m. in Pembroke Pines, where the group stayed overnight, and then traveled to Boca Raton area on Friday for an event at 11 a.m.
Juntunen said they were looking at creative ways to engage online-only students when the idea of a bus tour came up.
"So now we are testing out in South Florida," Juntunen said. "Because that's where a significant population of the students that come to UCF are, that are away from the Orlando area."
OSI set up tables with gift bags, a giant Jenga set, a corn-hole toss game, and played music for everyone to enjoy. There were also two hand-sanitizer stations, and everyone was required to wear masks. 
Juntunen said Thursday's event had around 30 RSVPs on the KnightConnect event page, though only around half ended up stopping by.
"I think its super cool," said Christian Coto, a sophomore psychology major. "I'm actually super impressed. It's a small atmosphere of what it's like up there."
Coto came by with his roommate and UCF sophomore psychology major, Ally Rios. The two found the event on a UCF Instagram page. They said being all online and away from the main campus was difficult to adjust to, but were excited OSI came down for students like them.
"It's just super nice," Coto said. "I don't think a lot of other colleges are doing it and it's just an extra step that I appreciate UCF for."
Yashima Gordon, freshman psychology major, lives in Pembroke. She said while her schoolwork is not difficult to do online, she wanted her first semester at UCF to be on campus, but ended up staying home because of COVID-19.
Gordon found out about the event on Instagram as well, and played several rounds of Jenga after picking up her gift bag. She said it was pretty cool OSI had set this up.
"For them to just to drive all the way down here, just to make us feel involved, it's pretty nice," Gordon said.
Juntunen said the goal is to reach out to students like Gordon and Coto, and make them feel a part of the community. He said if this pilot test is successful, they would like to do more bus trips next semester and in different areas around the state.
"Even though we're going to have more classes in the spring," Juntunen said. "I still think we're going to have a number of people that will still be doing online only, so it's important for us to think about them as much as the people on campus."