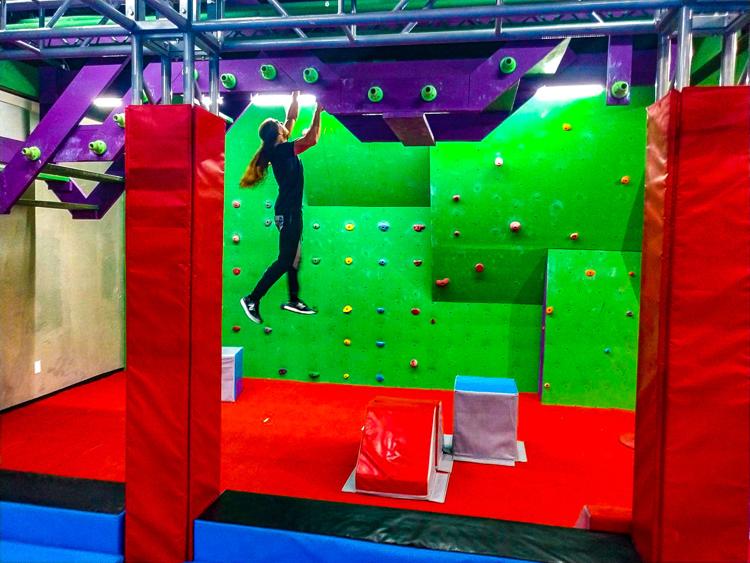 A UCF student and "American Ninja Warrior" competitor invites students to attempt to complete obstacle courses at his ninja gym every week.
Senior health sciences major Jason Kotzin opened Obstacle Ninja Academy in August 2018 and kicked off the first "UCF Ninja Knight" on Nov. 10. Every Sunday from 5-8 p.m., UCF students get 50% off access to the gym. 
"It would be nice to get some more people because most of our students are younger kids and their parents," said R.J. Roman, head ninja coach and part-owner of ONA. "There's not really anyone around mine or Jason's age, so that's what we're trying to get out of doing the UCF nights."
Kotzin and Roman both competed on "American Ninja Warrior" – a TV show where athletes complete in increasingly difficult obstacle courses testing their strength and endurance. Kotzin has been a fan of the show since he was a child.
"I grew up watching the show and I just fell in love with it," Kotzin said.
When he was 17-years-old, he got to try his hand at the obstacles he had seen onscreen for the first time and found that he had a talent for it, furthering his passion for it.
Kotzin found NinjaFit, another ninja gym in Orlando, and befriended the owner, who later reached out to Kotzin about a space where he could create his own ninja gym – an opportunity he jumped at.
Obstacle Ninja Academy features a ladder one has to climb with their hands, a bouldering wall, a warped wall, a variety of types of monkey bars and more. They also offer classes for children and adults.
This past summer, Kotzin got to compete in season 11 of "American Ninja Warrior." Although he fell during the fourth obstacle, he continues to train and compete in ninja warrior leagues such as the United Ninja Athlete Association, placing third in last summer's UNAA world finals.
Kotzin described the process as "a lot of TV glamour stuff," with a photo shoot on a spinning platform and interviews preceding the run through the obstacle course, which he said he waited hours to do, not running the course until around 4 a.m. 
"You don't know what the course is," Kotzin said. "You have no idea what you're doing until you get there."
Roman competed on "American Ninja Warrior" season 10 and season 11, where he made it all the way to stage three of the finals. He was the only "rookie" in his region to make it to the finals. 
Now, he teaches the intermediate and advanced children's classes as well as the adult classes at the gym.
Roman said that one of the most fulfilling parts about teaching is seeing his students' progress and growth in confidence.
"I did a private lesson with a young girl, 8-years-old, and when she first started coming here, she was super scared of doing anything and now she's throwing herself into all the obstacles," Roman said.
"The main thing I took away from it is her confidence has grown so much as well as her athletic abilities. But I think the confidence is the biggest part – and just the self-fulfilling feelings that people get out of the improvement and seeing your progress."
Kotzin and Roman plan to continue the UCF nights every Sunday. Kotzin also hopes to open another location closer to the UCF main campus within the next year or two.
"I always tell people the best workout for you is the one you'll do," Kotzin said. "And this is just fun. You can swing on things and fly through the air. You don't even think that you're working out, but you finish doing obstacles and your arms are beat and you're tired and sore and you're a lot stronger than you were before you came in."