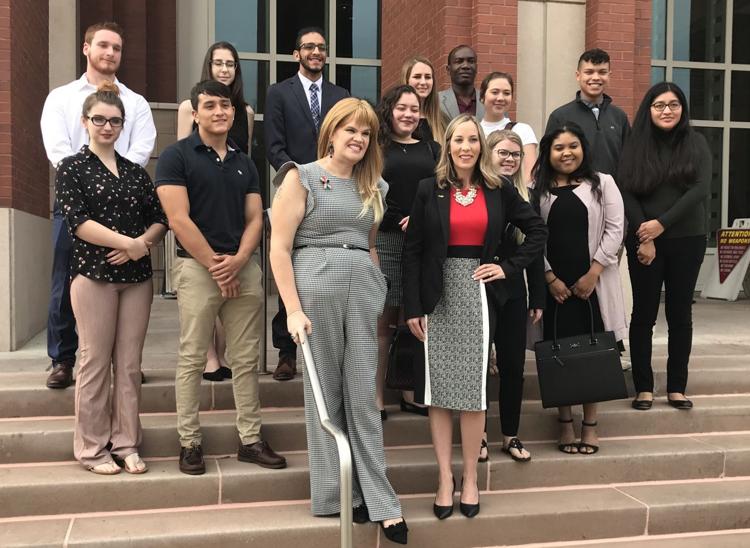 After legally changing her name, 44-year-old Juleigh Mayfield needed to update the gender marker on her birth certificate -- from male to female.
Mayfield is intersex and was diagnosed with Klinefelter Syndrome at a young age, she said. Associate Lecturer of Legal Studies Irene Pons said that Mayfield was born with an extra X chromosome.
"Neither male or female, [Mayfield] has traits of both, and in her life has faced a lot of discrimination," Pons said.
Mayfield said that intersex can be described as being born both a male and female but not having enough sex characteristics to be one or the other. 
Although she lives in Central Florida, Mayfield was born in Alabama. She said that her parents decided that their intersex baby would be a boy, but changing a birth certificate can be difficult in Alabama.
Two years ago, she made the change from male to female due to a medical treatment option. Mayfield was told by the National Institute of Health that she had super low levels of testosterone and needed more estrogen in her body.
"It was a difficult decision to make," Mayfield said. "I don't think I would have changed if [the National Institute of Health] wouldn't have said I would die in five years if I didn't," Mayfield said. 
Pons said if Mayfield is unable to change the gender marker on her birth certificate, then it can become hard to have a normal life because her appearance doesn't match the picture on her ID. This hurdle will make it difficult for Mayfield to change her passport, apply for loans or get a job, she said.
"Traveling was especially hard, and I travel a lot trying to advocate for others like myself," Mayfield said.
Pons said she met Mayfield while they were working as characters at Walt Disney World in in the 90s and they have kept in touch through Facebook over the years.
Mayfield posted about her difficulty with trying to change her gender and Pons said she reached out willing to help Mayfield by representing her as her attorney.
"I took it because she is a close friend, and I have a lot of compassion for my friends," Pons said.
Pons said she and her intercultural legal competence class helped write a petition for a gender-marker change on Mayfield's birth certificate last semester. If the judge does not approve Mayfield case, the students from Pon's class this semester will draft an appeal, she said. 
"Intercultural legal competence teaches them how to negotiate with individuals from difference cultures," Pons said. 
Pons said that this case is important to the students because it teaches them about diversity and gives them the opportunity to meet someone within their community who faces an issue outside of the normal classroom setting. 
Senior legal studies major Yulaisis Varela said that Mayfield's case made her feel like she could experience real-life issues. 
"This case, in fact, is very interesting because you're so use to, let's say, male verses female, in regard to people changing their sexes from one to the other," Varela said. "It goes into an area of law I'm not familiar with."
Pons said there haven't been any cases in the state of Florida that tackle this issue. The only states that have advocated and articulated similar cases are Indiana and Georgia. 
"I think it's sad that a piece of paper delineates what people can and can't do within their own lives," Mayfield said. "It's the same soul, it's just a different body, I'm just getting a better car to finish the race in."
An earlier version of this article stated that Mayfield was born with just an extra chromosome and that her body produced high levels of testosterone. It also used an incorrect definition of being intersex. These things have been corrected to show accuracy.