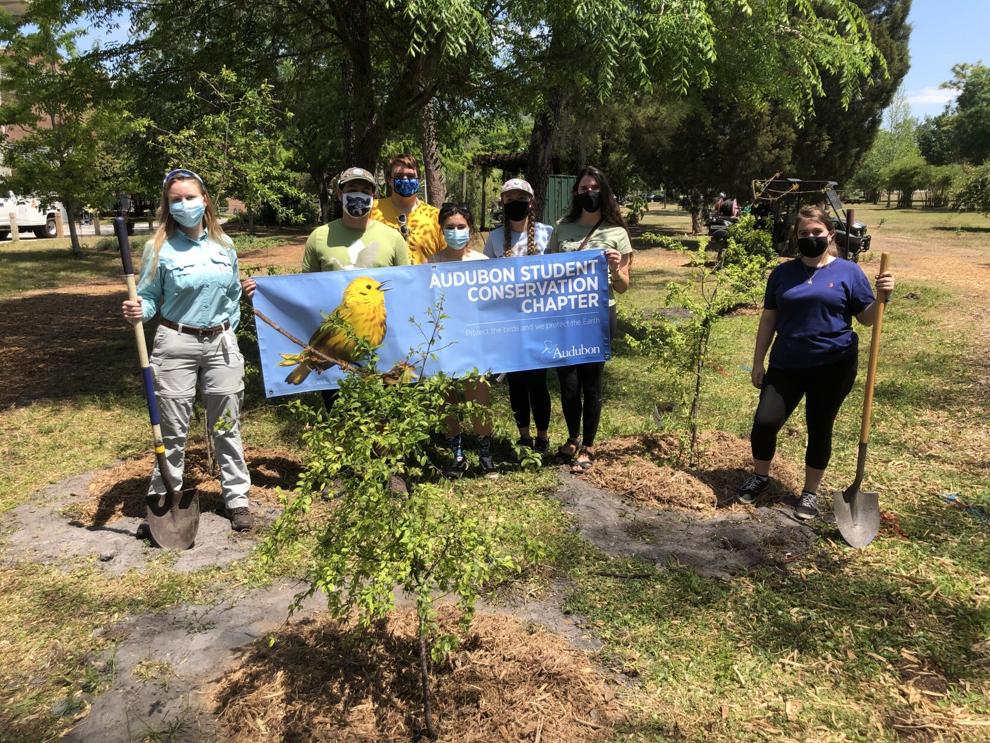 UCF Knighthawks helped celebrate Arbor Day at the arboretum on Wednesday by planting trees and flowers to diversify the bird population.
Students from Knighthawks, UCF's Audubon chapter, helped fund the plant installations with part of its $10,000 grant that was awarded from the National Audubon Society. The group said it's expecting rarer species of birds to be attracted to the new "Plants for Birds" garden that was planted by 40 volunteers. 
Knighthawks project manager and biology PhD student Rebekah Davis said the club was planning on using its funds to plant trees for the Arbor Day celebration last April, but couldn't because of the campus shutdown that followed COVID-19.
The grant that Knighthawks used to fund the garden, the Plants for Birds Burke grant, was offered for the first time to university chapters in 2019.  A past UCF Knighthawks member applied in 2019 and surprised the whole club when the grant was approved.
"We got the full amount, which was incredible, because we beat out other adult chapters —people who have retired and can dedicate a lot more time to that. So, it was impressive that we were able to secure the grant as a brand-new campus chapter," Jennifer Bouchenot, a member of Knight Hawks and steering committee chair for National Audubon Society, said.
The location for the garden was written into the grant Knighthawks won from the National Audubon society, but Davis said planting trees at the arboretum was a natural extension for the project.
"It's so important to build a habitat where birds feel safe on campus. There's people, cars, and garbage. This is a haven for them to come to, but I think more than the birds, it's a really important spot for students on campus to interact with native plants while they're taking a break out in nature," Davis said.
John Guziejka, a biologist and urban forester at the arboretum, said that although birds choose trees based on height, width, and density, fruit bearing trees will generally attract more birds. 
"A lot of these trees are fruit bearing trees that a lot of the birds will prefer, because not only will they enjoy the seeds for food, but they'll also spread the seeds and help perpetuate the plants through the ecosystems," Guziejka said. 
Knighthawks collaborated with the arboretum in selecting the various plant species in order to attract certain birds. Bird species that haven't been in the arboretum will now be visiting the garden.
Bouchenot said these new bird species, like the cedar waxwings, will be attracted to the increase of activity, as it signals more food in the "bird-eat-bird world."
"Upping the number of species that we already have will make it more attractive for rarer species. During migration, especially, little birds will hang out together. If you're a group of cedar waxwings, and you hear activity in this garden, they're going to come check it out, because a lot of activity means a lot of food, which means they can get a snack too. I will not be surprised if we see rarer birds in subsequent years, especially as the trees get more mature," Bouchenot, a PhD biology student said.
Knighthawks vice president Brandon Lopez said that there's still a gamble when selecting certain plants to attract specific bird populations.
"There's a lot of chance. We can't say for sure that a specific tree will definitely bring a specific bird species. We're pretty much selling bird neighborhoods — bird condos, because birds can't live on flat ground. But we don't choose the tenants," Lopez said.
Davis said it was important to ensure that the plants chosen for the planting were local to the area, because the birds would recognize those flora and know that those trees will provide food and shelter.
"The point of this grant was to find native plants that were beneficial to birds; all of these plants supply some kind of food or habitat cover for birds that are native to Florida or migrate through Florida," Davis said. "A lot of the trees have berries or fragrant flowers that attract insects that the birds eat or good shade for birds to build nests and habitat shelters."
Bouchenot said the tree planting will be beneficial for bird and human generations that'll come after them.
"Each tree will provide for various bird generations. You're not going to be able to perpetuate that lineage for only our generation, but every cohort of students that come in after us," Bouchenot said. "While some people may think birds are weird or scary, just imagine a future where you walk outside, and you hear nothing. You wouldn't want that for anybody at all. Funding a project like this ensures a future and survival of those species."
Davis said that their idea for how to use the grant is what set them apart from other Audubon chapters and made the garden possible.
"It was a fantastic idea that we had. A lot of the older applicants might've been requesting the grant for a garden within their community, but this is a garden in the heart of campus at UCF," Davis said. "It's open and available for students to come through and take a seat under an oak, have a picnic, or take a nap in the hammock."
Knighthawks have provided brochures with 20 birds in them for visitors to use as they try to spot various birds in the Arboretum. Some birds that can be spotted include the blue jay, red-bellied pecker, gray catbird and others.
The group said it only used half of the grant for the Arbor day planting and that more planting events will occur within the next few months.