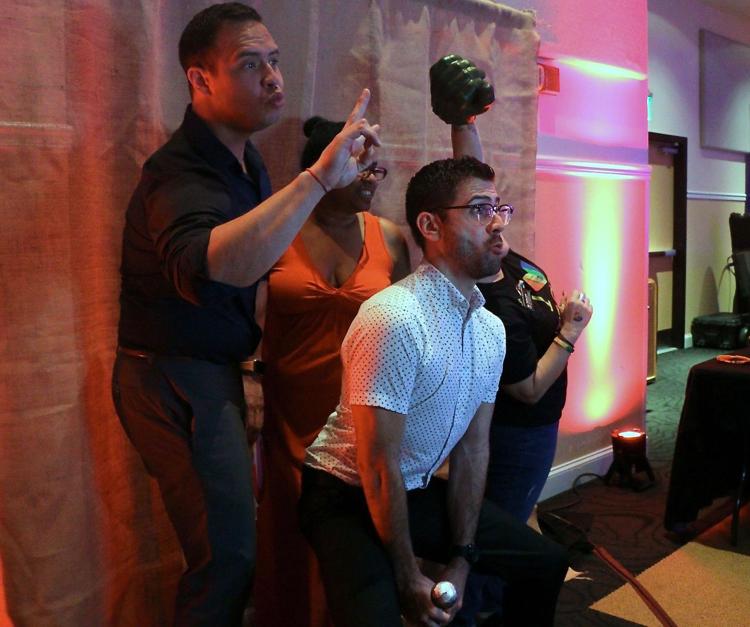 LGBTQ+ Pride flags and rainbow-colored lights filled the Cape Florida Ballroom of the Student Union on Wednesday while LGBTQ+ students and allies attended PrideFest, the opening ceremony for LGBTQ+ History Month at UCF. 
The UCF Multicultural Student Center organized the two-hour event to include a safe space for students and allies to be educated on LGBTQ+ history trivia, hear from LGBTQ+ Orlando organizations, listen to music, take photos in a free photo booth and enjoy catered food from Qdoba.
MSC pride director Percy Crabtree, a junior psychology major who uses they/them pronouns, said MSC wanted to do something a little more "whimsical" for this year's opening pride ceremony.
"We wanted to set it up saying, 'We can celebrate now because of LGBT history and because of the people who have made sacrifices and done the work of advocating for us,'" Crabtree said. "We are allowed to have this celebration at the university."
Crabtree expressed the importance of LGBTQ+ students who attended the event to still be able to "be theirselves." 
MSC also invited Orlando LGBTQ+ organizations to PrideFest to talk to UCF LGBTQ+ students. These organizations included Orlando Youth Alliance, Zebra Coalition, The Center and QLatinx.
Executive director of Qlatinx Christopher Cuevas, who uses they/them pronouns, said the importance of Qlatinx being present at PrideFest was to be an organization that represents trans and queer Latinx students fully. 
"I think UCF, because of its sort of influence over the broader Central Florida community, can do a lot and continues to do a lot in building access and support and spaces for queer and trans students," Cuevas said.
Students Savon Crumity, senior health science pre-clinical major, and Susan Bunce, junior integrated business major who uses she/her pronouns, were among the crowd of about 75 LGBTQ+ students and allies.
Crumity, who uses he/him pronouns, is also the accessibility director of MSC and said the center wanted the event to bring a warm environment for the attendees, and to inform LGBTQ+ students the center is there for them. 
"Even though [MSC] may not be downtown, we still represent the LGBTQ+ community and we want to give students a chance to actually explore who they are, services available to them and how they can be a part of something bigger and help others explore who they are," Crumity said.
Bunce, who is a member of UCF's Multicultural Academic and Support Services and an ally to the LGBTQ+ community, said PrideFest was the first pride event she has attended.
"I am a resident assistant and I have to cater to all my residents, so I just didn't want to be left in the dark and ignorant to the fact that I will have residents that are in the community," Bunce said. "I just wanted to educate myself more, and I feel like going to these events MSC puts on, is an amazing way of doing that."
Aside from Pride Commons being a place where LGBTQ+ students and allies can go to for a safe place during any month, MSC has many other events going on for LGBTQ History Month.
One of those upcoming events is the celebration of National Coming Out Day, which will be held at the Student Union patio on Oct. 11 from 10 a.m. to 1 p.m.